Yogi left indelible mark on 1956 World Series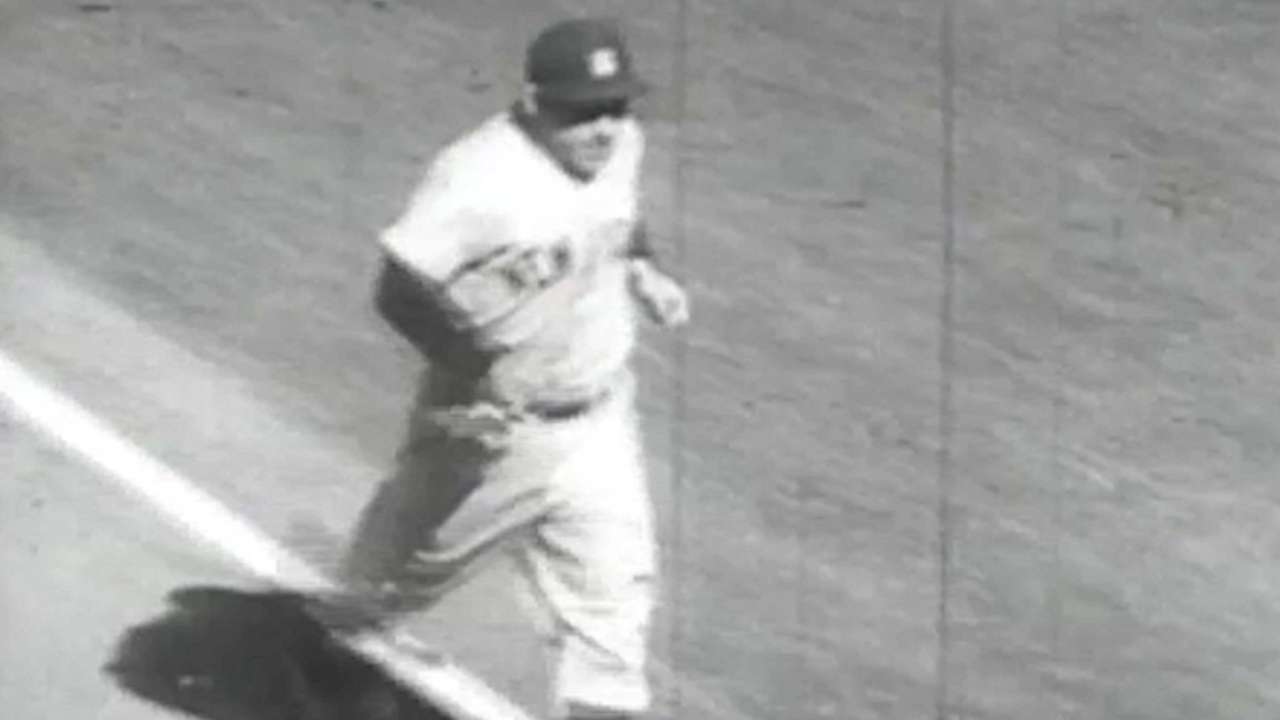 The 1956 World Series has always been remembered for the Don Larsen perfect game in Game 5, perhaps because the Game 7 rubber match vs. the Brooklyn Dodgers at Ebbets Field finished with an anticlimactic 9-0 final score.
But if that game was one-sided, there was an all-time great to thank for it: Yogi Berra.
Berra -- playing on a team with future Hall of Famers in Mickey Mantle, Whitey Ford and Phil Rizzuto -- became the first player in Major League history to hit two home runs in an elimination game. Berra went deep in the first inning and in the third inning to boost the Yankees to their first title since 1953.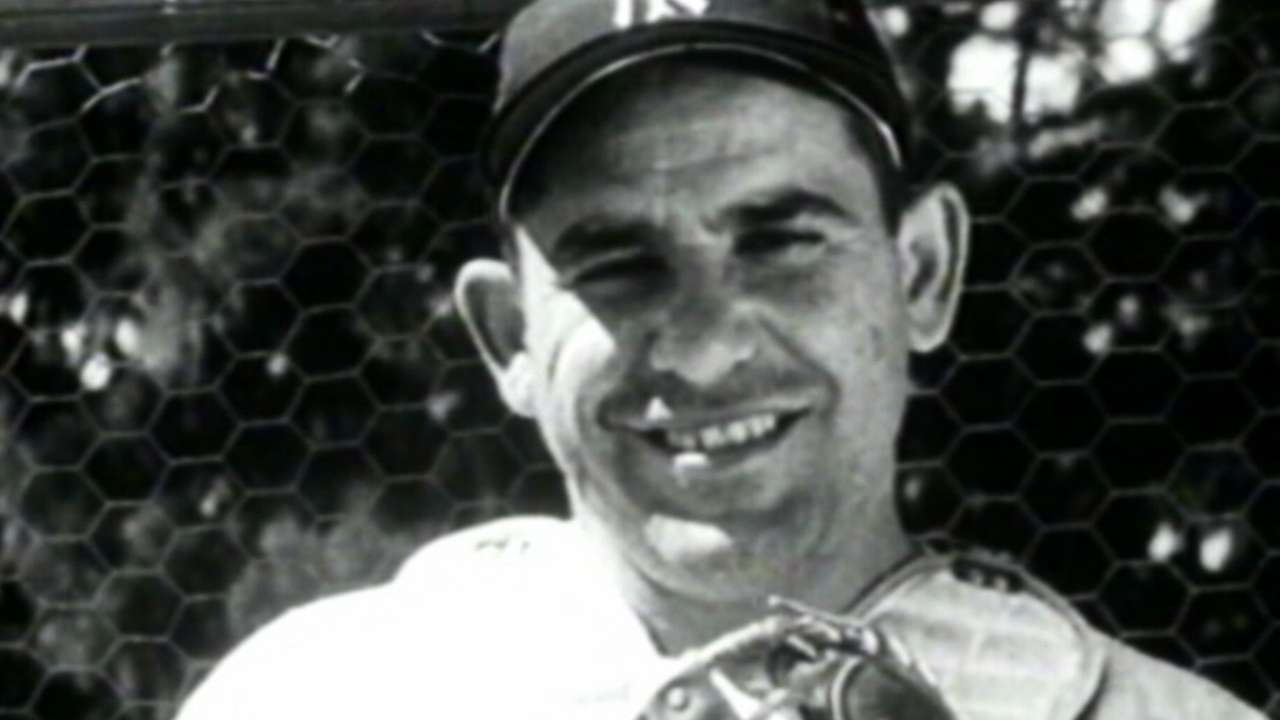 The Yanks had lost the World Series to the Dodgers in 1955, and in their Game 7 rematch in '56, they had to face Don Newcombe, the National League Cy Young Award winner and NL Most Valuable Player Award winner. Berra, a three-time American League MVP Award winner in his own right, rose to the occasion.
The first inning began with a leadoff single by Hank Bauer of the Yankees, but then Newcombe, who had won 27 games that season, struck out Billy Martin and Mantle back to back. Berra, just four batters into the game, gave the Yanks their first lead on a home run drilled far into the right-field stands.
The Dodgers weren't able to score in either of the first two innings, and Berra came back up in the third inning with two outs and a man on first base. Again, Berra took Newcome deep to right field. Newcombe would bat in the bottom half of that inning, and Berra gently tried to give him some consolation.
"I hit a pretty good pitch, Newk," said Berra from behind the plate, according to a New York Times account written by Arthur Daley on Oct. 12, 1956. "'Yes, you did," said Newcombe.
Berra -- still the all-time World Series leader in games (75), at-bats (295) and hits (71) -- had his biggest moments in 1956, when he set personal bests in home runs (three) and RBIs (10) in the Fall Classic. Four of those RBIs came in that Game 7 victory, just two days after Larsen's perfect game.
"Everybody forgets about this game because of the perfect game," Berra said in "ESPN: The Mighty Book of Sports Knowledge" of his favorite World Series games. "Johnny Kucks pitched a three-hit shutout, and he didn't even know he was going to pitch that day. We won, 9-0, and I hit two two-run home runs. I hit .429 for the Series, too. I should've gotten the car [MVP], but Larsen had to get it."
Berra misremembered his batting average, having hit .360 in the 1956 World Series.
But who would hold the embellishment against him?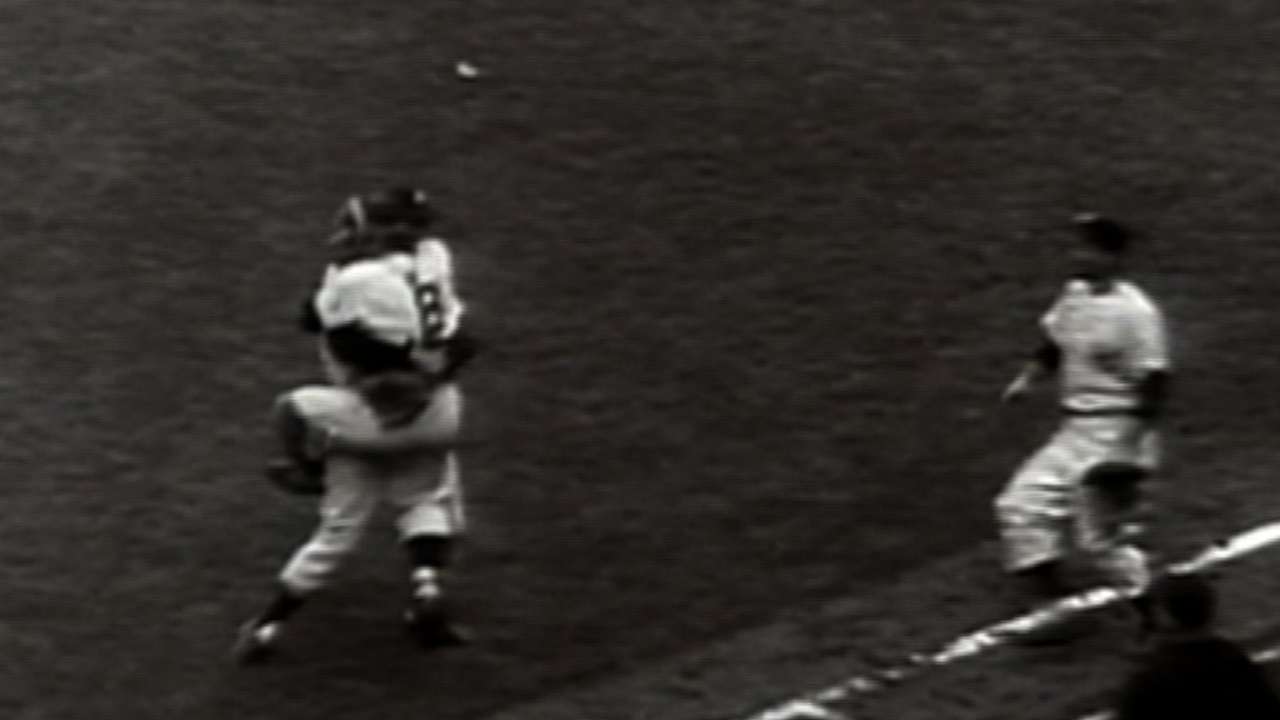 Spencer Fordin is a reporter for MLB.com. This story was not subject to the approval of Major League Baseball or its clubs.