No panic for Dodgers after 4-game skid
NL West lead over Giants is down to 6 with 12 left to play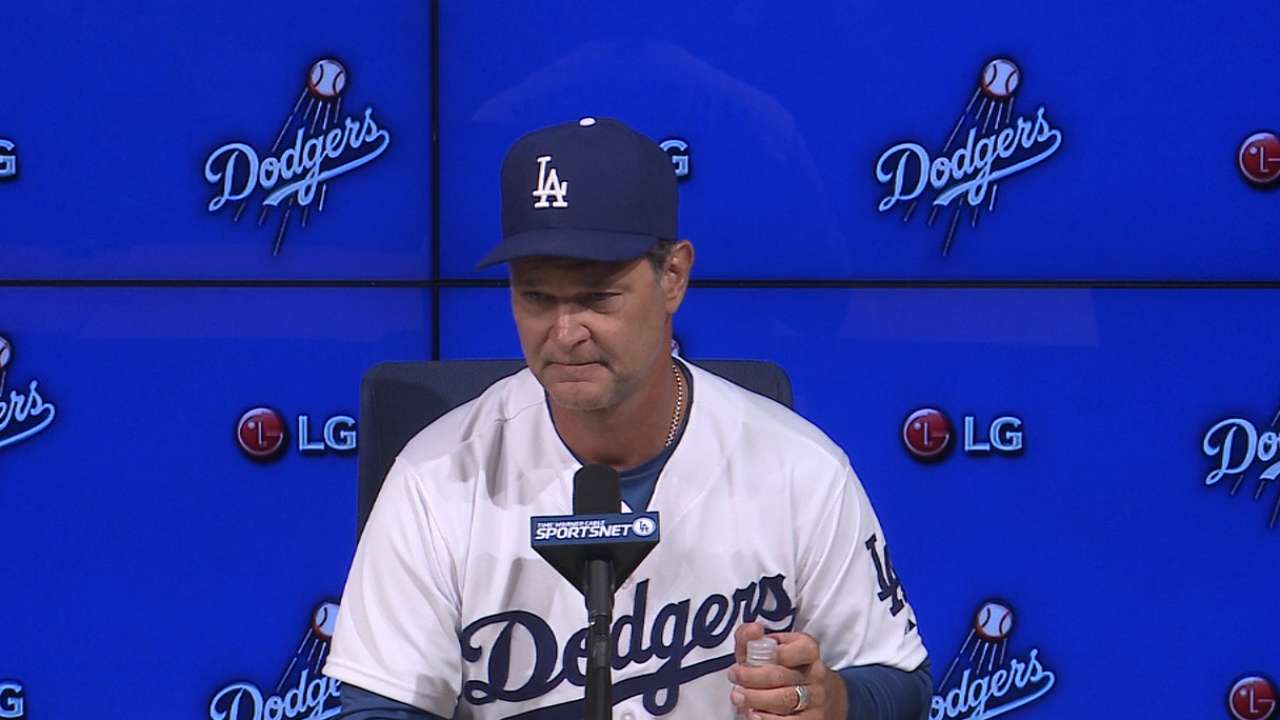 LOS ANGELES -- It's not good when the focus shifts from the magic number to the losing streak, and the Dodgers know it.
"We haven't won anything yet," catcher A.J. Ellis said after the Dodgers were thumped by Arizona Tuesday night, 8-0. "It's time for us to buckle down and play a little better than we have the last four games. We need to turn page, shower this game off and come tomorrow ready and expecting and playing like a team that expects to win."
The magic number remained seven with second-place San Francisco winning. The Dodgers also remained one-half game ahead of the Mets for home-field advantage if those teams meet in the playoffs -- as they would if the season ended today.
But it doesn't. And the Dodgers, with a four-game losing streak, can't spend time worrying about home-field advantage until they win the division.
"You like to think it's inevitable, but you know it's not, especially with a team chasing us and knowing we have games ahead of us with them," Ellis said, referring to the Giants and three games in San Francisco next week. "It's far from over, and we haven't won a thing yet. We've got to play like a team that wants to win a division title."
Ellis' comments struck the same chord that buddy Clayton Kershaw sounded last month when the longest losing streak of the season reached five. After Kershaw said he'd like to see the club play with more of a sense of panic or urgency, the Dodgers reeled off five consecutive wins.
Manager Don Mattingly walked the fine line between cautioning his club against complacency without showing any panic himself.
"You mean, scream and yell and turn over the tables and stuff?" he asked rhetorically. "I'm not quite there yet. After [being swept in] Pittsburgh, the sky was falling, everything was going bad, we're all ready to panic, and we kept going. We go on the road, get swept in Oakland and Houston, the sky was falling. We're not going anywhere, but we right the ship.
"We've got a lot of character in that clubhouse, guys that care. I'm not concerned about that. There's no need to yell and scream and pump these guys up. They've been through wars.
"We didn't do enough tonight to win a game. We should look at it like we've got to win our way in. Just play aggressively, play to win. Not just, 'Hopefully, it's OK.' Play to win, and good things will happen."
This game was a pitcher's duel between Alex Wood of the Dodgers and Robbie Ray of Arizona, a five-run ninth inning against the Dodgers bullpen turning it into a blowout.
Wood was removed after allowing A.J. Pollock's 18th home run with one out in the seventh, trailing 2-0. On deck was Dodgers killer Paul Goldschmidt, who greeted Chris Hatcher with his 30th home run, seventh against the Dodgers this year and 20th of his career. Wood made only 70 pitches, but Mattingly said he got a quick hook because he's pitched more innings this year than ever. Wood said he wasn't aware he had a pitch or inning limit.
Ken Gurnick is a reporter for MLB.com. This story was not subject to the approval of Major League Baseball or its clubs.