MLB.com Columnist
Richard Justice
Angels, Astros provide early taste of postseason
Two clubs taking part in thriller of a series at Minute Maid Park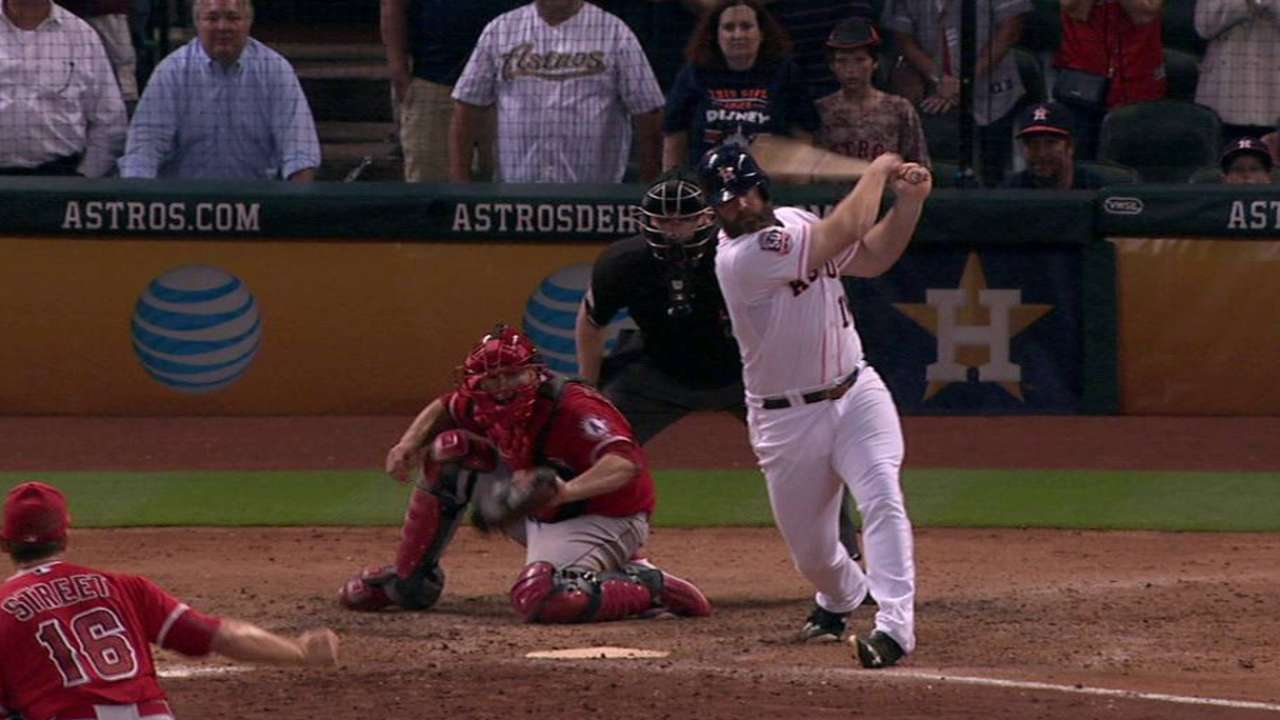 HOUSTON -- It was a beauty of a baseball game, one team punching, the other punching back during the Angels' 4-3 win against the Astros on Tuesday night. It had a parade of relievers and pinch-hitters, close calls here, near misses there.
So you say the postseason hasn't begun yet?
Well, that's just silly talk.
For teams like the Angels and Astros, for the Twins and Indians, too, these games are every bit as important as the postseason. And they've got a postseason feel, that one-out-at-a-time, knot-in-the-stomach tension. Everything teams have worked for these last six months is on the line.
"It's what you play for," Angels closer Huston Street said.
His team had just scratched and clawed its way to a victory at Minute Maid Park. If this wasn't precisely a must-win game for the Angels, it was in the neighborhood.
The Angels are one of the teams -- there could be four or five of them -- that could end up fighting for one final postseason spot. And so, every single pitch matters. After splitting the first two games of this series, the Astros and Angels turned their attention to Wednesday afternoon, when they will play one another for the final time this season.
"Obviously, we've got to win tomorrow," Angels outfielder Mike Trout said. "Tomorrow's going to be a big game. It's huge. It's right there in front of us."
If baseball ever needed an endorsement for the value of having a second Wild Card spot, this kind of edge-of-the-seat contest was a reminder. The Astros and Angels are both still within striking distance of the Rangers in the American League West.
But time is running out. Their safety net is in the second AL Wild Card spot. The Astros (80-72) lead the Twins (77-73) by two games, the Angels (77-74) by 2 1/2 and the Indians (74-75) by 4 1/2.
These teams would all prefer to win their division and get into a best-of-five Division Series. But the two Wild Card spots offer another chance to keep playing, to do what the Giants did a year ago after finishing behind the Dodgers in the National League West and ending up winning the World Series for the third time in five seasons.
On Tuesday, the Angels and Astros played a game that had a little bit of everything, including eight relievers, six pinch-hitters and a close call or two.
One of those occurred in the bottom of the ninth inning when Astros rookie Carlos Correa launched a moonshot that landed on the hill in left-center, projected by Statcast™ to travel 433 feet. Had that ball been hit to any other part of the park -- or in any other park -- the Angels and Astros might still be playing.
"Oh my God, that ball was killed," Angels manager Mike Scioscia said. "This might be the only park that ball's not out of. We caught a break there."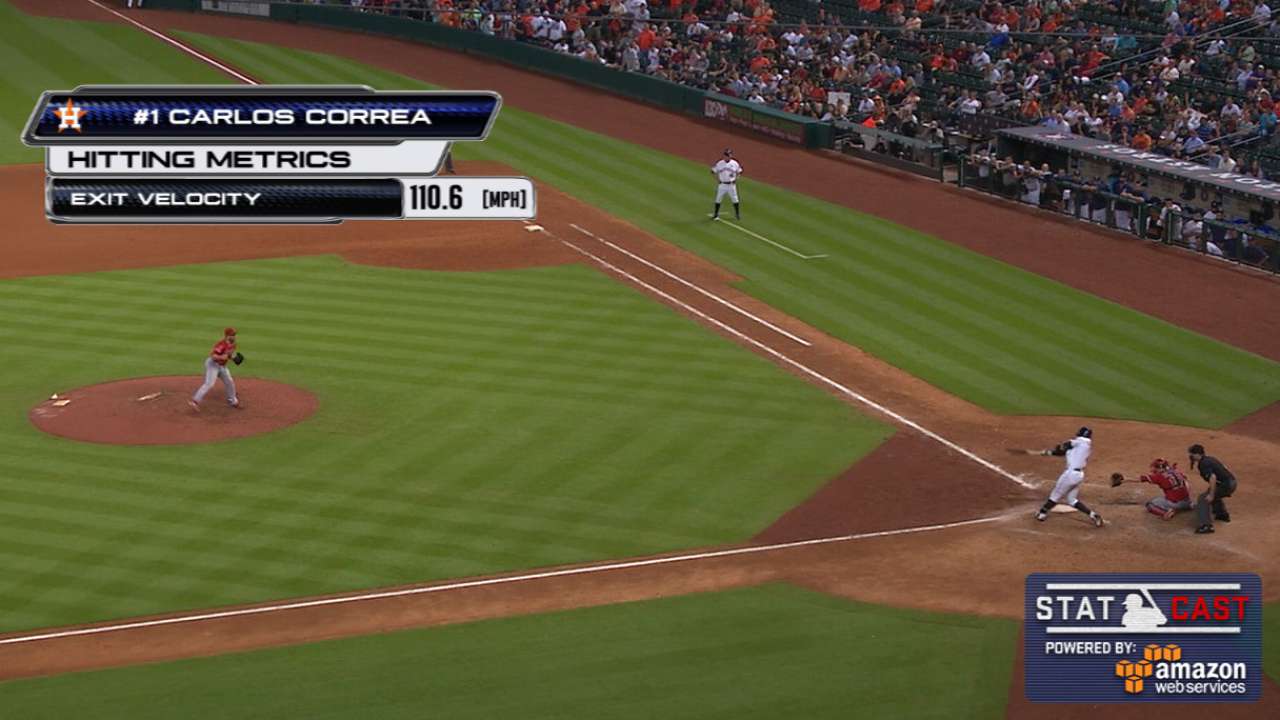 With setup man Joe Smith nursing an injured left ankle, Scioscia is pushing his other relievers a bit more. He called on Street for the final four outs, and Street finished the evening by striking out Evan Gattis on a wicked slider.
Afterward, Street spent a moment in the training room thinking how utterly enjoyable an evening like this one can be.
"This is good baseball for the fans, for the people, head-to-head matchup battling for a spot," he said. "You had it from all sides. We get ahead early. They battle back. Managers making a lot of moves. Battle of the bullpens. Close calls. It's just fun. I think that's the beauty of the second Wild Card. It keeps a lot more teams in it and keeps the game a lot more fun."
The Angels have had a season of highs and lows, of injuries and slumps and potential distractions. After going 10-19 in August, they were long shots to be playing meaningful games at this point in the season.
This is the kind of season in which Scioscia proves again that he's one of the best managers who ever lived. This is when Trout gets a chance to reprove his greatness on a nightly basis and when the Angels go deep into their bench and deeper into their bullpen for every out.
Trout hit his 40th homer in the first inning, and Albert Pujols followed with his 36th to give the Angels a 3-0 lead. The Astros answered with homers by Marwin Gonzalez and Chris Carter in the second, and the chess match was on.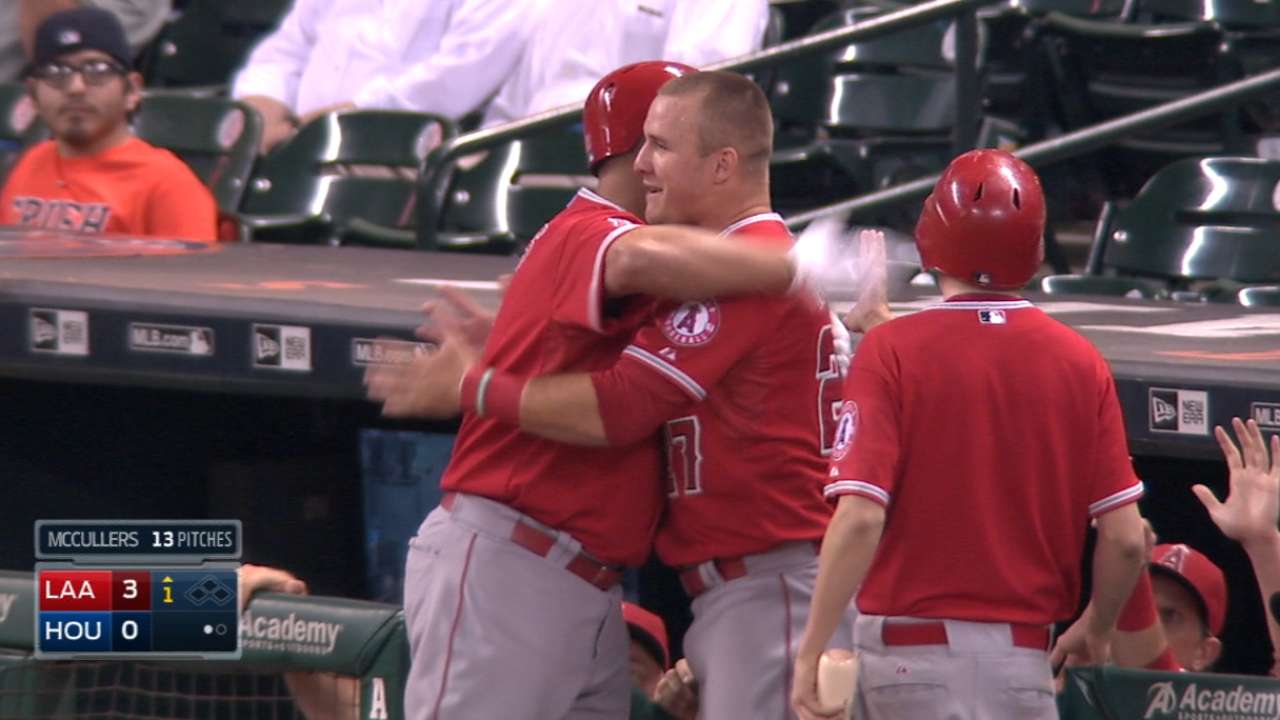 "Anytime you're in a pennant-race game, you're going to have that kind of feel," Scioscia said. "I like the aggressiveness we showed. I think we're doing the things on the field we need to do."
The Angels return home for a six-game homestand against the Mariners and Athletics beginning Friday. Then they finish the regular season with four games in Arlington against the Rangers.
That series may very well decide at least one postseason berth, and wouldn't that be a nice finishing touch?
"This is what you've been thinking about since you were a little kid," Street said. "Give me the ball with the game on the line. We're in it with a big game tomorrow. That's all there is to think about. Tomorrow is the only one you can play. People probably counted us out after August. We didn't count ourself out."
Richard Justice is a columnist for MLB.com. Read his blog, Justice4U. This story was not subject to the approval of Major League Baseball or its clubs.