Miller embraces second chance after blown save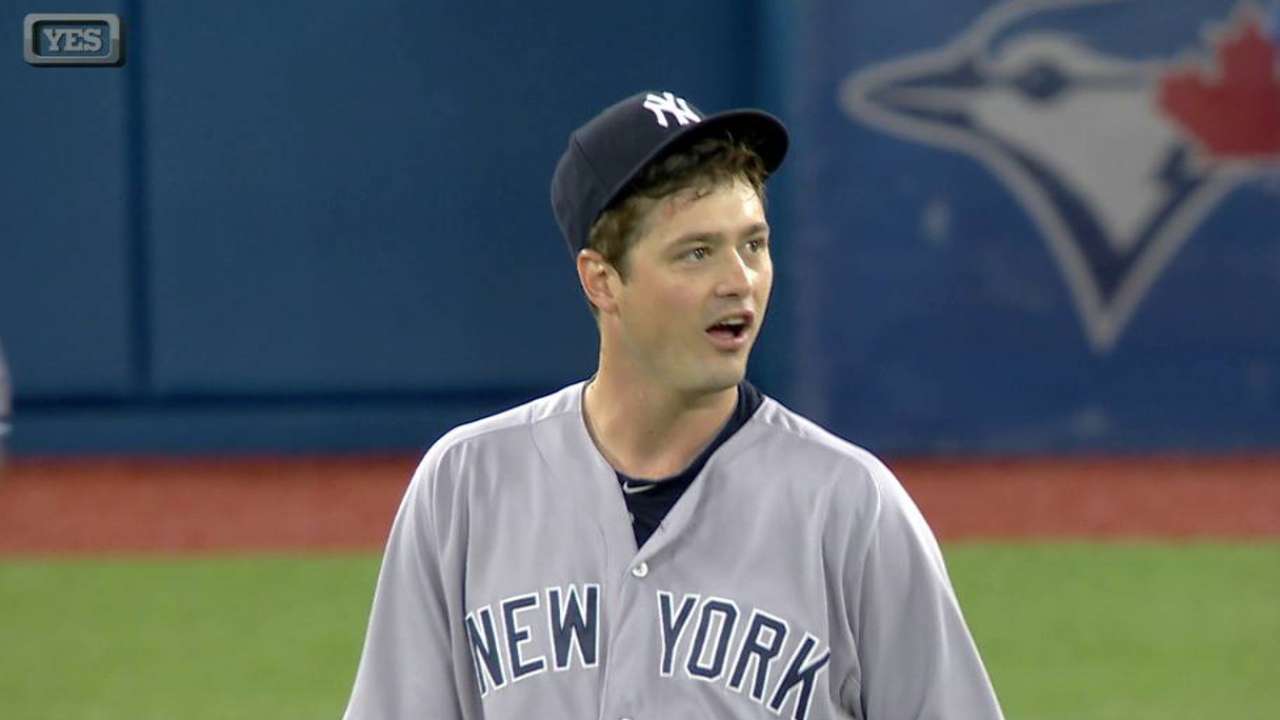 TORONTO -- Andrew Miller subscribes to that old adage of try, try, trying again after any failure, which is why the Yankees' closer was insistent that he come back out to secure the final outs of Tuesday's 6-4, 10-inning victory over the Blue Jays at Rogers Centre.
Miller served up a game-tying solo home run to Dioner Navarro in the bottom of the ninth, then celebrated on the bench as Greg Bird teed off for a go-ahead, three-run blast in the top of the 10th. Miller wound up throwing 42 pitches over his two innings, but he was glad he did.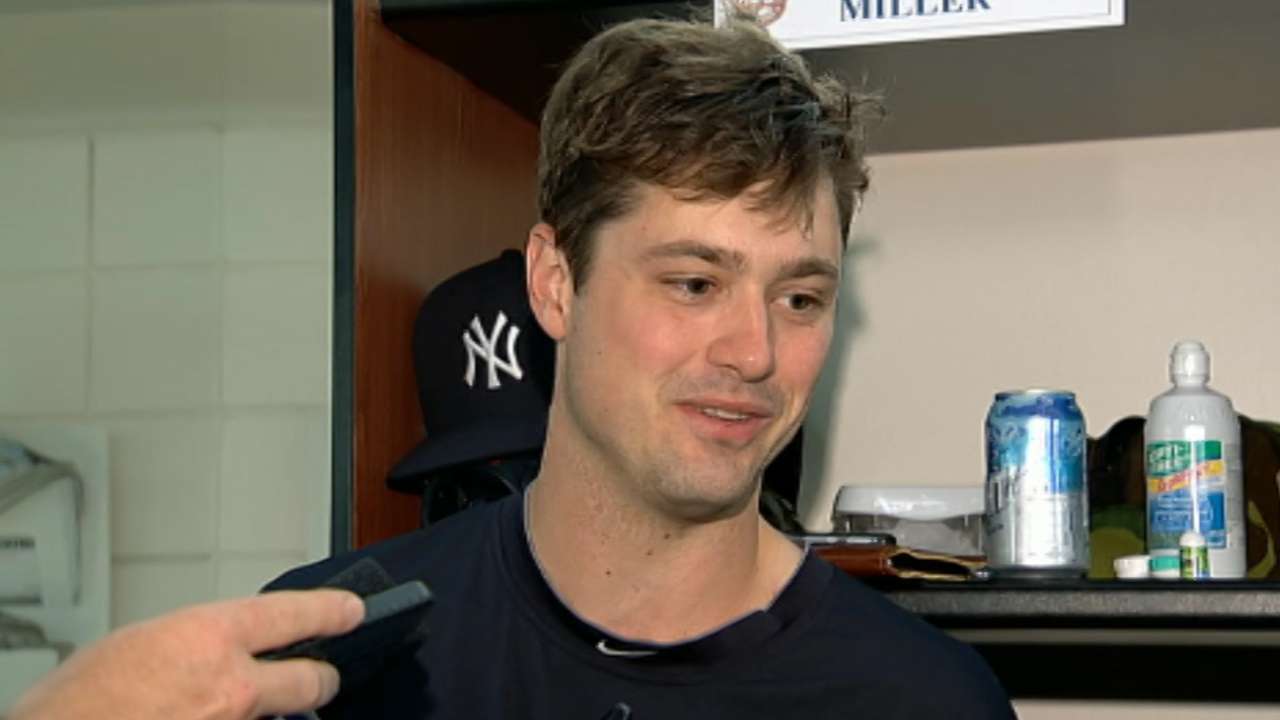 "I think at this point of the year, we're making ourselves available whenever we can," Miller said. "As bad as I was, instead of kicking over the cooler, I wanted to make sure that [pitching coach] Larry [Rothschild] knew I was ready to go back out. I'm glad I was able to nail it down. Obviously I couldn't have done that without Bird hitting that three-run homer."
Following Miller's second blown save of the season, the left-hander pinned the bases loaded in the ninth and navigated around an Edwin Encarnacion homer in the 10th to bring the Yankees within 2 1/2 games of Toronto in the American League East. Manager Joe Girardi said that Miller's tightrope outing was not concerning.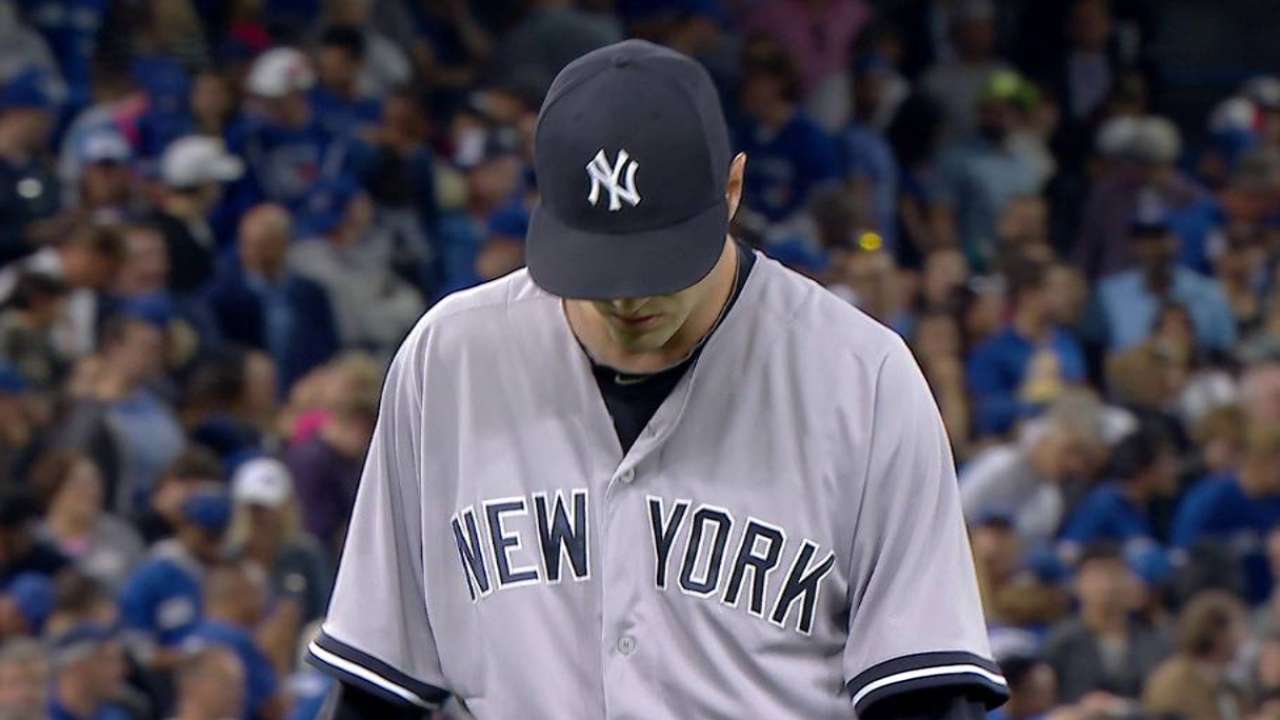 "He left a fastball up, down the middle [to Navarro]," Girardi said. "That's the bottom line. He's been really good. I don't make too much of it. He makes a mistake on that one pitch, and then he gives up the ball off the end of the bat [to Kevin Pillar], and it leads to them getting the bases loaded. But he did a tremendous job."
Miller said that Tuesday's victory was a complete team effort, and it was difficult not be overly revved up by Bird's blast.
"There's just an energy those guys have," Miller said. "The fact that they're comfortable enough; his reaction when he came to the dugout was awesome. I'm trying to mentally keep it pretty locked in, but he comes in screaming and ripping his helmet off and stuff. I think that means they realize they fit in, they're part of this team, and they're an important part of this team."
Miller also lauded Carlos Beltran's go-ahead homer in the eighth, Luis Severino's strong six-inning outing and the relief work turned in by Justin Wilson and Dellin Betances, the latter of whom worked around wildness in the eighth.
"Good teams find a way to pick each other up and find a way to survive. We did that tonight," Miller said.
Bryan Hoch is a reporter for MLB.com. Follow him on Twitter @bryanhoch, on Facebook and read his MLBlog, Bombers Beat. This story was not subject to the approval of Major League Baseball or its clubs.