Brewers tip their caps to Arrieta after loss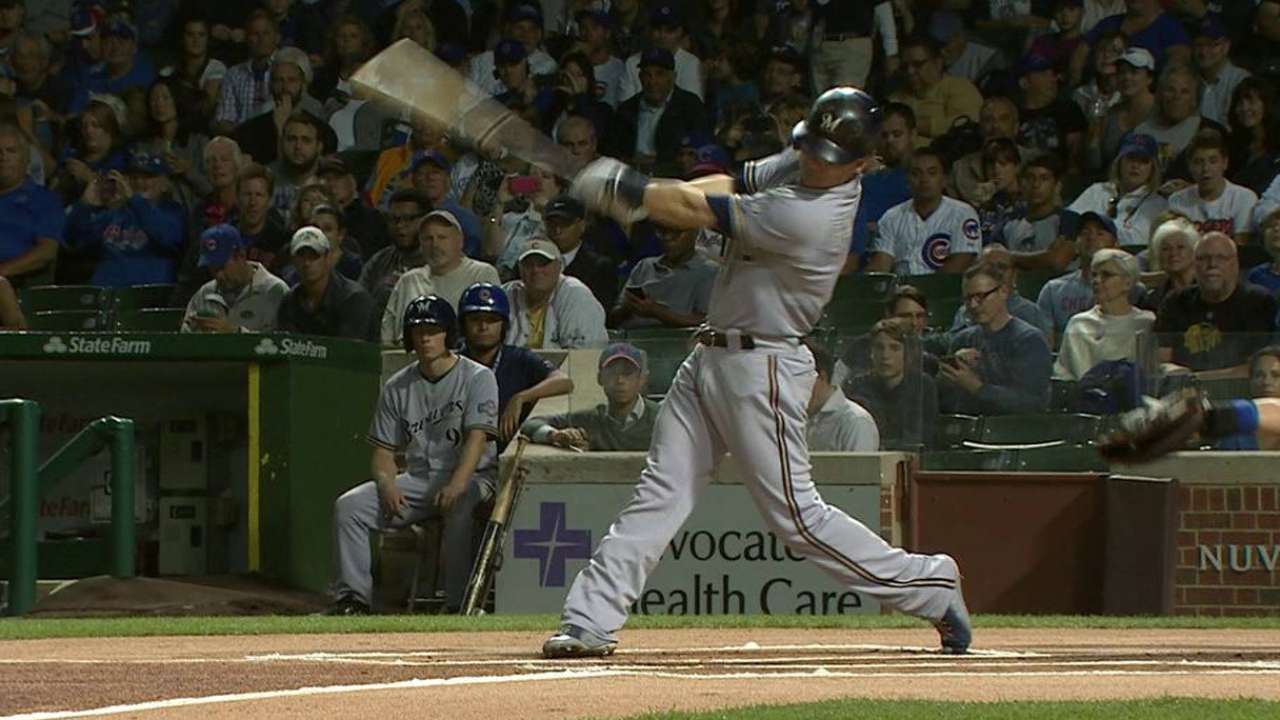 CHICAGO -- Scooter Gennett led off Tuesday's game, a 4-0 loss, with a double, and the mood in the Brewers' dugout perked up. The level of optimism rose even more when the next batter, Logan Schafer, grounded out to first base to move Gennett to third base.
A well-placed out was all they needed to send Gennett home. And if the Brewers could jump out to a quick lead against Cubs ace Jake Arrieta, maybe they would stand a fighting chance in a matchup that was a complete mismatch on paper.
But Arrieta struck out Adam Lind and got Khris Davis to fly out to center to end the inning. The Brewers wouldn't place another runner in scoring position the rest of the way; Arrieta tossed a three-hit shutout to win his 20th game, the Brewers' ninth straight loss to their neighbors to the south.
Afterward, all the Brewers could do was tip their collective caps to Arrieta, who is now 20-6 on the season with a 1.88 ERA.
"He's got good stuff," said Davis, who had one of the Brewers' three hits. "You have to give him credit. He hit his spots, and he's got electric stuff -- swing-and-miss stuff in the zone -- so you just have to battle and hope you string them together."
"He's been on a really good roll," Brewers manager Craig Counsell said. "He's as tough as there is right now. There's four plus-pitches there, and he's got confidence in all of them.
"Some at-bats you're not getting anything out over the plate to hit. You may get one pitch a night to hit. ... He's certainly in the zone right now."
Considering that Tuesday's contest was a bullpen game for the Brewers -- it was Jimmy Nelson's turn, but he was shut down after being hit in the head with a liner last week -- they managed to keep it close. Kris Bryant drove in three runs, including a two-run homer off starter Tyler Cravy (0-8) in the third inning. Bryant, who set the Cubs' rookie record with his 26th homer, also had an RBI double in the eighth.
"We let two fastballs leak back over the plate on Bryant; they were really the only mistakes I saw," Counsell said. "Two fastballs trying to go down and away, and they just kind of leaked back middle in on him, and he put a good swing on them."
The Cubs' other run was a gift from the Brewers' defense. With a runner on first and two out in the fifth, Kyle Schwarber lifted a high fly ball to right field.
Neither center fielder Schafer nor right fielder Domingo Santana got a good read on the ball. Shortstop Jean Segura tried to make a running catch, but the ball hit off his glove. Schwarber had a gift double and an RBI, as Dexter Fowler scored from first.
"Both outfielders kind of broke back," Counsell said. "[Segura] was pretty far out. He's going a long way, and it's a ball you expect the outfielder to call you off on and you don't hear it."
But considering the command that Arrieta had, the play hardly mattered to the outcome.
John Jackson is a contributor to MLB.com. This story was not subject to the approval of Major League Baseball or its clubs.