Statcast: Correa crushes double in Houston
Astros shortstop notches longest non-homer hit of the season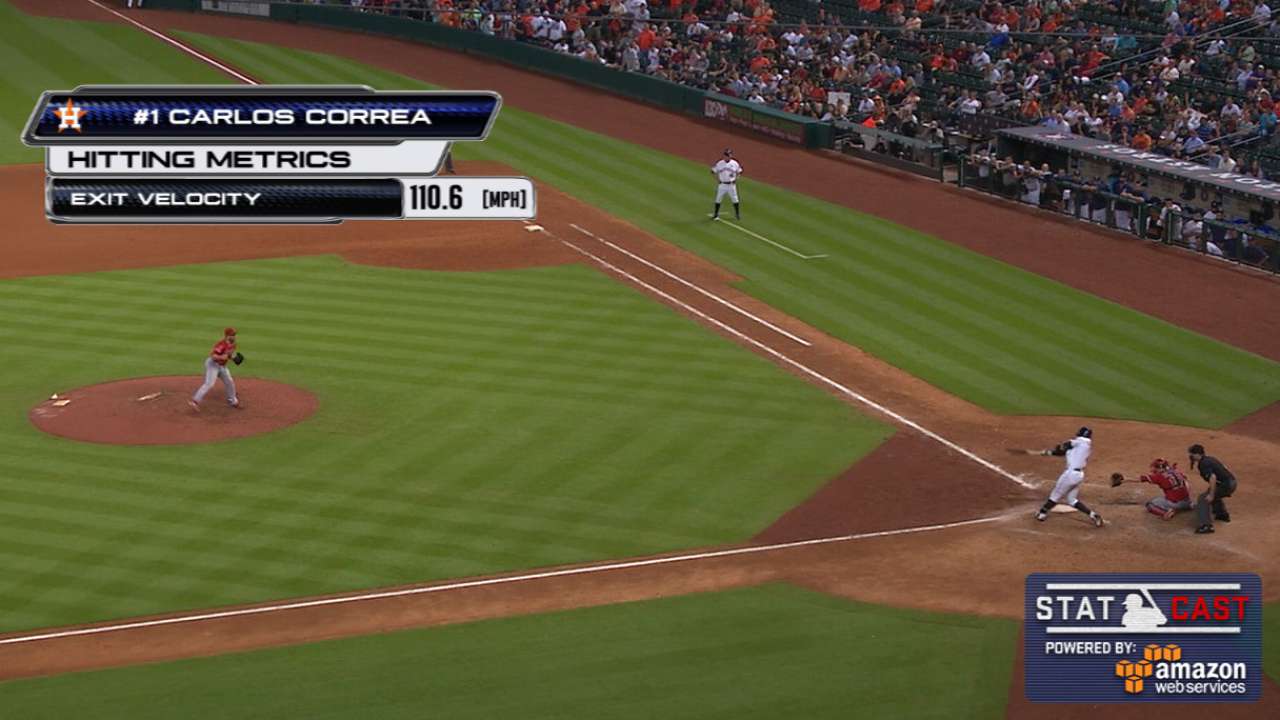 Next year, it will probably be a home run. On Tuesday night, Carlos Correa had to settle for what Statcast™ deemed the longest non-homer hit of the season.
Batting with two outs and the Astros down a run in the bottom of the ninth, Correa crushed a double off the center-field fence that was projected to travel 433 feet, just shy of what would have been the game-tying homer in virtually any other Major League ballpark.
But that wasn't the only Statcast-worthy highlight of the night. Jose Bautista gunned down a pair of baserunners, Albert Pujols and Jay Bruce each launched a prodigious homer and Manny Machado capped off a quick trip home with a perfect slide.
Here's an in-depth look at each play.
Correa crushes deep double
Next year, the Astros plan to remove Tal's Hill in center field at Minute Maid Park as part of a major renovation. At that point, a hit such as Correa's ninth-inning rocket off Angels closer Huston Street on Tuesday -- tracked by Statcast™ at 110.6 mph -- would likely be a homer in Houston.
But Correa's shot fell just short, as did the Astros' late rally against Street, with Houston losing the game, 4-3.
Joey Bats, not just a slugger
With Dustin Ackley on first base and the game against the Blue Jays tied at 2, Yankees shortstop Didi Gregorius lined a one-out single to right field in the seventh inning. Bautista came charging in, fielded the ball and fired it hard but slightly high to Josh Donaldson at third base.
But Bautista's 249.8-foot, 92.9-mph throw turned out to be just in time, as Donaldson recovered to tag out Ackley. The runner was initially reviewed safe, but a replay review overturned the call.
Bautista made another highlight-reel throw in the ninth, with two on, nobody out and the Blue Jays trailing by a run. Bautista settled under a Jacoby Ellsbury fly ball to record one out then uncorked a 267-foot throw to catcher Dioner Navarro, who tagged out a sliding Chris Young at the plate to complete the double play.
According to Statcast™, Young reached a top speed of 19.6 mph on his way to the plate -- but Bautista's throw still beat him there. The Yankees won the game, 6-4.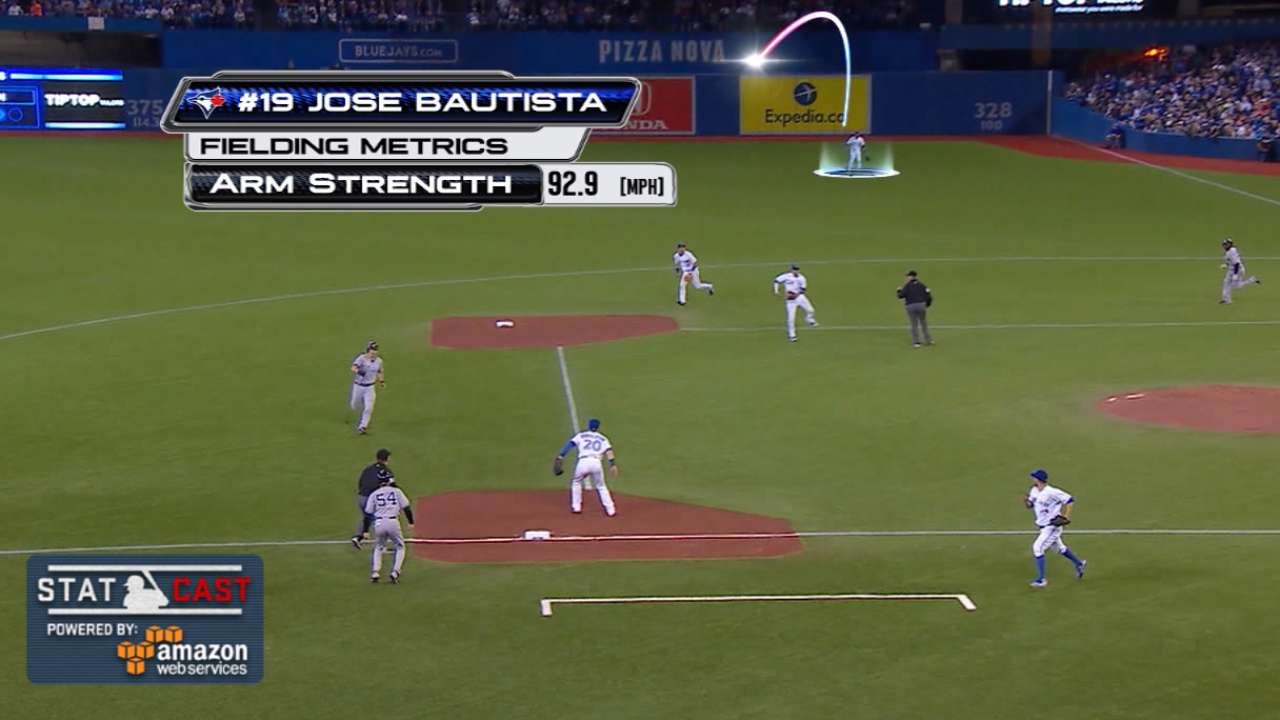 Pujols follows Trout's 40th with deep homer
Mike Trout and Pujols went back to back in the first inning of the Angels' win over the Astros, with Trout hitting the 40-homer milestone and Pujols sending No. 36 way out to left field.
Pujols' homer off Lance McCullers -- the 556th of his big league career -- came off his bat at 109.8 mph and was projected to travel 443 feet, according to Statcast™, his third-longest home run of the season.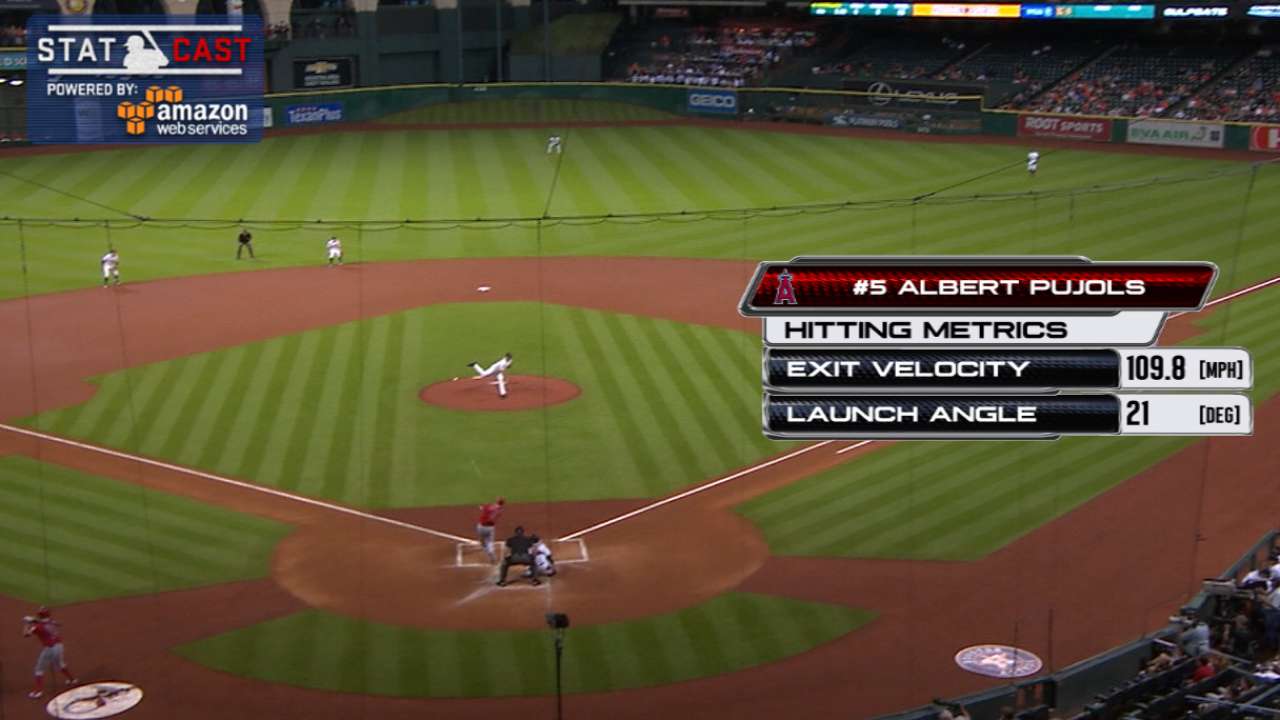 Bruce blasts one way out at Busch
In the first inning of the Reds' 3-1 loss to the Cardinals in St. Louis, Bruce reached rare territory with a titanic solo shot to right-center field. According to Statcast™, the Cincinnati slugger's blast off John Lackey was projected to travel 456 feet with an exit velocity of 108.8 mph.
Bruce's homer was the longest hit by a left-handed hitter in Busch Stadium III history and tied with the D-backs' Paul Goldschmidt for the longest homer hit by a visiting player at the ballpark.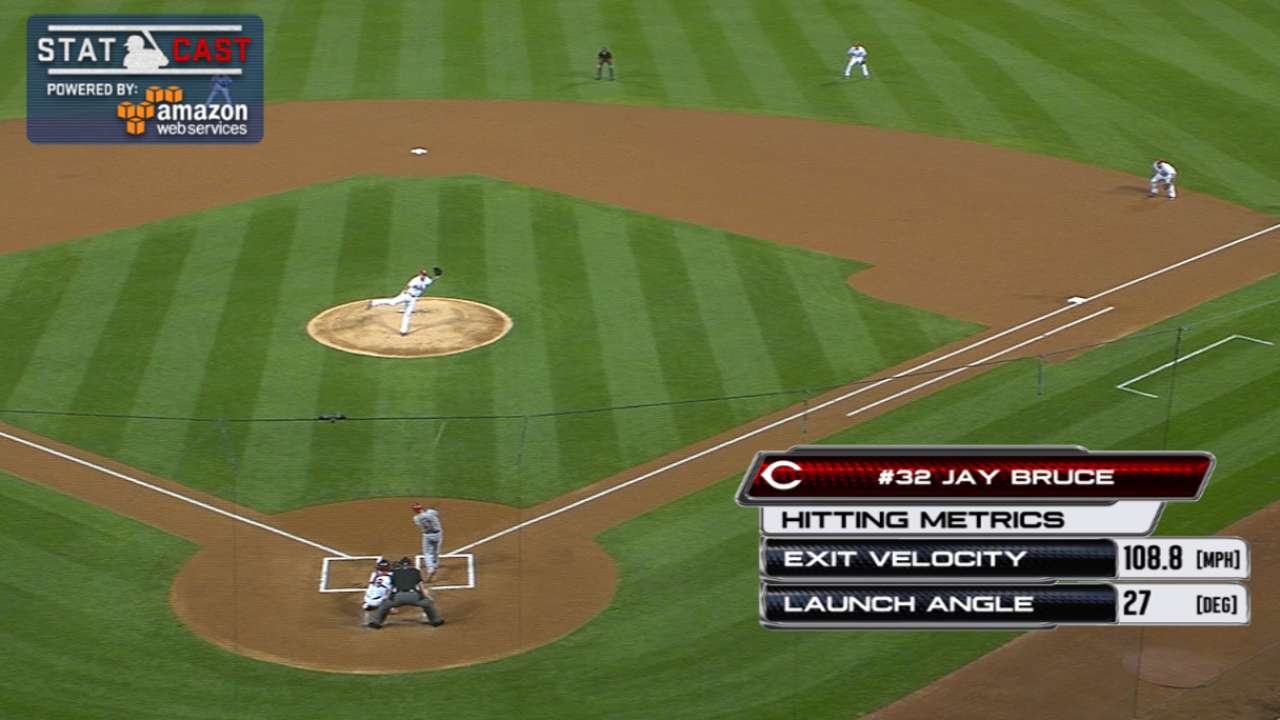 Machado races around the bases
With the Orioles leading the Nationals by a run in the fifth inning, Machado knocked a single to right field then wheeled around the bases following Chris Davis' double down the left-field line.
According to Statcast™, Machado made it around the bases in 10.99 seconds, finishing his mad dash with an incredible slide to beat Washington shortstop Ian Desmond's strong throw home. The O's won the game, 4-1.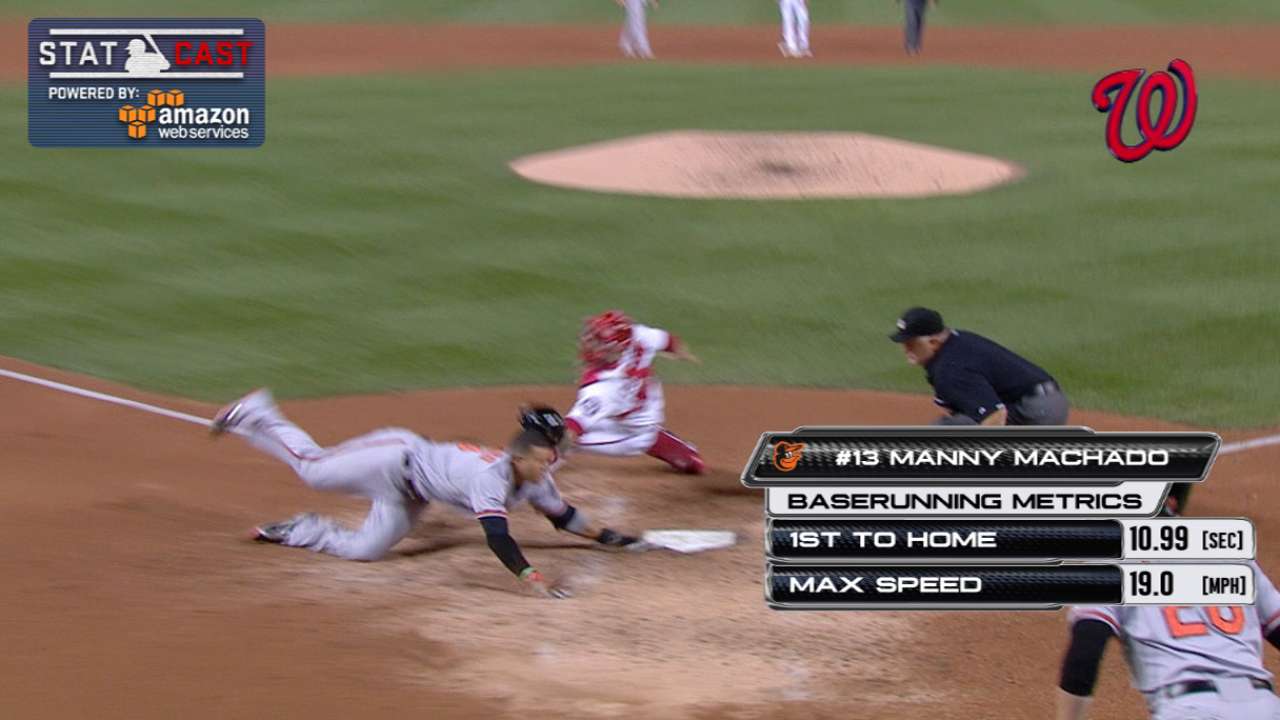 Adam Berry is a reporter for MLB.com. Follow him on Twitter at @adamdberry. This story was not subject to the approval of Major League Baseball or its clubs.