Santana doing his part for postseason push
Right-hander goes at least seven frames for fifth straight start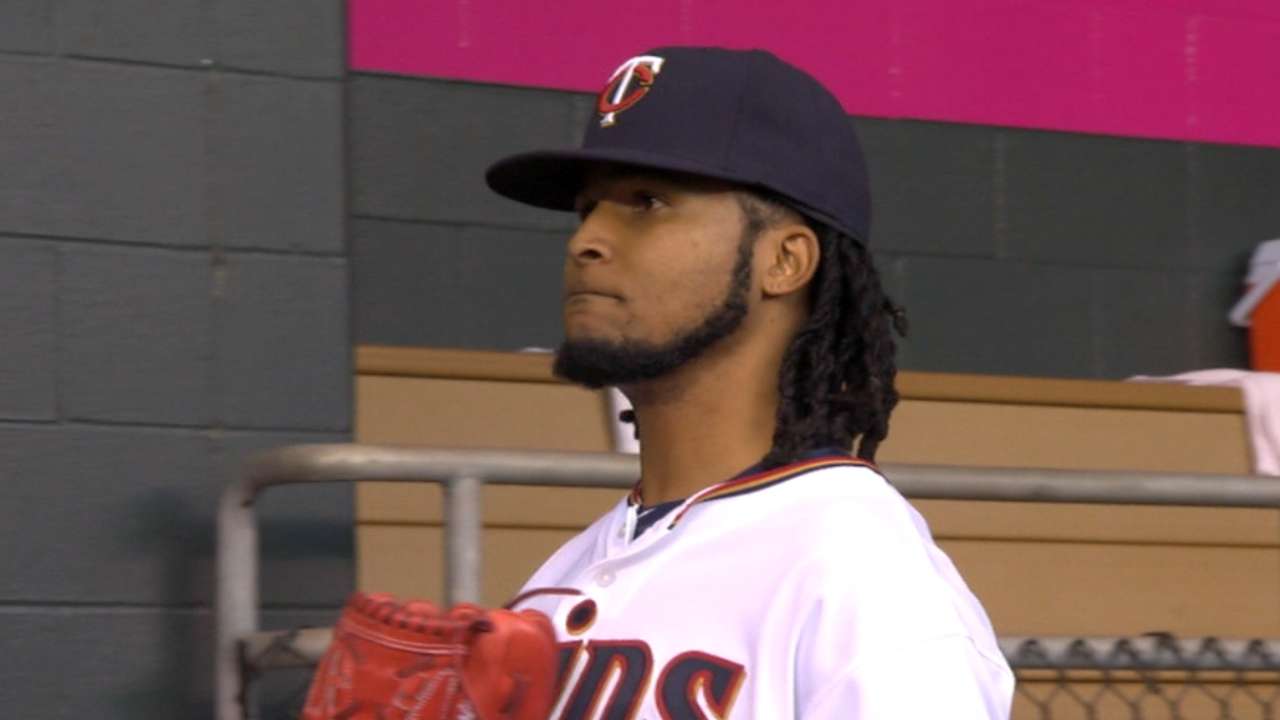 MINNEAPOLIS -- While right-hander Ervin Santana isn't eligible to pitch in the postseason, he's doing everything he can to help lead the Twins there.
Santana, who can't pitch in the playoffs after serving an 80-game suspension for the use of a performance-enhancing drug, turned in his fifth straight sterling outing to help lead the Twins to a 3-1 win over the Indians on Tuesday night at Target Field.
His strong effort helped the Twins move to two games back of the Astros for the second American League Wild Card spot with 12 games to play. Santana allowed one run over seven-plus innings to mark his fifth start of going at least seven frames. The right-hander is 4-0 with a 1.50 ERA and 39 strikeouts in 36 innings over those five outings.
"He was really good," Twins manager Paul Molitor said. "He got my attention in the first inning because his command wasn't great and he was kind of finessing his fastball, but I know he knows how to pitch that way, too. But he reached back as the game went on and had better command and a better ratio of strikes to balls and his breaking ball got better."
Santana pointed to a bullpen session with pitching coach Neil Allen in Tampa Bay in late August as the turning point to his season, as he had a 6.05 ERA through his first 10 starts after going 2 2/3 innings against the Rays on Aug. 25. Since then, Santana has been on a roll and has lowered his ERA to 4.31 on the year.
"I worked with Neil in my bullpen and can really see the difference right now," Santana said. "Everyone told me what I had to fix and then I kept working on it, working on it. And there's been good results."
Molitor said Santana's tweaks to his mechanics have played a big role in his turnaround, but added that the 11-year big league veteran's confidence is also soaring.
"I don't think I'm smart enough to give you a pitching analysis of what he's done mechanically, but I know there has been some tweaking from everything to arm angle, landing spots to finishing off his pitches better," Molitor said. "And I think it's confidence. Every time he goes out there, he's expecting to get good results and that's what's happened over his last four starts or so."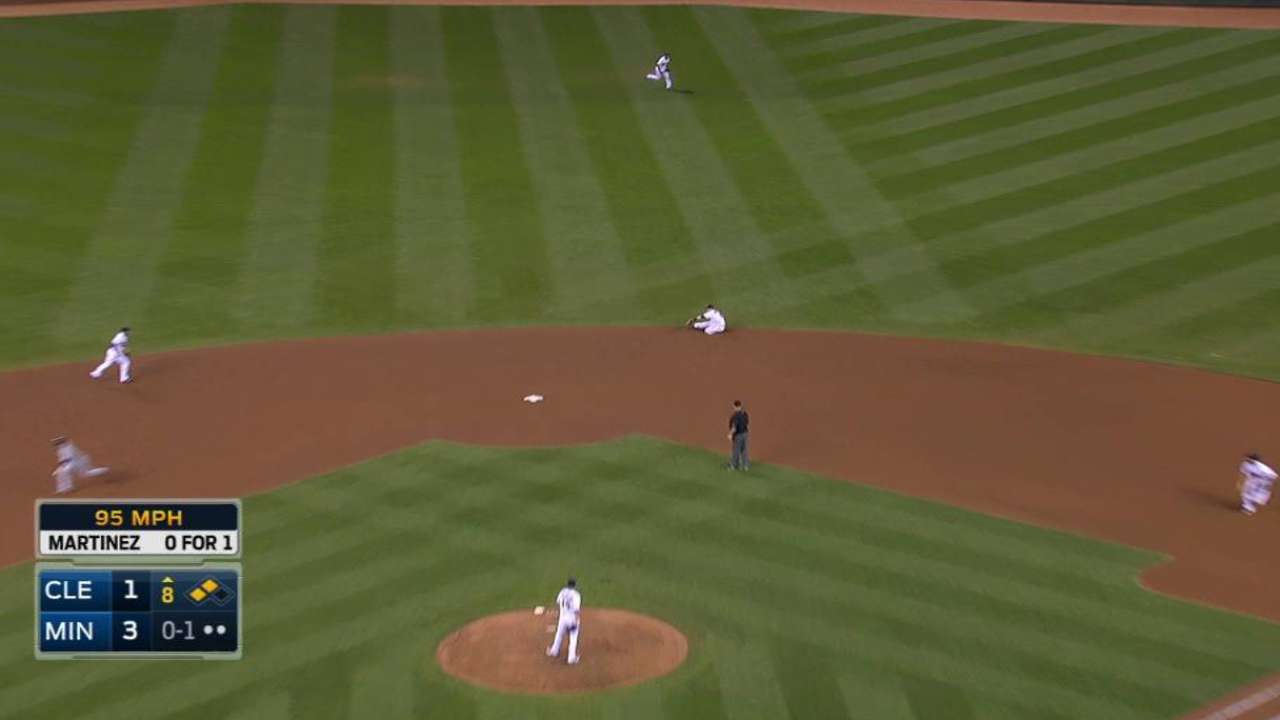 Santana, though, was helped in a big way by lefty Glen Perkins, who came in relief of Santana after he allowed consecutive singles to open the eighth. Perkins is still working his way back to closing after being out for nearly three weeks with a lower back strain, but was able to get out of the jam to help preserve the win. After a sacrifice bunt from Jason Kipnis, he retired rookies Francisco Lindor and Michael Martinez to end the threat.
"We were in a little bit of peril there with a couple guys on with a two-run lead," Molitor said. "Ideally, you don't want to bring him in with runners on, but he's done it a few times with four-out saves. I wasn't sure if Kipnis would bunt or not so we were conservative on our defense there, but he got that out, which I think helped. And then the matchups after that were right-handed hitters, but relatively young so he was able to get the fly ball and the ball to [Brian] Dozier."
Rhett Bollinger is a reporter for MLB.com. Read his blog, Bollinger Beat, follow him on Twitter @RhettBollinger and listen to his podcast. This story was not subject to the approval of Major League Baseball or its clubs.