MLB.com Columnist
Tracy Ringolsby
Well-tested Melancon thrives with Bucs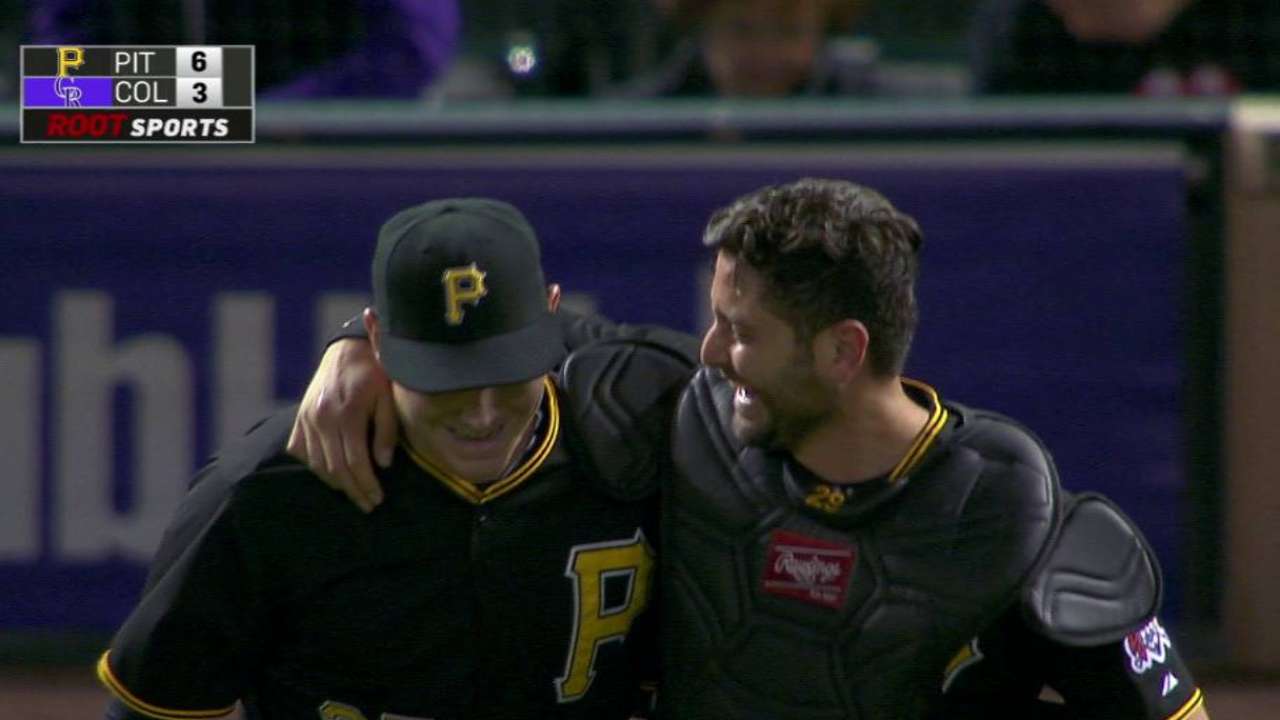 DENVER -- Pirates closer Mark Melancon was an overnight sensation. It just took seven years for it to happen.
And Melancon cherishes every moment of that time, from the Tommy John surgery he underwent shortly after coming out of the University of Arizona and signing with the Yankees as a ninth-round pick in 2006, to the nights he spent sleeping in the van he purchase for a couple hundred dollars down by the water during instructional league in Florida, to that winter he decided, at his own expense, to head down to the Yankees' Dominican academy so he could get in some extra work in his bid to get to the big leagues.
Heck, talk to Melancon about what would seem like a nightmarish summer of 2012, when he became the early-season subject of Boston manager Bobby Valentine's wrath and found himself back in the Minor Leagues after just four appearances, and he will break into a huge smile, and explain, "It made me who I am."
Who is Melancon? He is one of the premier closers in the big leagues, a 30-year-old right-hander whose rise to the elite stature among relievers coincides with the Pirates' rejuvenation from a 20-year stretch of losing seasons to a team that is -- after Tuesday night's 6-3 win over the Rockies -- just one win of its own or one loss by the Giants away from clinching a postseason berth for the third season in a row.
Among Bucs fans, Melancon is a bit overshadowed in light of the emergence of homegrown stars like center fielder Andrew McCutchen, second baseman Neil Walker and right-hander Gerrit Cole, which is fine with him.
"I shy away from attention," Melancon said.
It is, however, hard to overlook that, with a 1-2-3 ninth inning on Tuesday at Coors Field, Melancon not only finished off a victory that left the Pirates with that magic number of one to clinch no worse than a National League Wild Card berth, but increased his single-season franchise saves record to 49.
It also was Melancon's 96th save in 106 opportunities since he assumed the team's closer role on July 24, 2013, second among NL closers to only Craig Kimbrel's 106 saves in that span. And Melancon has a 1.95 ERA, the fourth lowest among NL relievers in that time period. The only other pitcher to have as many as four saves for the Bucs in that stretch is Jason Grilli, the man Melancon replaced as closer and who had 11 saves in 2014 before he was traded to the Angels in late July last season.
Impressed? Melancon isn't.
"I still don't have a bobblehead out, and I rarely see my jersey being worn around town," he said. "Until you get a bobblehead, I don't think you can consider yourself that popular."
Get the hint, Pirates marketing department? Find a spot in those 2016 promotional plans for that Mark Melancon Bobblehead Night. He's earned it.
OK, Melancon doesn't hit the upper 90s, but he does have some life on his fastball and he has impeccable control. He also has an appreciation for what the Bucs have allowed him to be a part of.
"It's been cool so far. Watch the young guys who have come up through the season to be part of this team," said Melancon. "It says something about this organization."
And it says something about the Pirates that they could see through the ugly stats that were on Melancon's baseball card after the 2012 season.
"That helped me when my back was against the wall to have confidence I can handle the situation," Melancon said. "Whenever I struggle, I look back at that time at Triple-A and know I need to get that guy back on the mound."
After bouncing from the Yankees to the Astros to a bizarre summer of 2012 with the Red Sox that he said made him what he is today, Melancon has found a home and happiness in Pittsburgh, improving with age. He is 49-for-51 in save chances this year, closing out a club-record 35 consecutive saves in between his first blown save on April 21 and his second on Aug. 18.
Melancon also has a 1.88 ERA.
"He works hard every day on every aspect of the game," said Bucs manager Clint Hurdle. "He's a tremendous fielder."
He's not a bad pitcher, either. And for that, Melancon said, he has to give a lot of credit to that Boston experience, which saw him shipped back to the Minor Leagues just four appearances (and 11 runs in two innings) into the Red Sox portion of his career.
"I learned so much, grew so much," said Melancon. "I learned I can reload and rebound. The second half of that season was as good as any point in my career.
"Whenever I struggle, I look back to that time at Triple-A. Do I wish the year was different? Sure, but that's tough."
Not any tougher than Melancon has been, however. That's why he is so special to the Pirates.
Tracy Ringolsby is a columnist for MLB.com. This story was not subject to the approval of Major League Baseball or its clubs.