Bird playing beyond his years just what Yankees need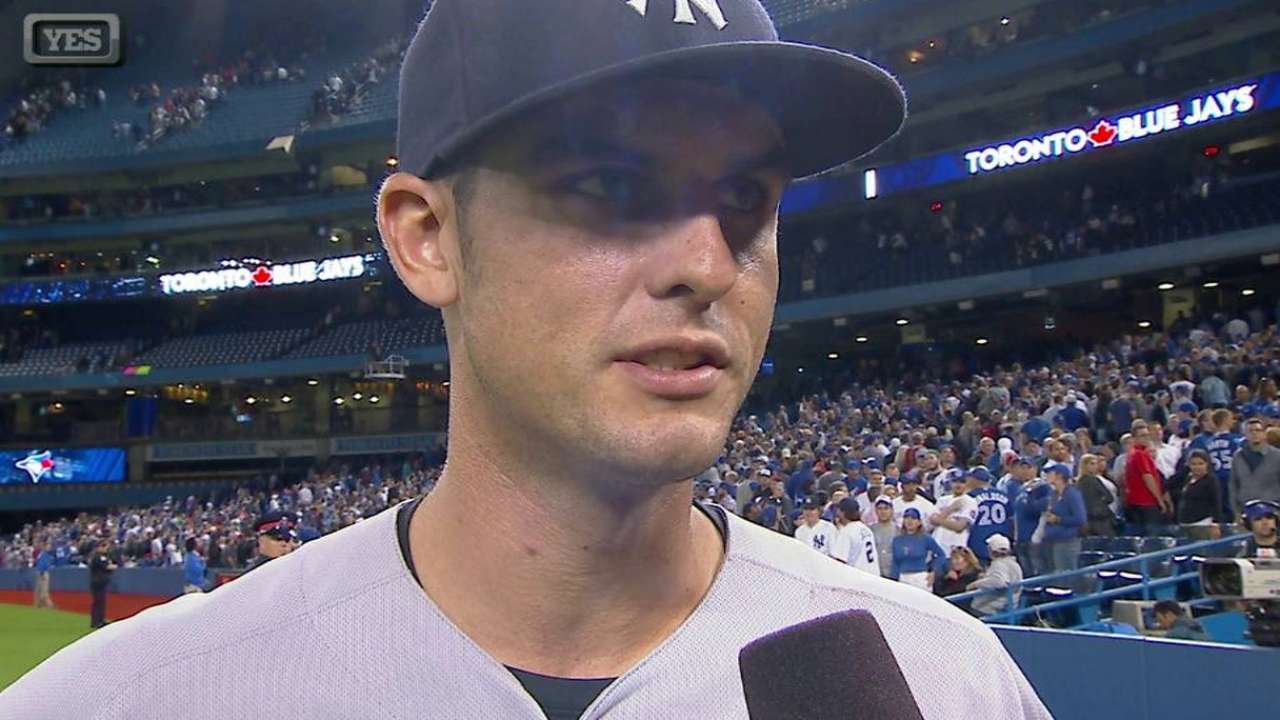 TORONTO -- There is something about Greg Bird's cool demeanor that suggests he will not be overwhelmed by any situation, at least between the white lines of a baseball diamond. As a rookie thrust into a heated pennant race, that quality is proving invaluable.
Bird homered for the third straight game on Tuesday night, rescuing the Yankees' flickering divisional hopes with a go-ahead, three-run homer in the 10th inning off Liam Hendriks. The Yankees held on for a 6-4 victory that moved them to within 2 1/2 games of the American League East-leading Blue Jays, and one that served to further boost the stock value for the 22-year-old Bird, who is rapidly gaining standing in the clubhouse.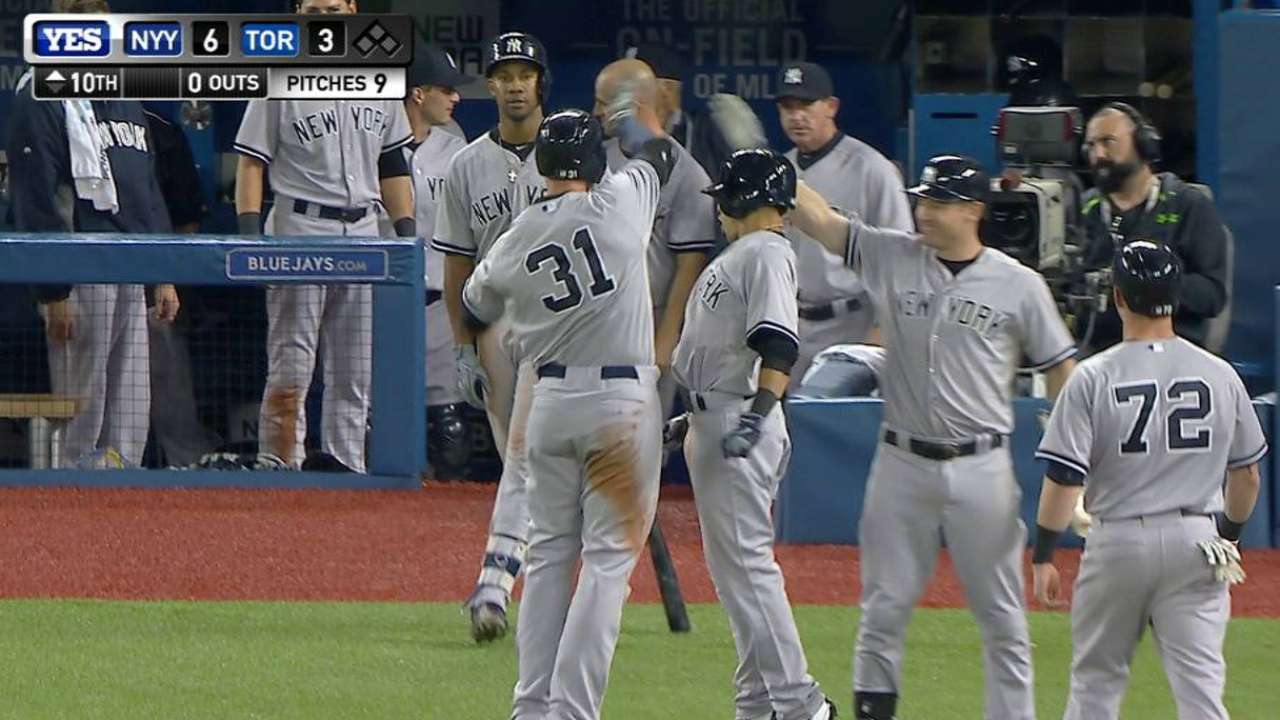 "He's just a guy that has control of his ability," said Carlos Beltran, who hit a go-ahead homer of his own in the eighth inning. "He's not trying to be a hero or anything like that. He's just trying to play good defense, put up good at-bats. When you keep it simple, there's no doubt you're going to have better success than when you try to complicate things."
The homer was Bird's 10th in 34 games, which seemed to be an unpredictable development after having started this season with Double-A Trenton. His path was accelerated into a starting first-base role when Mark Teixeira was lost for the year to a fractured right leg, but somehow the Yanks don't seem to have skipped a beat.
"He's very patient at the plate," manager Joe Girardi said. "He understands what he wants to do, and for a young player to really have a plan and understand what he wants to do, you don't see that very often. But he's very skilled, he has a great eye, and he makes adjustments well too."
Bird has said that he is able to slow the moment down and keep events in perspective, which he credits to his parents and his upbringing in the Denver suburb of Aurora, Colo.
"I'm just comfortable playing baseball. I don't know how else to put it," Bird said. "I enjoy it. I enjoy it here; every day matters. Winning matters, and that makes it more fun to me. I'm not saying in the Minor Leagues you just go through the motions, but it's definitely a different atmosphere."
Girardi said that Bird's homer could have saved the Yankees' chances of winning the division, and they'll face the Jays for the final time in the regular season with a chance to secure the series victory on Thursday.
"Mathematically, you're still in it, but with the way they've played and with us not having a chance to play them, we would have dug ourselves a pretty deep hole," Girardi said.
This, of course, raises the question of what the Yankees will do next season when Teixeira is healthy and reclaims his position from Bird, who is making a convincing case that he is ready for this level. That's an issue for the Hot Stove season anyway; Bird is keeping his focus on the here and now.
"My mentality is not to sit back and wait. I've got to be ready," Bird said. "It's something I took into the Fall League last year, get used to playing in October or November. That's when everyone should want to play."
Bryan Hoch is a reporter for MLB.com. Follow him on Twitter @bryanhoch, on Facebook and read his MLBlog, Bombers Beat. This story was not subject to the approval of Major League Baseball or its clubs.