Rojas showing off strong all-around game
Infielder extends hitting streak to 7 with HR in loss to Phillies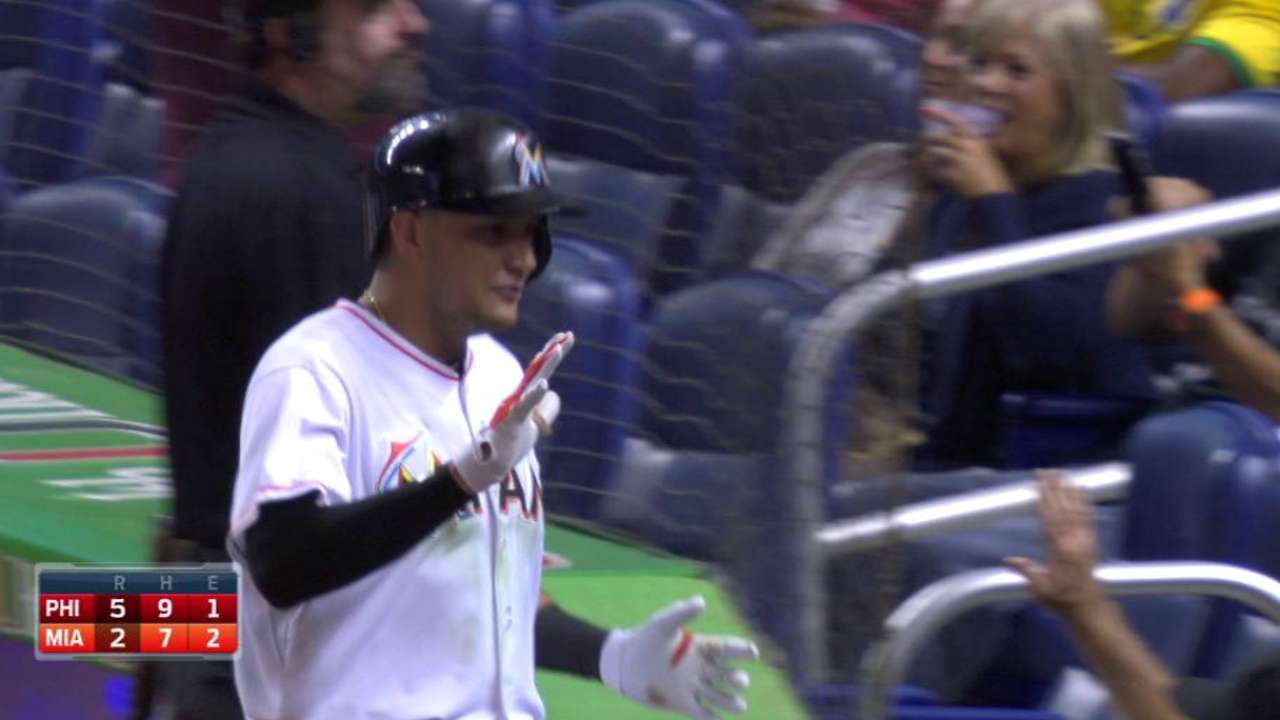 MIAMI -- Miguel Rojas had some big shoes to fill when Marlins starting shortstop Adeiny Hechavarria -- batting .281 and playing Gold Glove-caliber defense -- was sidelined with a hamstring injury on Sept. 2. But it's been no problem for the 26-year-old.
In Tuesday's 6-2 loss to the Phillies, Rojas launched his first homer of the season to extend his hitting streak to a career-high seven games. In the process, he also boosted his batting average to .283 (15-for-53) since Hechavarria's injury.
"We've been working a lot for me to be ready for this opportunity to play every day," Rojas said. "I feel great right now at the plate and I'm seeing the ball [well]. Tonight, I was locked in, trying to get a good pitch to hit and keep the streak going."
The Marlins knew they were getting a plus-fielder in Rojas when they acquired him from the Dodgers this offseason along with Dee Gordon. But this stretch has been the first time the righty has shined offensively since joining the club from Triple-A New Orleans on June 27.
To go along with a perfect fielding percentage in more than 100 chances since Sept. 2, Rojas is 10-for-23 (.435) in his past seven games, increasing his season batting average to .259.
"I feel like I have to prove myself to this organization," Rojas said. "I'm new here -- just got here and was playing off the bench a lot. So right now, filling that spot -- Hechavarria's a great player and I understand he's an everyday shortstop here -- but in case he goes down, I can replace him and I think I'm putting a good word in for the organization."
The Venezuela native is putting himself in position to grab a utility infielder spot next year, as the organization is finishing the season with an eye on 2016. Along with playing solidly in 23 games at shortstop, Rojas has shown strong defense in nine games apiece at second and third base as well.
For the season, he has committed only two errors -- one at short and one at third.
"We knew when we made the trade with the Dodgers that he was a stellar defender," manager Dan Jennings said. "He certainly has shown that, and he's taken some very good at-bats for us of late."
Said Rojas, "Now I understand who I am as a hitter. I was working hard on my offense this year to prove myself and now I'm getting those good results and I'm happy with it."
Steve Wilaj is an associate reporter for MLB.com. This story was not subject to the approval of Major League Baseball or its clubs.