Collins not worried about Clippard's struggles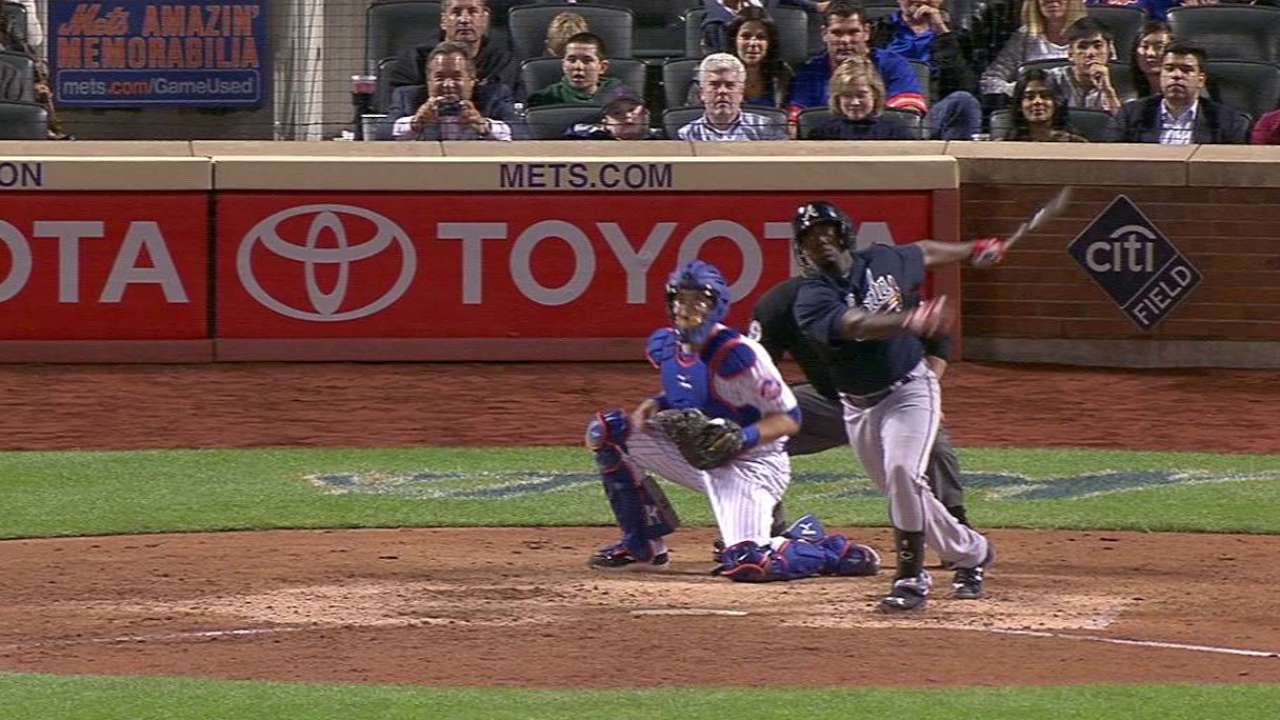 NEW YORK -- The early returns on Tyler Clippard that followed his acquisition at the non-waiver Trade Deadline were so good -- the righty allowed one earned run over the first 20 appearances with his new team -- that perhaps the Mets should have anticipated some regression towards the mean. And perhaps the images of so many successful Clippard outings are why Mets manager Terry Collins can recall the growing list of negative ones in such detail.
"He's just leaving balls in the middle of the strike zone and up, and he's being hurt by that," Collins said, shortly after reciting from memory several of the Clippard pitches opposing hitters have recently turned into big innings.
Tuesday provided another example, and extended the scope of Clippard's struggles into a second week. The righty allowed two runs in the 9th inning of New York's 6-2 loss to Atlanta, giving him nine earned runs allowed over his last eight appearances. In that 8 1/3-inning span, Clippard has allowed four home runs.
"I like the breaking ball there," Collins said. "He just hung it out over the plate."
The breaking ball in question was a 1-2 splitter to Adonis Garcia, who doubled in Cameron Maybin and Michael Bourn to put the game out of reach. Garcia also tagged a Clippard changeup for a three-run home run on Sept. 12 in Atlanta. Clippard allowed a run in his next appearance before being shut down briefly with lower back tightness.
Collins insists Clippard's health is not in question, but Clippard wasn't available for comment on Tuesday.
"[The back] isn't the problem," Collins said. "You see the ball that Garcia hit in Atlanta. He got him into a good count and got a changeup up over the plate. The other day with the home run he left that ball right out in the middle of the plate. If he makes his pitch he may get a swing and miss. It might be ball two. But he'll have another pitch to live by."
It's been a season-long endeavor for the Mets to build a reliable bridge to closer Jeurys Familia. With Addison Reed excelling in the 7th inning, Collins believes he has that now, finally, after exhausting through a parade of candidates that faltered for one reason or another.
His recent struggles aside, Clippard maintains a veteran track record and secondary pitches -- his changeup, in particular -- that remain formidable. Which is why Collins longs to get him back on track -- and dreams of fortifying a three-inning link similar to the one Kansas City rode to last year's World Series.
Joe Trezza is an associate reporter for MLB.com. This story was not subject to the approval of Major League Baseball or its clubs.