Olivera continues to make strides for Braves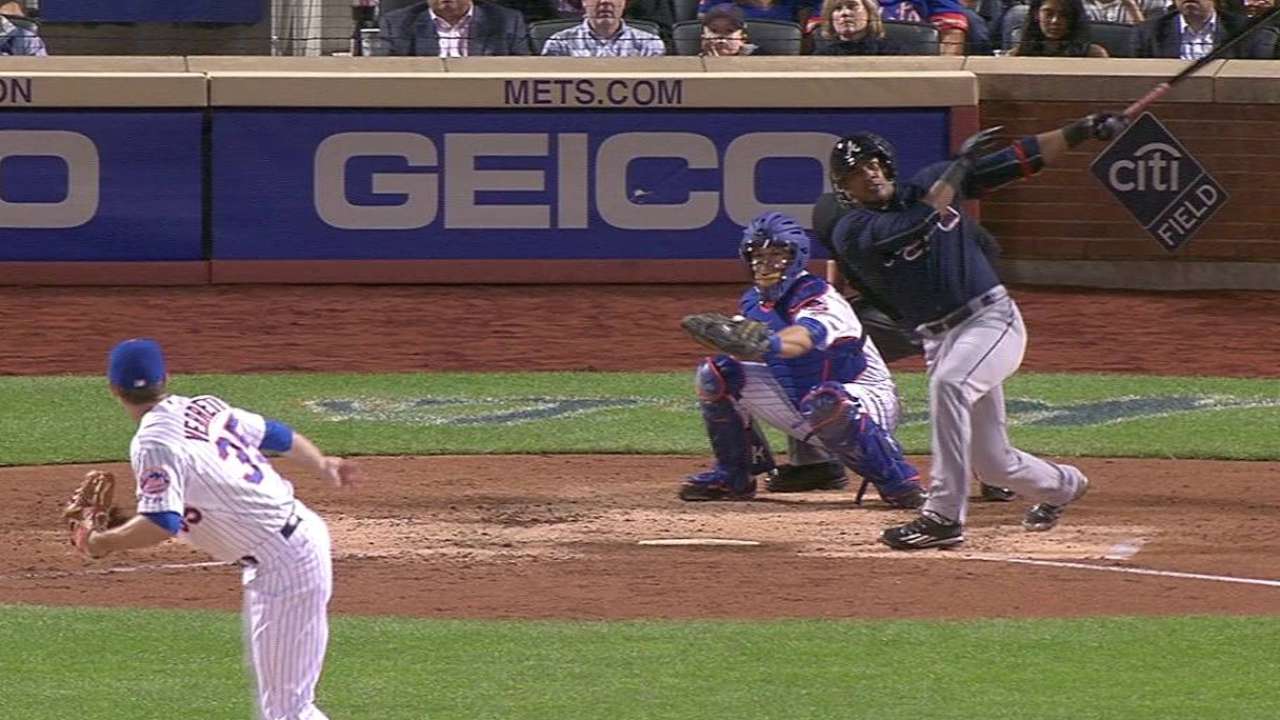 NEW YORK -- Though the Braves have conceded that they will likely not see Hector Olivera's true potential until he has a chance to experience a full Spring Training next year, they are hoping to spend the final days of this season seeing a little more of what he provided during Tuesday night's 6-2 win over the Mets at Citi Field.
Shaking off some of the frustration that has developed through his first three weeks as a Major Leaguer, Olivera displayed some of the power the Braves coveted when he drilled a decisive three-run home run off Mets starting pitcher Logan Verrett. The 30-year-old Cuban's second career homer capped a four-run fifth inning and provided him a chance to get a little more comfortable in his new environment.
"Every day I'm gaining more experience and more confidence," Olivera said. "This is just continuing to build for next year. I'm just taking it day-by-day. But every day I'm on that field, I'm getting the experience that I need."
Olivera has batted .237 (14-for-59) and collected four extra-base hits through the first 18 games of his career. The Braves have not provided him the regular playing time that was envisioned when they acquired him from the Dodgers in a July 30 trade that sent top prospect Jose Peraza and Alex Wood to Los Angeles.
But Braves manager Fredi Gonzalez has indicated that this is part of his plan to allow the much-hyped third baseman a chance to get more comfortable as he adapts to a lifestyle vastly different than any he has previously known. Over the course of the year that has followed his exit from his native Cuba, Olivera has been a part of two different organizations and spent most of this summer dealing with a hamstring strain.
Gonzalez has been batting Olivera second with the hope that he will see more fastballs while being positioned between Nick Markakis and Freddie Freeman. During the fifth inning of Tuesday night's game, Mets manager Terry Collins opted to intentionally walk Markakis ahead of Olivera, who promptly responded by hitting his game-winning homer.
"We've seen [the power potential] in batting practice and now it's just a matter of putting him in games and letting him show what he can do," Gonzalez said.
Mark Bowman is a reporter for MLB.com. Listen to his podcast. This story was not subject to the approval of Major League Baseball or its clubs.