MLB.com Columnist
Barry M. Bloom
Mets' rotation for stretch drive taking shape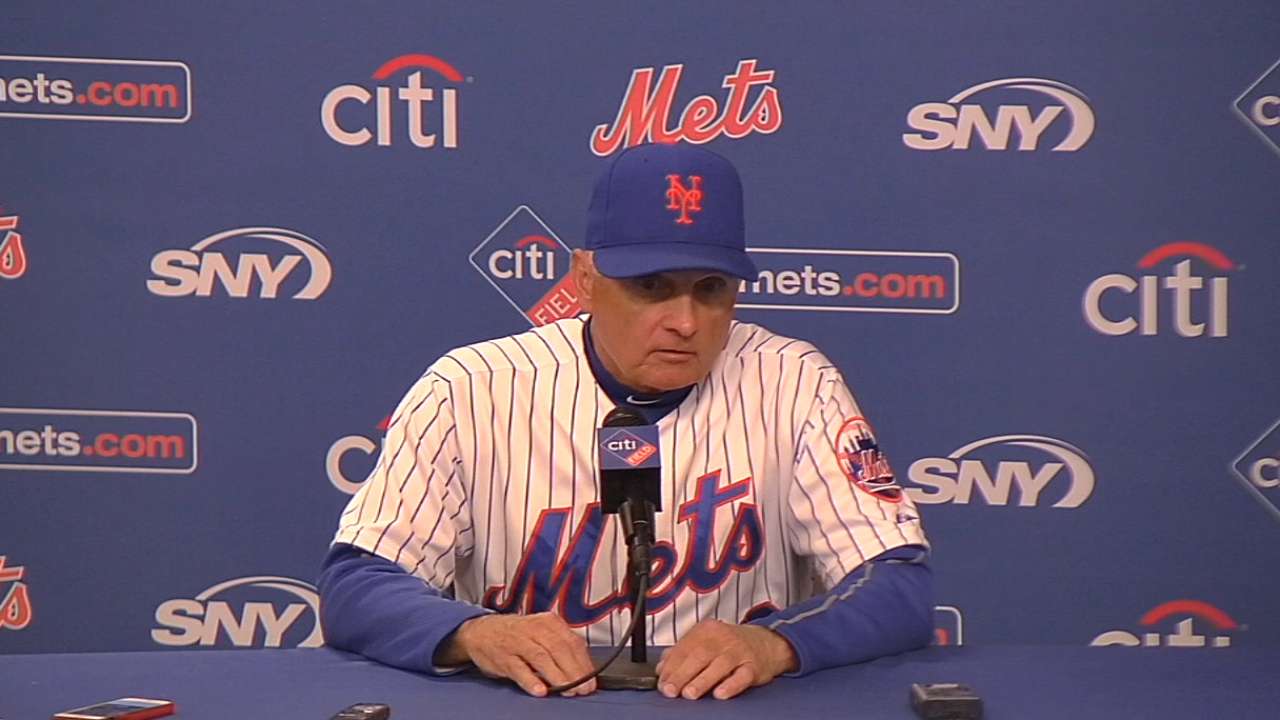 NEW YORK -- The Mets went into action on Tuesday against the Braves at Citi Field with a 6 1/2-game lead over the Nationals in the National League East and 12 games to play.
They lost, 6-2, to the Braves when rookie starter Logan Verrett allowed two Atlanta homers in the fifth inning. New York has lost three of its past four and five of eight on this nine-game homestand, squandering a third of what was once a 9 1/2-game lead. But there's nothing to worry about here.
"We know that every single night we go out there and play our game, we have a [darn] good chance of winning it," said Verrett.
The Mets were fortunate on Tuesday because the Nationals lost to the Orioles, 4-1. The Mets thus maintained their 6 1/2-game lead, now with 11 to play, the last three games being against Washington at Citi Field. The magic number to clinch the title is any combination of six Mets wins or Nats losses.
"I'm shocked," Mets manager Terry Collins said about the way his club has hit and played against the Marlins, Yankees and Braves, during this homestand with so much on the line.
"I have no doubt in my mind that we're going to get through this and go to the playoffs," Verrett said. "Absolutely no doubt at all."
Barring any injury or setbacks, Verrett has made his last start of the season, Collins said after the game. Beginning on Wednesday night, he'll use his six best starters in succession. Bartolo Colon gets the series finale against the Braves.
"We go into [a four-game series] in Cincinnati with Steven Matz, Noah Syndergaard, Matt Harvey and Jacob deGrom," Collins said. "And then we go into [a three-game series] in Philly with [Jonathan] Niese, Colon and Matz."
That would mean Syndergaard, Harvey and deGrom could start the final three games of the season against Washington.
The playoffs are another story.
"I'm not thinking that far ahead," Collins said. "I'm just thinking about the next [11] games."
That's more detail than Collins had been willing to recently impart about his starting pitching alignment.
"We got it all cleaned up?" Collins said. "I'm really glad. I want to make sure everybody leaves here tonight with a smile on their face, except [vice president of media relations] Jay [Horwitz] and I."
With Harvey, deGrom and Matz all trying to avoid a recurrence of Tommy John surgery, there is no precedence for what Collins is dealing with regarding his pitching staff.
Harvey threw five scoreless, one-hit innings against the Yankees on Sunday night, and he left the game after throwing only 77 pitches. Nearing the 180-inning mark, his workload in his final two starts will be seriously curtailed.
By the time deGrom gets back into the rotation, he'll have been idle for 12 days. In his past three starts, he's allowed 11 earned runs on 24 hits in 18 innings.
"I think we're in an usual situation, period, as far as guys getting to their inning limits," Verrett said. "[Collins] and them have to adjust around that so they'll just be sure those guys will be ready to go in the playoffs. It's all about keeping guys fresh and not overworked."
Of course, it actually is all about making the playoffs without any injuries to their key starters.
Barry M. Bloom is a national reporter for MLB.com and writes an MLBlog, Boomskie on Baseball. Follow @boomskie on Twitter. This story was not subject to the approval of Major League Baseball or its clubs.