Grizzlies win Triple-A National Championship
Astros' No. 18 prospect Devenski tosses seven one-hit innings in first Fresno start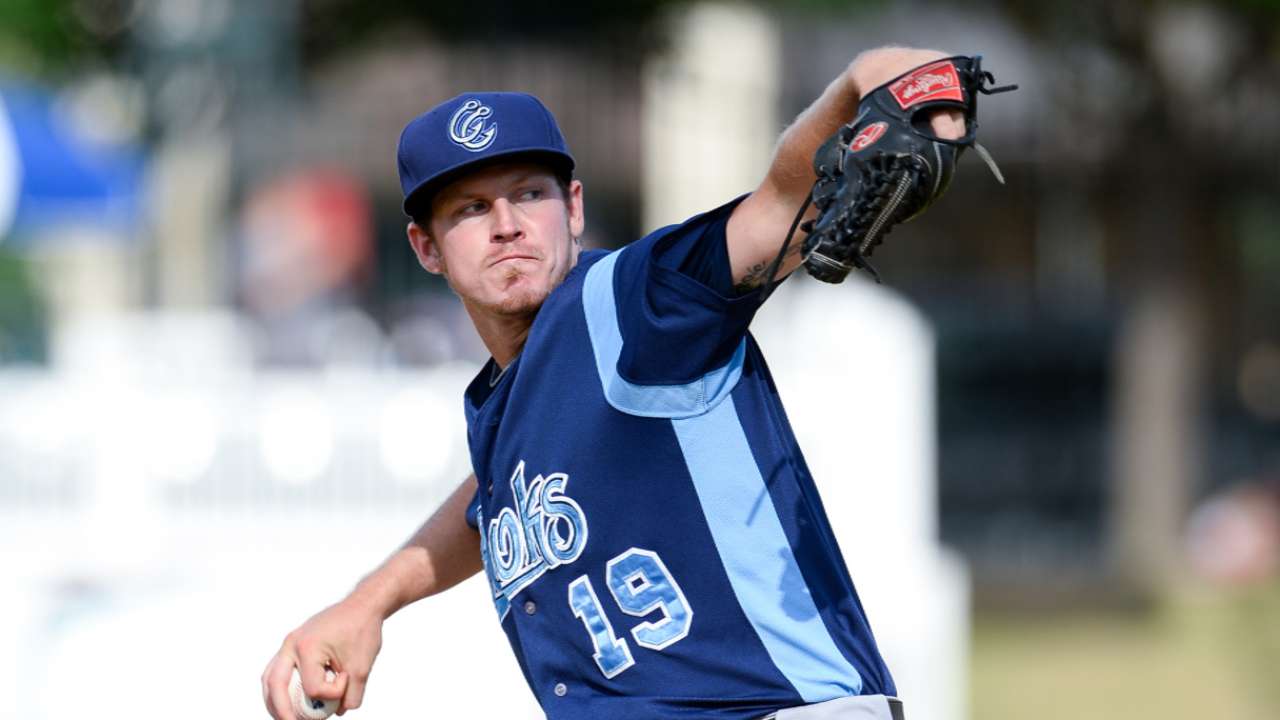 The Fresno Grizzlies brought the Minor League season to an end on Tuesday night, shutting out the Columbus Clippers, 7-0, to win the Triple-A National Championship in El Paso, Texas.
It was all Fresno (85-59) from the onset of the game, as the Pacific Coast League champions jumped out to a commanding lead, scoring seven times in the first three innings, while starting pitcher Chris Devenski shut down the Clippers (83-62) in his first Triple-A start.
"Every time I go out there, it's more so to challenge myself and push and seeing what I can do and how far I can go," Devenski said to MiLB.com. "I was pretty happy that I came up big."
The Astros' No. 18 prospect made it look easy, carrying a perfect-game bid into the sixth inning en route to firing seven scoreless frames. The 24-year-old righty, who was named Most Valuable Player of the game, allowed just one hit to the International League champions -- a leadoff single to Audy Ciriaco in the sixth inning -- did not issue a walk and struck out nine batters, throwing 66 of his 81 pitches for strikes. The nine punchouts tied Devenski's sesaon-high, which he established in a playoff start for Double-A Corpus Christi on Sept. 9.
"Great pitching by Devenski...well-deserved MVP," Grizzlies manager Tony DeFrancesco told MiLB.com. "He stepped up and filled in perfectly. He dominated the game for us. No hits going into the sixth inning; complete domination."
Fresno right fielder Alex Presley got things started with a one-out single in the first inning and advanced to third on a single by Tyler White, the Astros' No. 30 prospect. First baseman Jon Singleton followed with a sacrifice fly, plating Presley, while White came around to score on a throwing error by Columbus shortstop Erik Gonzalez. No. 23 prospect Andrew Aplin and Robbie Grossman both reached base on infield singles, with Grossman's giving Fresno a 3-0 lead.
"Alex Presley's been a good catalyst for us. Tyler White is probably one of the best hitters I've been around in a long time," DeFrancesco said to MiLB.com. "From the time they got to the ballpark, they were focused. A loose group of guys, having fun."
No. 11 prospect Tony Kemp got in on the action in the second inning, hitting a leadoff single, stealing second base and then scoring with a headfirst slide on a Presley single. The Grizzlies would tack on one more run in the frame, courtesy of a double by White, and extended their lead to 6-0 in the third when Aplin scored on Tyler Heineman's RBI single.
After a scoreless fourth inning, Fresno resumed scoring in the fifth when shortstop Jio Mier connected on a two-out single to drive in Aplin, who had doubled earlier in the inning.
Aplin reached base three times in the game, finishing 2-for-4 with two runs scored and a walk. The 24-year-old outfielder batted .296/.413/.379 with 18 extra-base hits, 64 runs and 32 stolen bases in 105 regular-season games between Corpus Christi and Fresno.
White, 24, also had a big game for the Grizzlies, collecting two in four at-bats to go along with an RBI. The 2013 33rd-rounder also had a strong regular season between Corpus Christi and Fresno, batting .325/.442/.496 with 14 home runs, 25 doubles, 99 RBIs and more walks (84) than strikeouts (73) in 116 games.
But as good as Fresno's offense was Tuesday, Devenski was even better. The 2011 25th-rounder joined Fresno for the PCL playoffs, making a pair of appearances out of the Grizzlies' bullpen before earning the start on Tuesday.
"We call him the dragon," Kemp told MiLB.com of Devenski. "We call him that nickname because every time he goes out there, he's fearless and believes in himself. And when you have a pitcher like that, that has a beast in him like that, all you have to do is just play easy defense."
While Devenski used his entire four-pitch mix throughout the game, it was his changeup, specifically, which wreaked havoc on Columbus hitters. Of his nine strikeouts, six were of the swing-and-miss variety.
Devenski spent the entire regular season at Corpus Christi, where he was named the affiliate's Pitcher of the Year after posting a 3.01 ERA, 1.25 WHIP and 139/33 strikeout-to-walk ratio in 119 2/3 innings (24 appearances/17 starts). He pitched particularly well down the stretch, recording a 2.73 ERA and 25 strikeouts in 26 1/3 innings over his last five starts.
Jordan Jankowski relieved Devenski and turned in a scoreless eighth inning, allowing one hit and striking out a pair, while James Hoyt worked the ninth to seal the win against the Cleveland Indians' affiliate.
Mike Rosenbaum is a reporter for MLB.com. This story was not subject to the approval of Major League Baseball or its clubs.