MLB.com Columnist
Jim Callis
5 on-the-brink prospects who thrived in MiLB playoffs
Astros' Appel, Indians' Clevinger led teams to Triple-A National Championship game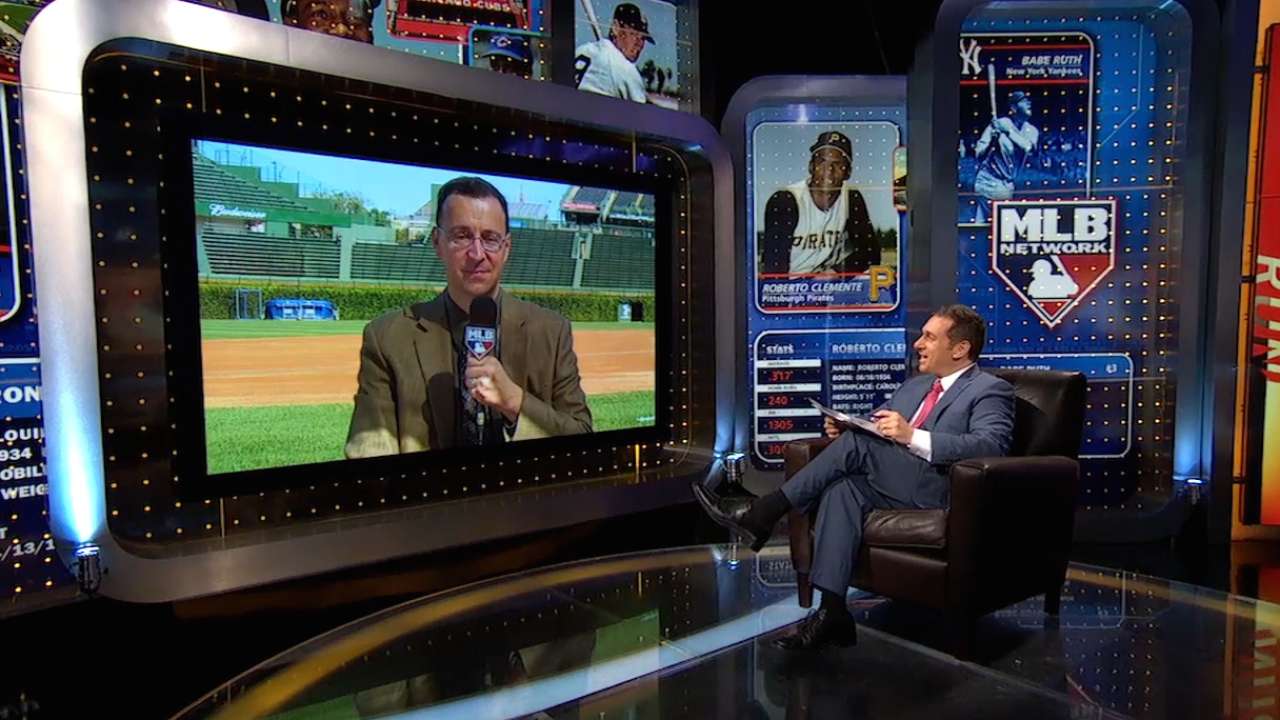 While the Major League playoff races are heating up, the Minor League postseason ended with the Triple-A National Championship Tuesday night in El Paso, Tex. The Fresno Grizzlies finished it off with a 7-0 defeat of the Columbus Clippers behind seven one-hit innings from right-hander Chris Devenski in his first Triple-A start.
Several of this September's Minor League postseason participants will arrive in the big leagues in 2016. Here are the best prospects/performers from the five championship teams in the upper levels of the Minors, and their ETAs in the Majors:
Mark Appel, RHP - Astros No. 2
Fresno Grizzlies (Triple-A Pacific Coast League)
ETA: Mid-2016
If everything had gone according to plan, the No. 1 overall pick in the 2013 Draft already would be in the Majors helping the Astros nail down a playoff berth. But Appel's journey through the Minors has been rockier than expected with a 5.12 ERA through three seasons. He surrendered seven runs in 10 innings in his two PCL postseason starts, though he earned the victory in the clincher while fanning 10 in 5 2/3 frames.
That win was a microcosm of Appel's pro career thus far. He can miss bats with his mid-90s fastball and hard slider, but he also gets hit harder than anticipated. If he can develop better command of his stuff, he could crack Houston's rotation at some point next year.
Michael Clevinger, RHP - Indians No. 15
Columbus Clippers (Triple-A International League)
ETA: Mid-2016
After undergoing Tommy John surgery in his first full pro season in 2012, he missed most of the following year and got traded from the Angels to the Indians for Vinnie Pestano in 2014. Cleveland helped Clevinger make some mechanical adjustments and turned him loose this year, during which he led the Double-A Eastern League in opponent average (.219) and ranked second in strikeouts (145 in 158 innings) and WHIP (1.06).
Clevinger made his Triple-A debut in the deciding game of the IL semifinals, and he responded by tossing 7 2/3 no-hit innings with 10 strikeouts for the victory. When the Clippers turned to him again for the finale of the championship series, he delivered 7 2/3 more scoreless innings and another win. With a consistent 92-94 mph fastball, three solid secondary pitches and fine command, he has little left to prove in the Minors.
Max Kepler, OF/1B - Twins No. 6
Chattanooga Lookouts (Double-A Southern League)
ETA: Mid-2016
A tremendous year for Kepler just keeps getting better and better. He broke out in 2015 by winning the Southern League MVP award and leading the circuit in on-base percentage (.416) and slugging percentage (.531). He hit three homers and drove in eight runs in nine games to help the Lookouts win the league title, after which the Twins immediately called him to the big leagues.
With Joe Mauer at first base and a bevy of youngsters in the outfield, Kepler probably won't play much in Minnesota this September or in the first half of 2016. But with his sweet left-handed swing, burgeoning power and improved approach at the plate, the Twins eventually will have to find a place for him.
Sean Manaea, LHP - Athletics No. 3
Midland RockHounds (Double-A Texas League)
ETA: Mid-2016
Because of abdominal and groin strains, his season didn't get started until late June. Manaea eased his way back in for a month before the Royals sent him to the Athletics in the Ben Zobrist deal, then took off. In seven regular-season starts with his new organization, he went 6-0, 1.90 with 51 strikeouts in 42 2/3 innings.
Manaea was just as untouchable in the TL playoffs, allowing two runs in two starts while whiffing 15 in as many innings. He can pitch off his fastball better than most lefties because its combination of velocity (up to 96 mph), life and angle make it very difficult to hit. He still needs to polish his secondary pitches and command but could reach Oakland in mid-2016.
Mike Yastrzemski, OF - Orioles No. 13
Bowie Baysox (Double-A Eastern League)
ETA: Mid-2017
Though the Baysox didn't have any big-name prospects, they did have a prospect with a big name. The grandson of Hall of Famer Carl Yastrzemski, Mike had a huge postseason with a .406 average, two homers and 15 runs produced in nine games. He provided two doubles in the EL finale.
A 14th-round senior sign for $25,000 out of Vanderbilt in 2013, Yastrzemski had a strong first full pro season but slumped to .246/.316/.372 this year in Double-A. He lacks a true plus tool but can do a little of everything and earns raves for his grinder mentality. He projects as more of a fourth outfielder than a regular and doesn't figure to surface in Baltimore before 2017.
Jim Callis is a reporter for MLB.com and writes a blog, Callis' Corner. Follow @jimcallisMLB on Twitter. This story was not subject to the approval of Major League Baseball or its clubs.
This story was not subject to the approval of Major League Baseball or its clubs.