Petco Park to host Walton's basketball event
Weeklong festival capped by game between San Diego State, USD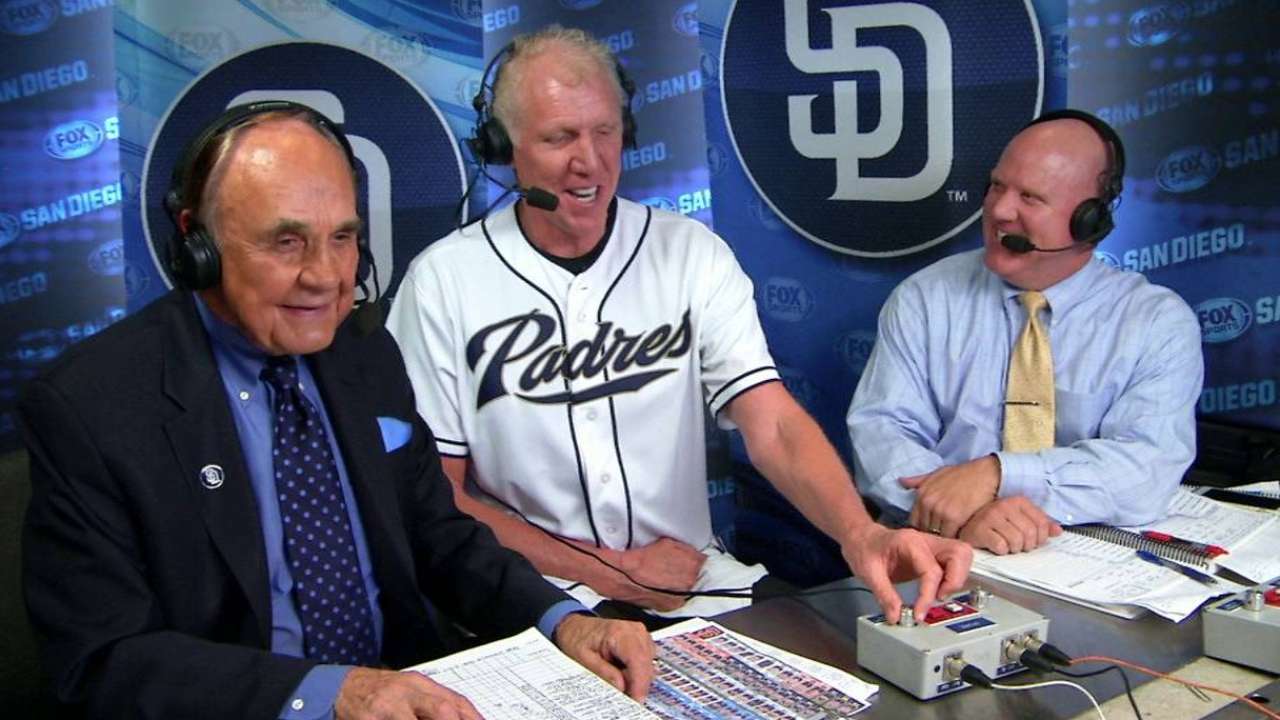 SAN DIEGO -- Dressed in his very own Padres jersey bearing, of course, No. 32, basketball legend Bill Walton, joined by Padres president and CEO Mike Dee, announced Tuesday the inaugural Bill Walton Basketball Festival, a weeklong event of basketball activities that will begin Nov. 30 at Petco Park.
"I couldn't be more excited or proud to be a part of this incredible opportunity," Walton said. "Because I love San Diego, I love Petco Park, I love the Padres and I love basketball."
The festivities will lead up to the main event Dec. 6, as the San Diego State Aztecs and University of San Diego Toreros will play against each other in the first college basketball game to be held in Petco Park.
Game time is set for 2 p.m. PT, and Walton advised that all attending bring their sunglasses.
Walton, who is a native of La Mesa, just 10 miles east of downtown San Diego, said both universities are special to him. Walton shared that he grew up playing basketball at USD and that was the first place he ever met John Wooden, while SDSU was where his mother attended college.
"When you say basketball in San Diego, the first name that comes to mind is Bill Walton," Dee said. "So we reached out to Bill and said we have this idea -- what can we do? Bill graciously accepted our invitation to be a part of this. We are lucky to have a community icon like Bill here."
Throughout the event, activities will include youth clinics led by Walton, along with charity games, community league games and high school games. The logo of the festival is unsurprisingly tie-dye, as Dee pointed out that it certainly fits the NBA Hall of Famer's personality.
Walton said the upcoming festival is meaningful for him, as he spoke about watching the San Diego Chargers practice at Sunset Park in La Mesa as a kid, where he would hang on the fence and watch players who would eventually inspire him as a young athlete. Walton said he is hoping the student-athletes of both college teams will do the same.
"We are going to involve the community on every level," Walton said. "Our goal is to have young children say, 'Yes, I want to play sports, I want to be a better student, I want to be a better representative of our city here in San Diego.' ... This is going to be a true festival of life."
The court will be built on the infield and reach from third base to home plate lengthwise, with the stands surrounding the court toward the outfield. The stands will hold 18,000.
Tickets for the event go on sale to the general public Wednesday at 10 a.m. PT at www.padres.com/bball. A complete schedule of the event will be announced at a later date.
Beth Maiman is an associate reporter for MLB.com. This story was not subject to the approval of Major League Baseball or its clubs.