The win beneath his swing: Yanks' Bird tops Jays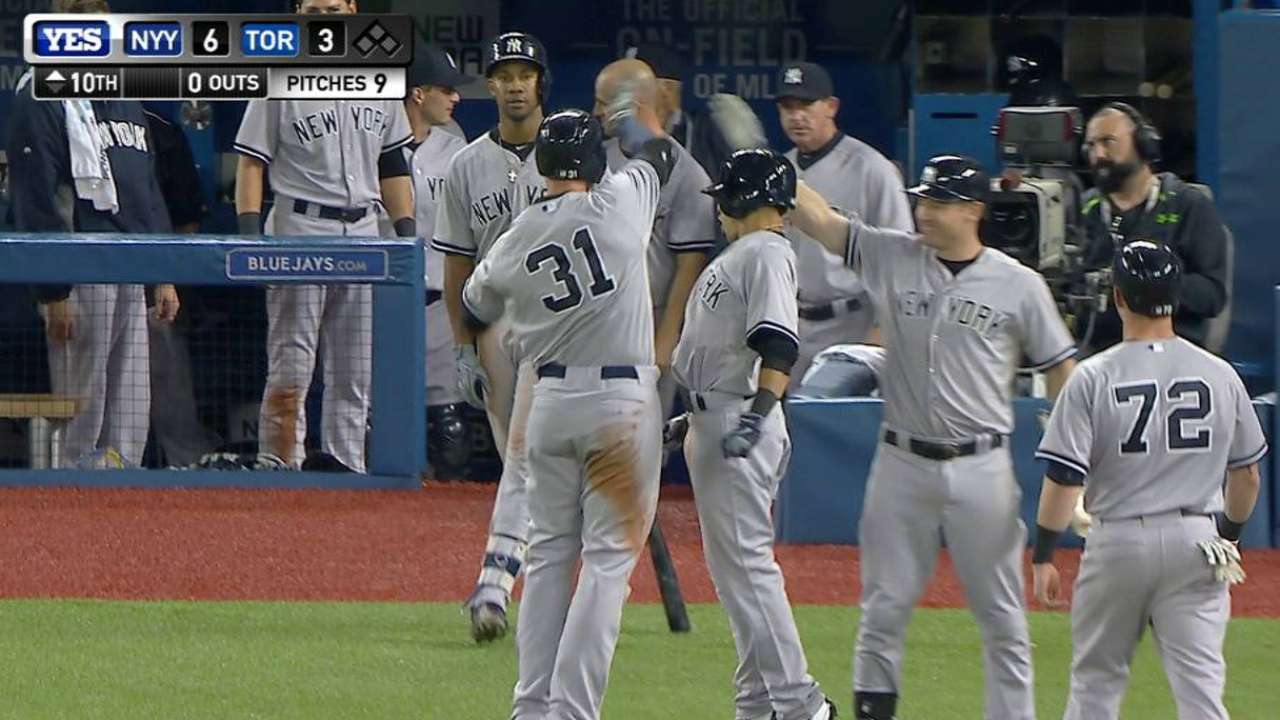 TORONTO -- Greg Bird hit a three-run homer in the top of the 10th inning as the Yankees pulled within 2 1/2 games of first place in the American League East with a 6-4 victory over the Blue Jays on Tuesday night at Rogers Centre.
New York also pulled four games ahead of the Astros for the first AL Wild Card spot after Houston lost, 4-3, to the Angels. Toronto's magic number to clinch the division remained at 10, with Wednesday's series finale marking the final time these two teams will play each other before the end of the regular season. The Blue Jays are still 1 1/2 games behind the Royals for the top spot in the AL after Kansas City lost, 11-2, to Seattle.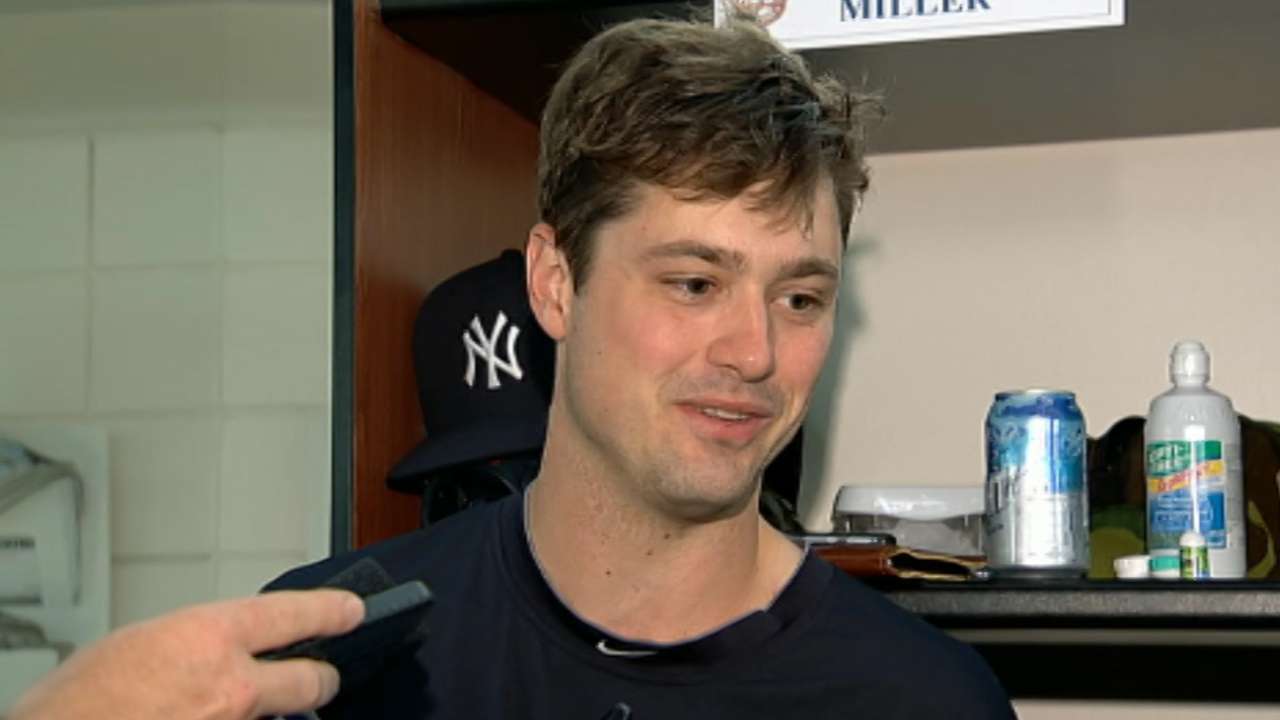 "I think everyone in here, the goal is to win this division," Bird said. "If it wasn't, then we've got a problem. We're still definitely in it, and now it's off to tomorrow. It's a big game and we've got to get the win tomorrow."
The dramatic 10th inning capped a back-and-forth affair that had the feelings of postseason baseball in front of a soldout crowd of 47,992. New York took the lead in the top of the eighth on a solo homer by Carlos Beltran, but in the bottom of the ninth, Dioner Navarro evened the score with a solo blast of his own off Yankees closer Andrew Miller.
New York put a pair of runners on with nobody out in the 10th before Bird came through with the three-run shot to right off Blue Jays reliever Mark Lowe. It was Bird's third homer in as many games and improved the Yankees' record in extra innings to 4-8, while the Blue Jays dropped to 8-6.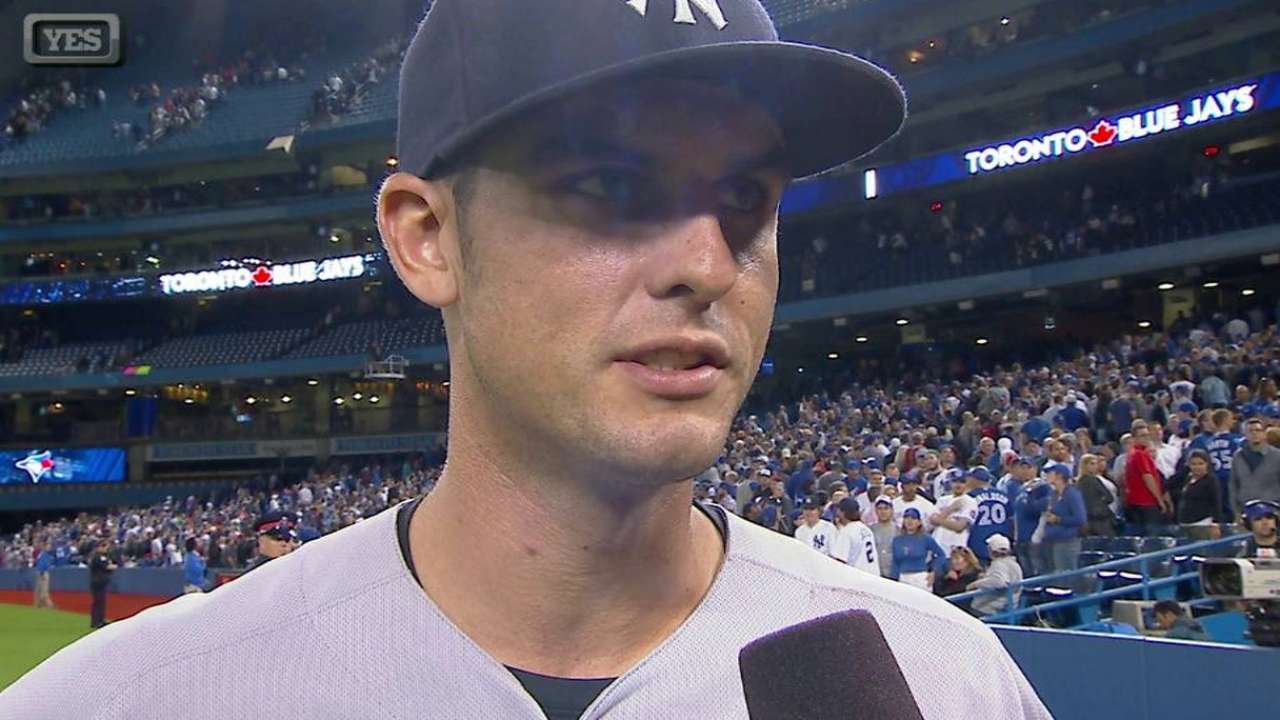 "He's had so many clutch hits for us," manager Joe Girardi said of the rookie first baseman. "And you think about it -- a young man who doesn't know the league, he's seeing some guys for the second time, but his hits have been big hits. He started out really well, went through a little funk for a few days, but he bounced right back out of it. He's been really good."
Lowe was charged with an earned run for the first time since Aug. 26, ending a streak of 11 consecutive scoreless appearances. Edwin Encarnacion added a solo homer in the bottom half of the 10th, but the Blue Jays' second comeback of the game fell short.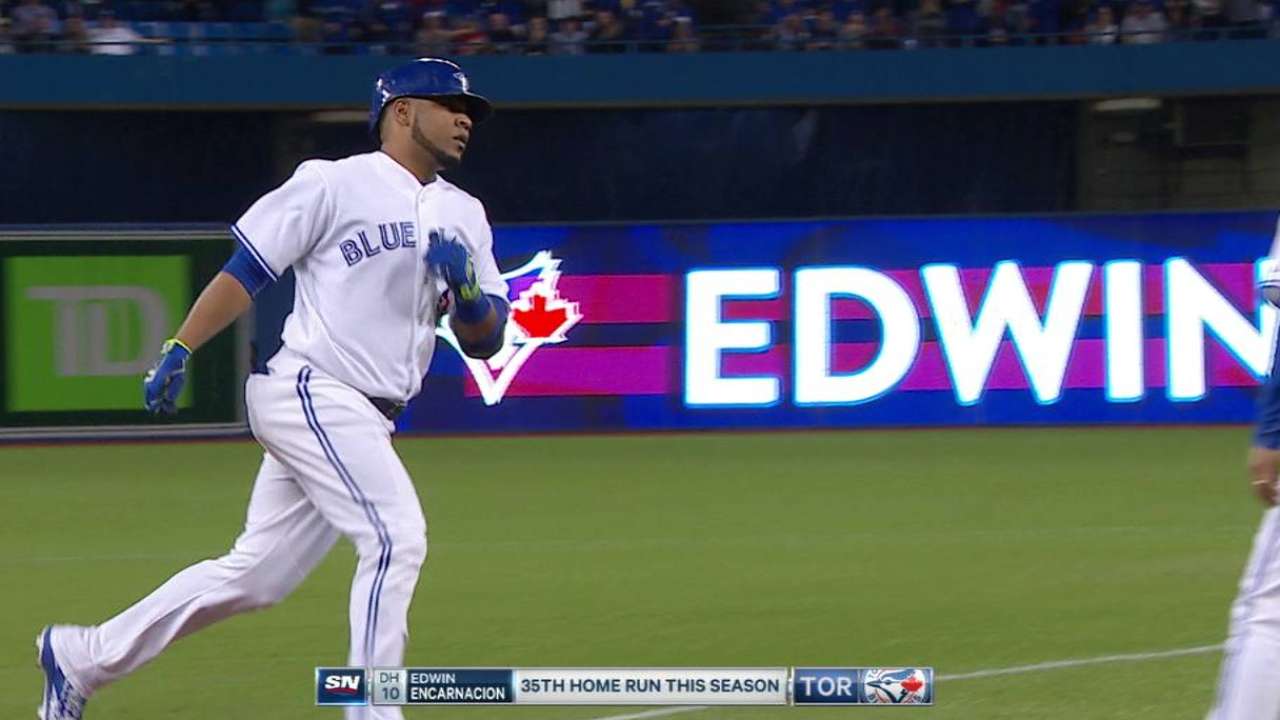 "Just a hanging breaking ball," Navarro said of the Bird homer. "It wasn't the pitch we were trying to throw. Stuff happens, man. We'll be OK. We have a great bullpen, they've been doing a great job for us all year long. Bunt single, catcher's interference and a homer. Three runs, it's just part of the game."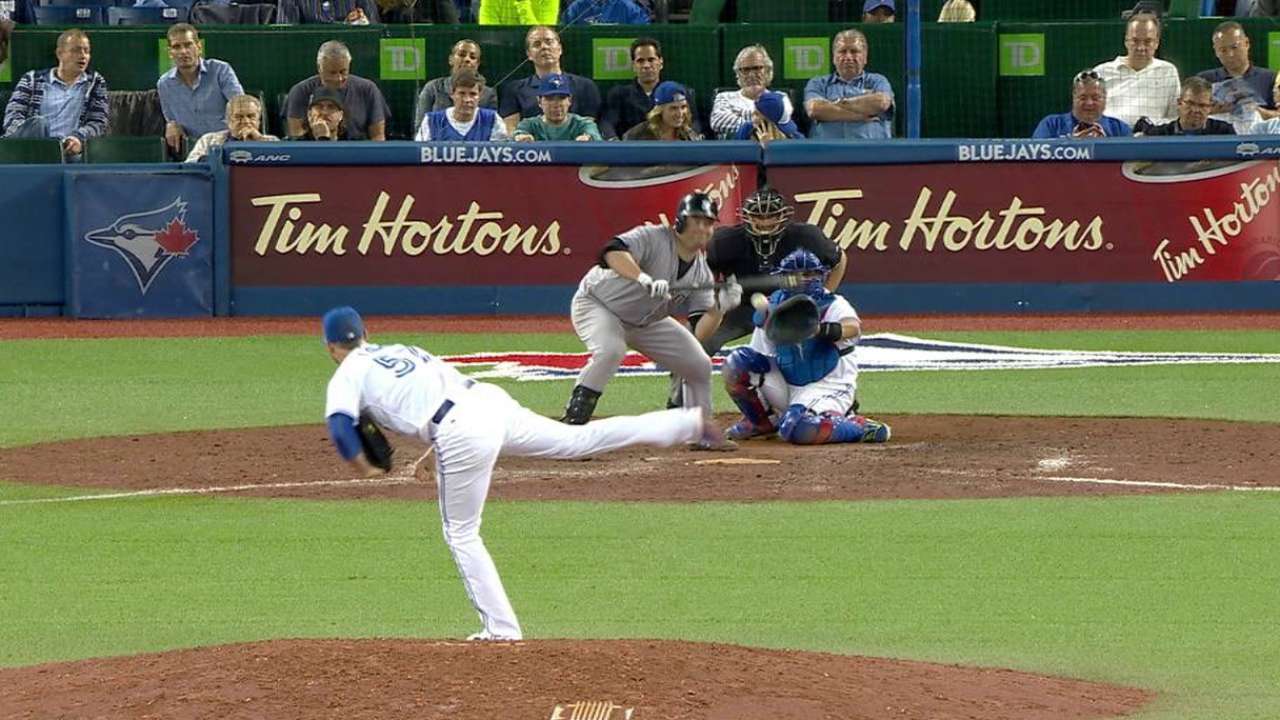 Right-hander Luis Severino got the start for New York, but did not factor into the decision after allowing two runs on three hits and three walks. Toronto outfielder Kevin Pillar hit a solo homer while Justin Smoak added an RBI single as the only blemishes in an otherwise solid outing for the Yankees' starter.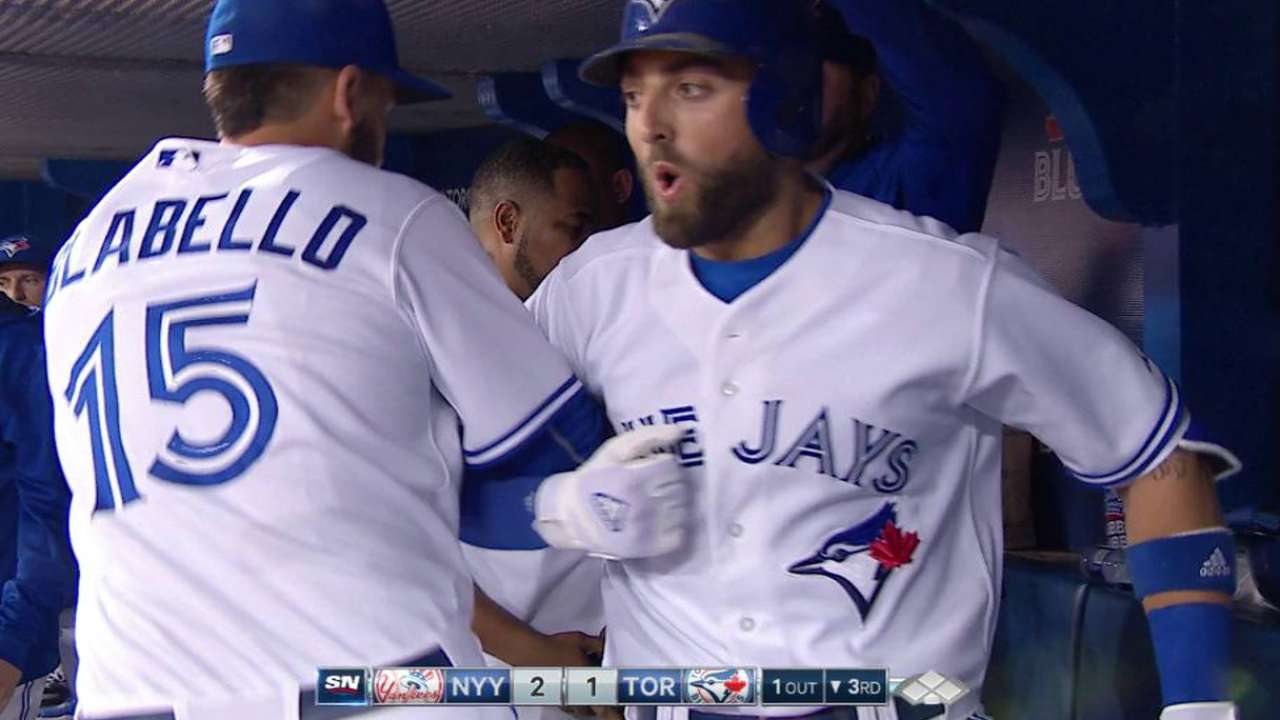 Toronto right-hander Marco Estrada also did not factor into the decision after he allowed two runs in the first inning, but then settled down the rest of the way to get through 6 2/3. Estrada retired 11 consecutive batters during a stretch that began in the third and lasted until the seventh, but an RBI single in the first by Brian McCann and a sacrifice fly by Beltran were enough to cost him a shot at the win.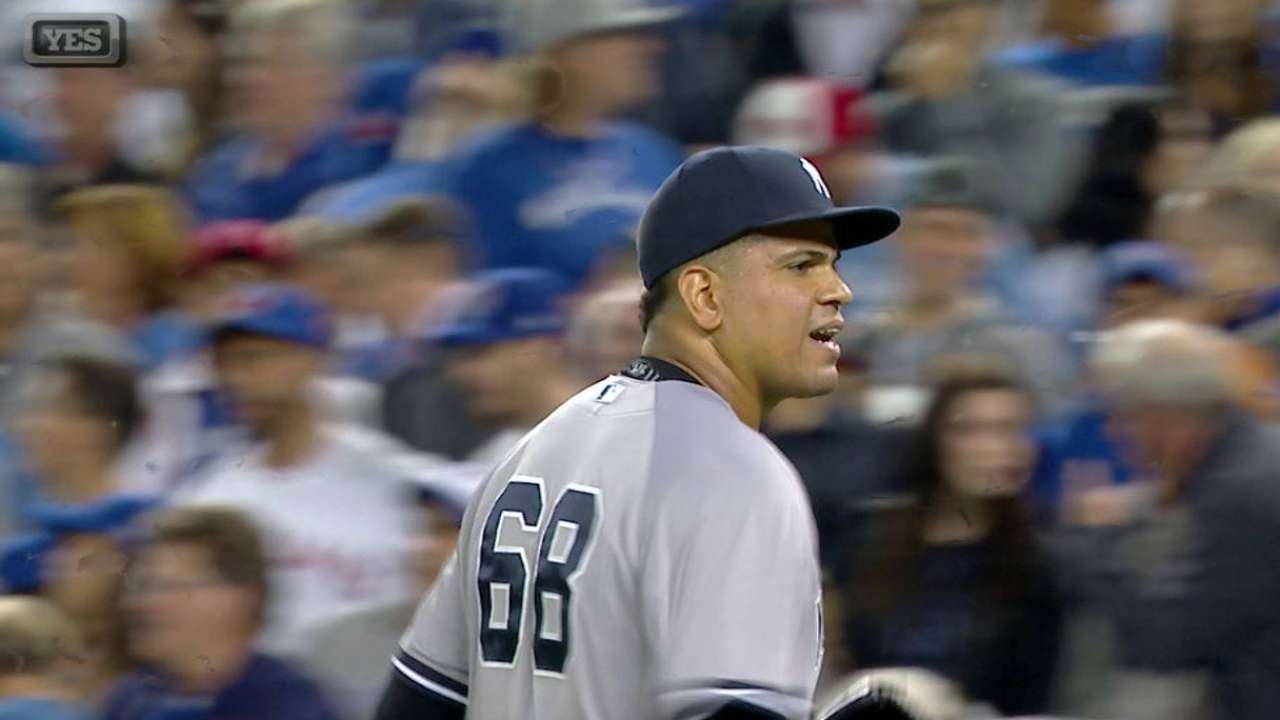 MOMENTS THAT MATTERED
Bird is the word: The 22-year-old rookie showed his power again in the 10th inning, connecting for his 10th homer in just 34 big league games. Five have come in the last week for the red-hot first baseman. Bird's blast followed McCann's bunt single against the shift and catcher's interference called on Navarro that allowed pinch-hitter Slade Heathcott to reach base.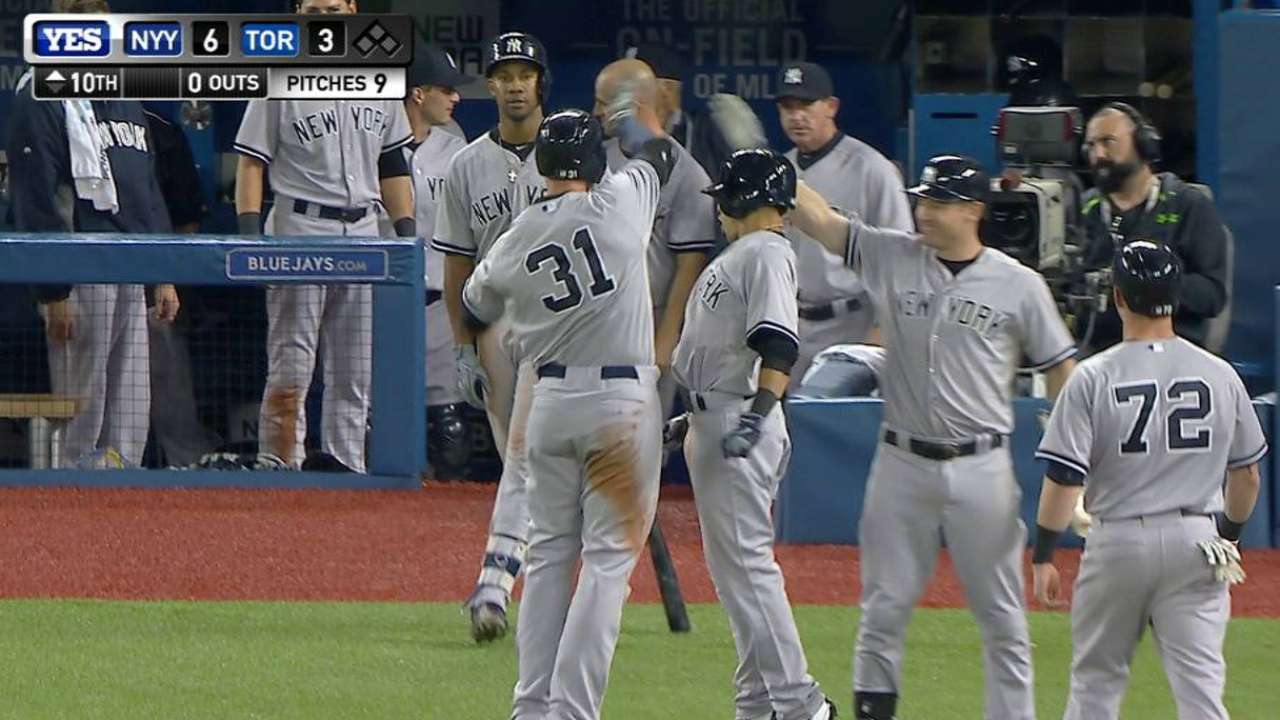 "It was a good baseball game. Two good teams going at it," Bird said. "It was a cool atmosphere, real intense here. Lot of back and forth. I think the fans definitely got their money's worth tonight." More >
Donaldson goes down in ninth: Navarro gave the Blue Jays new life with his game-tying solo shot with one out in the ninth, but Toronto couldn't come up with the game-winning run despite its best efforts. The Blue Jays loaded the bases for the heavy-hitting Josh Donaldson, but Yankees closer Andrew Miller took him down on four pitches to end the threat, sending the game into extra innings.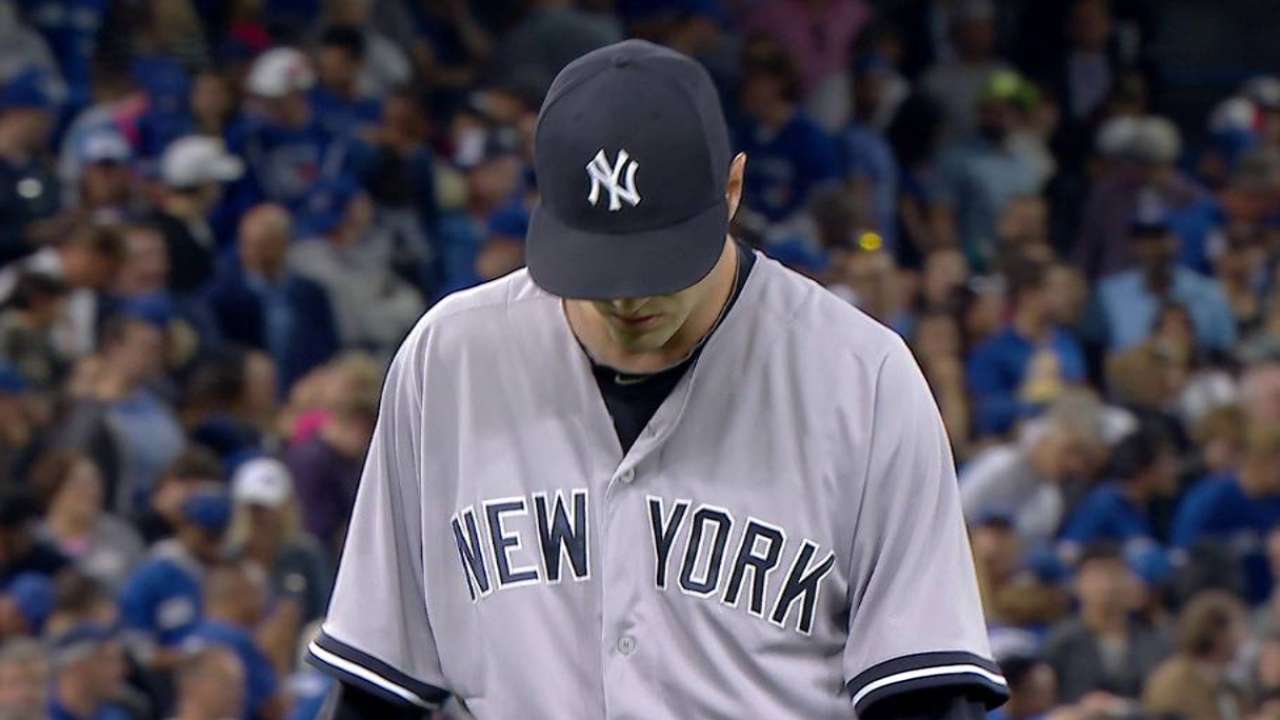 "It was pretty exciting," Navarro said. "I know I was a pretty emotional guy and in that situation, facing one of the greatest, one of the best pitchers in the league right now. It kind of says a lot about our character. We play with a lot of emotion. Unfortunately we had a chance and we couldn't finish it. It was a great game by both clubs."
Beltran does it again: It was the eighth inning on Aug. 14 when Beltran came off the bench at Rogers Centre, slugging a pinch-hit, three-run homer that lifted the Yankees to a big victory. That time of the game seems to agree with Beltran, who put the Yanks ahead with his 17th homer of the season, clearing the wall in right field. Beltran's shot off Liam Hendriks continued a hot run for the veteran, who has been among the Yankees' more productive contributors since the All-Star break.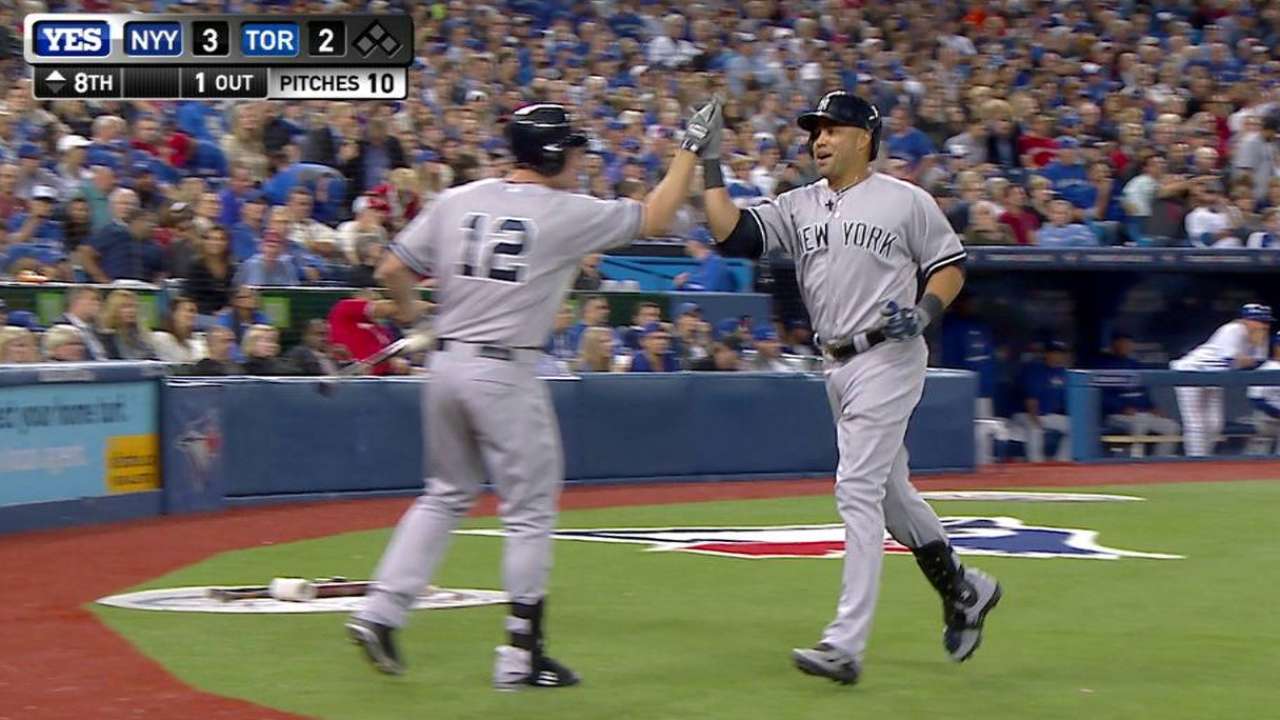 "I'm just looking fastball," Beltran said. "The guy throws 97 [mph], so that particular at-bat, guys that throw hard, you've got to go with the best pitch. To me, the best pitch for him is the fastball. I'm trying to get a good pitch, I was able to get a good pitch and I put a good swing on it. It gives us the lead right there, but they came back until Bird was able to pick us up with a homer."
The throws: Jose Bautista hasn't aired it out very often from right field after he suffered a shoulder injury early in the season, but that changed Tuesday night. With a runner on first, Didi Gregorius hit a sharp single to right and Dustin Ackley attempted to go first to third on the play. At first, it appeared as though Ackley would easily make it, but Bautista let one fly. His throw was slightly high, but Donaldson made a leaping grab before turning and applying the tag on Ackley. Third-base umpire Greg Gibson originally called Ackley safe, but the call was overturned on replay.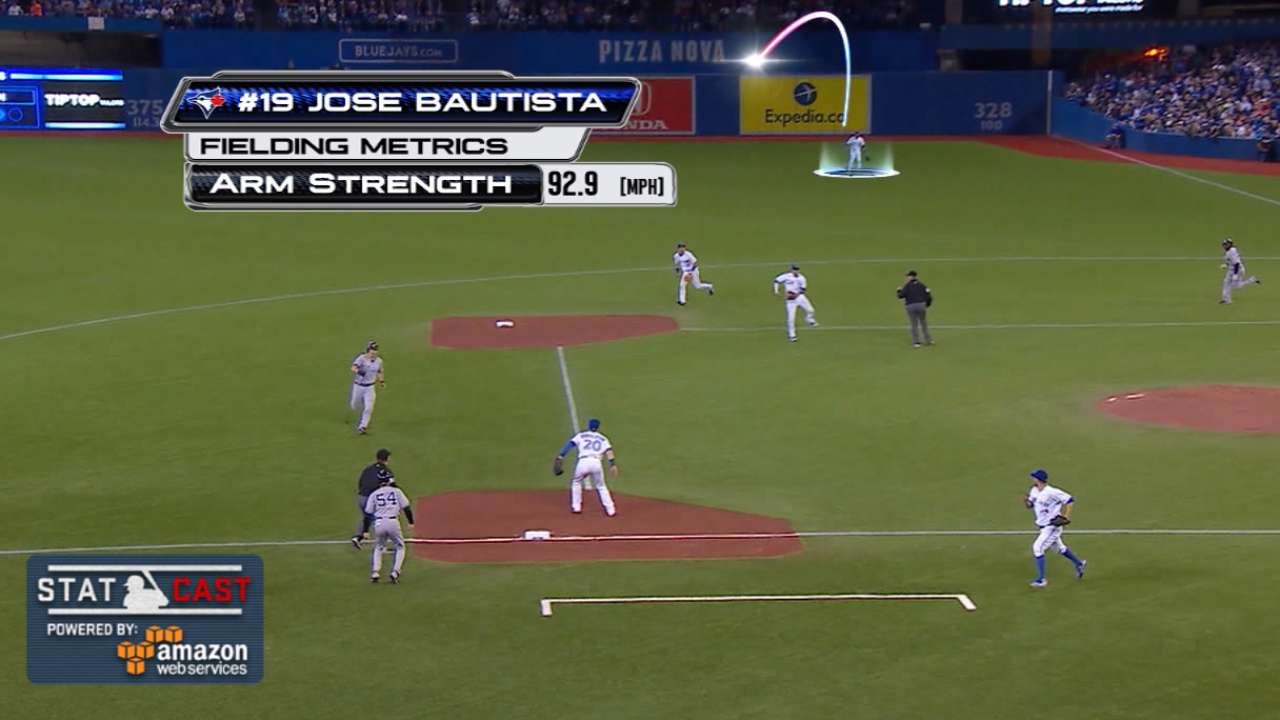 Bautista came through yet again in the ninth after Jacoby Ellsbury hit what appeared to be a sacrifice fly to right with the bases loaded. Bautista came up throwing and got Chris Young on a close play at home.
"Unbelievable. It was a great throw," said Navarro. "It was right on the money, and the only thing I had to do was put a tag on him." More >
QUOTABLE
"It has been a tough grind the last few days. In the tight, tie ballgames, we've struggled. Something's happened, the big hit, the big home run, that's bit us lately. They keep battling, that's one thing about this group, they keep coming at you." -- Blue Jays manager John Gibbons, on his team, which has dropped three of its last four games
"It is huge, because Toronto is the team that is in first place. If we are thinking about catching them, we have to be able to win against them. Today was a good game, and now we evened the series. We have a chance to leave here with a winning series. Hopefully that's the attitude and hopefully we're capable of scoring as many runs. I know they score a lot of runs, but hopefully we can score a little bit more than they do." -- Beltran
SOUND SMART WITH YOUR FRIENDS
The Blue Jays are the first team since the 2006 White Sox to have three players with at least 35 home runs. Toronto reached that milestone in the 10th inning when Encarnacion hit a late solo homer for his 35th of the year. Donaldson has 39 and Bautista has 36.
WHAT'S NEXT
Yankees: Right-hander Ivan Nova (6-8, 5.11 ERA) returns to the rotation on Wednesday at 7:07 p.m. ET, taking a start that was originally slated for Masahiro Tanaka before the ace sustained a strained right hamstring while batting against the Mets. Nova has made 14 starts since returning from Tommy John surgery and has been inconsistent at times. He last pitched on Sept. 12, taking the loss in Game 2 of a doubleheader vs. Toronto after being rocked for six second-inning runs.
Blue Jays: Right-hander Marcus Stroman (2-0, 3.00 ERA) will take the mound when the Blue Jays close out their three-game series vs. the Yankees on Wednesday night at Rogers Centre. Stroman will be making his third start of the season after missing most of the year following left knee surgery. During his last outing, Stroman allowed just one run on six hits over seven strong innings against the Red Sox.
Watch every out-of-market regular season game live on MLB.TV.
Gregor Chisholm and Bryan Hoch are reporters for MLB.com. This story was not subject to the approval of Major League Baseball or its clubs.