Padres' manager decision in Preller's hands
GM, team president will meet after season's end to discuss next skipper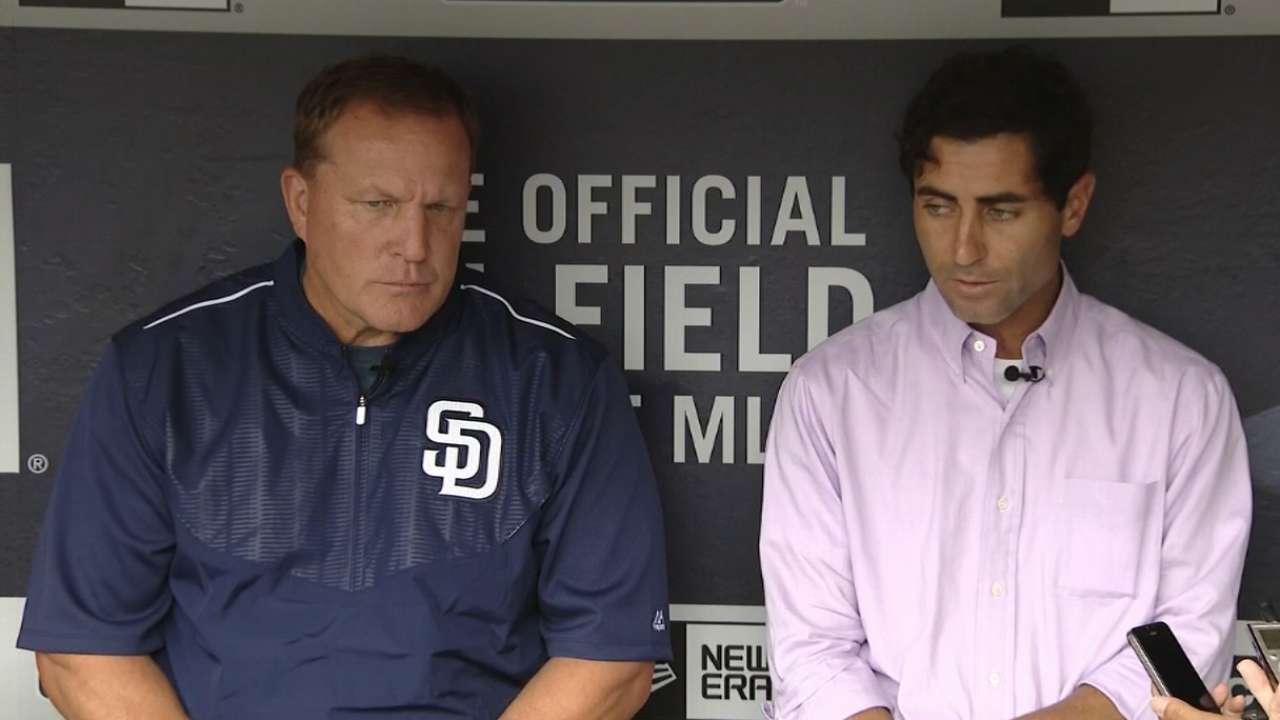 SAN DIEGO -- When the Padres get to the point of choosing a manager for 2016, it will be general manager A.J. Preller's call.
San Diego team president and CEO Mike Dee said Tuesday that Preller and his baseball operations staff will principally steer the search for a full-time manager.
"This is A.J.'s decision and we'll be there to lend support, but this is his hire," Dee said. "This is his call."
Dee and Preller will meet Oct. 5, the day after the end of the regular season -- the ninth consecutive season the team hasn't advanced to the postseason -- to discuss a number of topics, the 2016 manager being one of the most critical.
The Padres will have to decide if they want to retain interim manager Pat Murphy. Murphy took a 38-46 record since taking over June 15 into Tuesday's game against the Giants at Petco Park.
If the Padres choose to go in a different direction, Dee said they won't be rushed just because a handful of other teams will also be looking for managers at the same time.
Dee said the Padres have not conducted any interviews.
"Murph is our interim manager; we said it would be through the end of the season and that's what we'll adhere to," Dee said.
Dee didn't sound like a hasty decision would be made, even if several other teams will be doing the same.
"It won't be like the GM job where we feel the pressure to jump the gun because of the number of vacancies," Dee said of Preller's hire in August 2014, which was done before the end of the season when the team would have competition for GM candidates.
"We want to take our time and evaluate Murph and evaluate other alternatives as well, and then A.J. will make a recommendation to me and ownership which way he wants to go."
Preller echoed Dee's comments earlier this month about not rushing into a hire just because, say, there's a risk their targeted manager could be the target of another team.
"It's an important decision for us," Preller said. "We just want to make sure we make a good call and we don't feel pressure from what's going on in the industry or anything like that.
"We'll get to a spot where we're comfortable making a good decision and we will make a good hire."
Corey Brock is a reporter for MLB.com. Keep track of @FollowThePadres on Twitter and listen to his podcast. This story was not subject to the approval of Major League Baseball or its clubs.