Bautista's arm slows down two Yankees rallies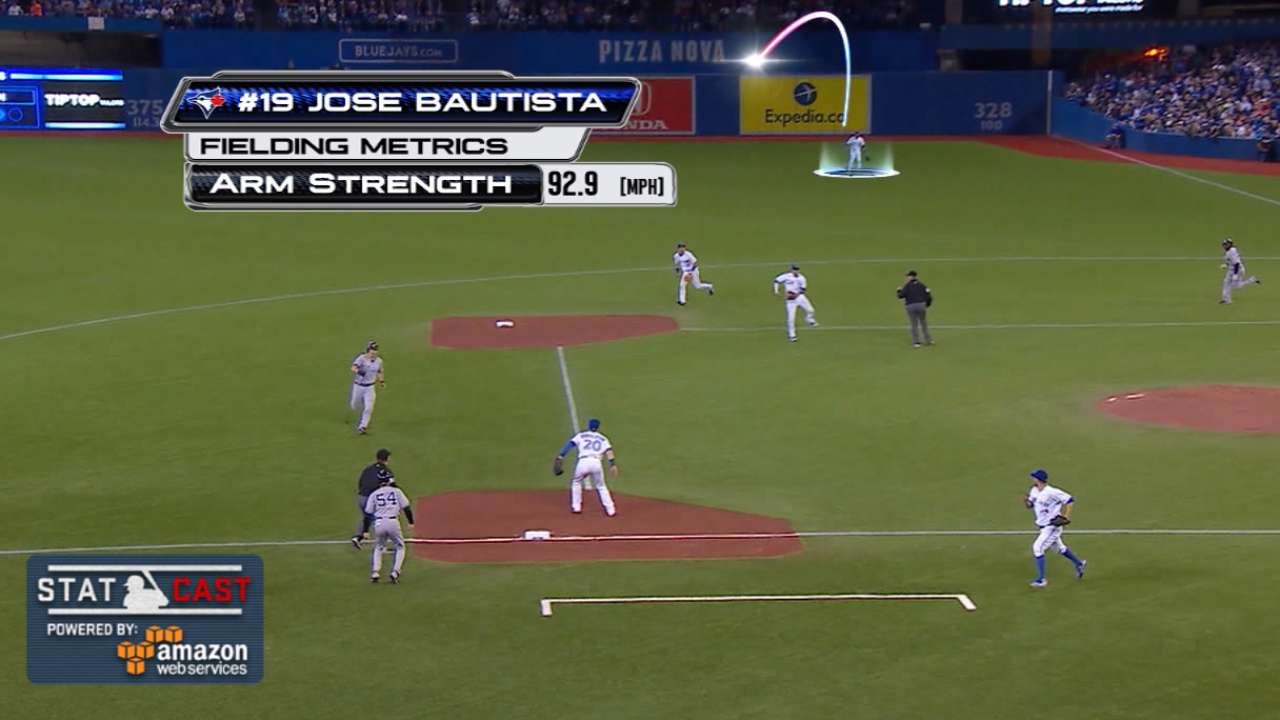 TORONTO -- Twice the Yankees tested Jose Bautista's arm, and twice the Blue Jays' right fielder made them pay. Bautista nailed New York baserunners with a pair of rocket throws in the seventh and ninth innings of Toronto's 6-4 loss to the Yankees on Tuesday night at Rogers Centre.
Both throws were equally impressive, but his elimination of Chris Young on a play at the plate was the more dramatic of the two. On Jacoby Ellsbury's flyout, Bautista nailed Young as he tagged up and tried to score from third, saving a run while keeping the Blue Jays within striking distance heading into the ninth inning.
"Unbelievable. It was a great throw," said Blue Jays catcher Dioner Navarro. "It was right on the money and the only thing I had to do was put a tag on him."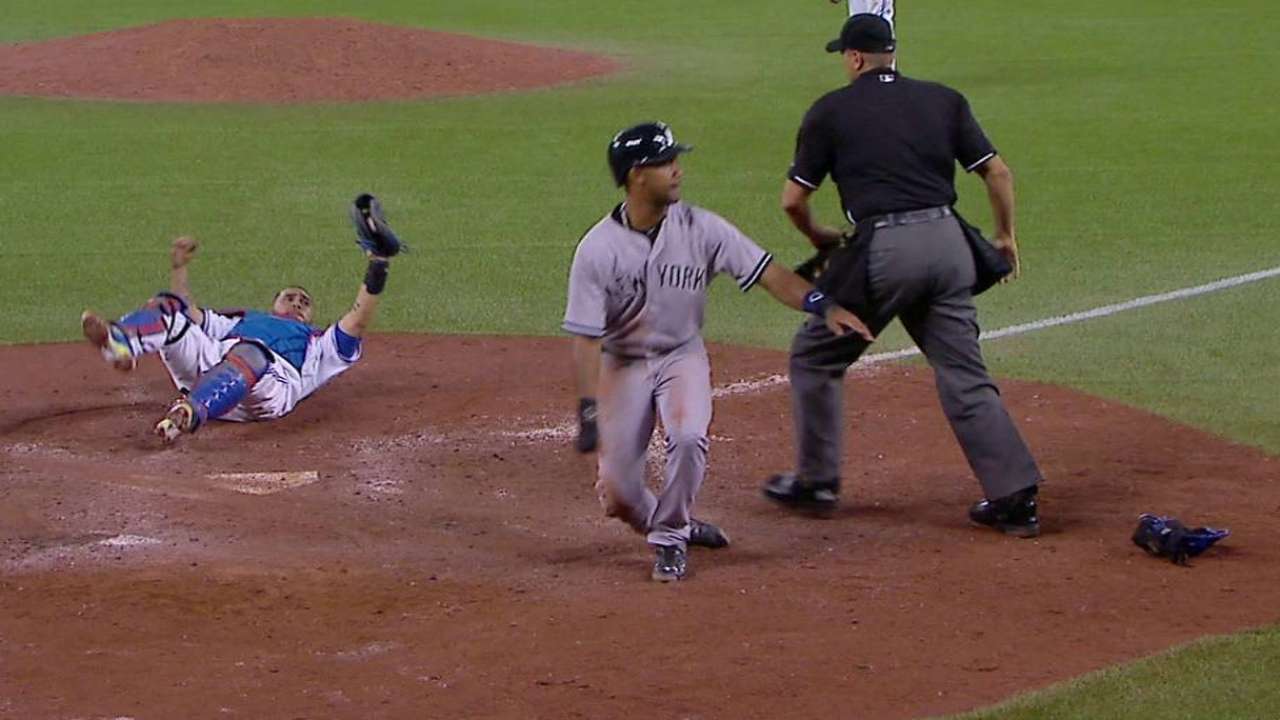 It was only two innings earlier that Bautista let loose an equally impressive toss from right field to get Dustin Ackley at third base. Ackley, who at the time represented the potential go-ahead run in a 2-2 game, was cut down trying to go from first to third on a Didi Gregorius single.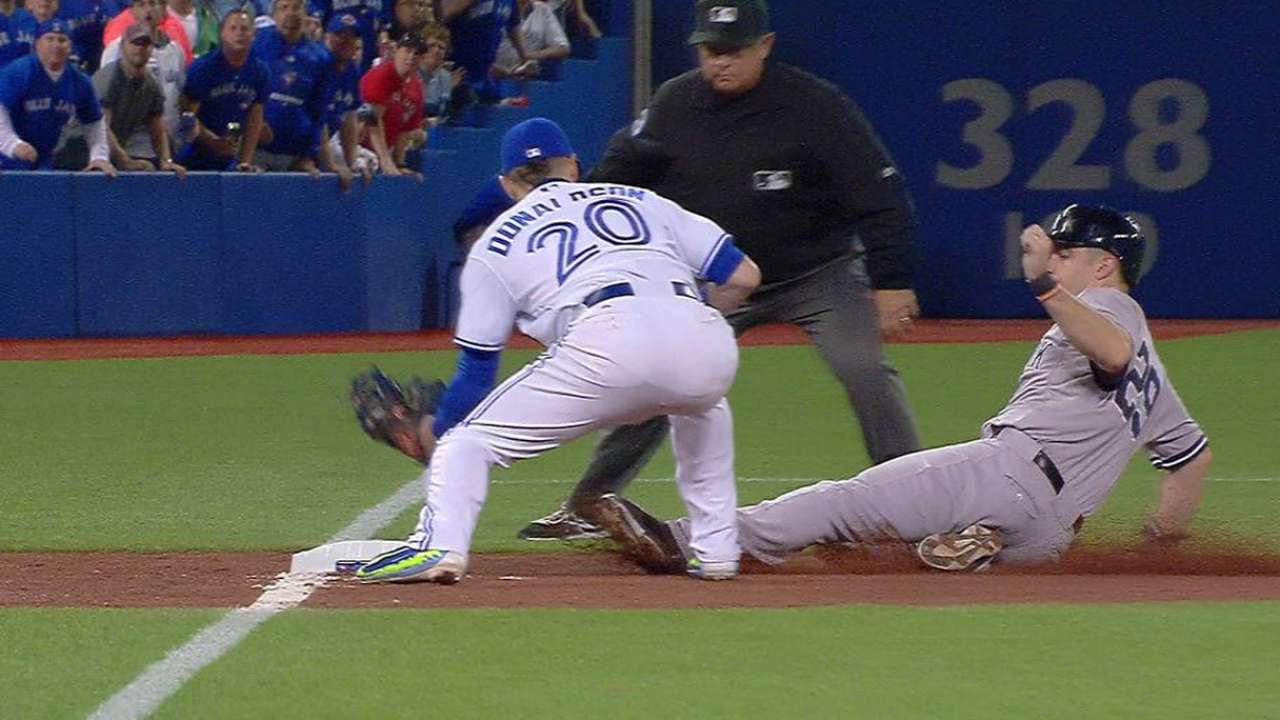 Sliding in feet-first, Ackley was originally ruled safe on the play, as he appeared to avoid the tag by a spinning Josh Donaldson, who, in one smooth motion, leaped to catch the ball in mid-air before completing a 180-degree turn to touch Ackley's foot as he slid in. Blue Jays manager John Gibbons challenged, and after a one-minute, 29-second review, the call was overturned.
It was the first time in recent memory that Bautista has showed off his well-established strong arm in right. The outfielder suffered a shoulder injury earlier this season that forced him into the designated hitter's role for more than a month in May.
"He's felt good. It's all behind him," Gibbons said. "Two key throws. Jose is not just an offensive player, he's a very good outfielder. Sometimes I think it gets overlooked because of what he does with his bat. He's very good. He feels good. That was a clear indication."
Jamie Ross is an associate reporter for MLB.com. This story was not subject to the approval of Major League Baseball or its clubs.