Concussion symptoms end Phegley's season
A's catcher suffers injury in freak accident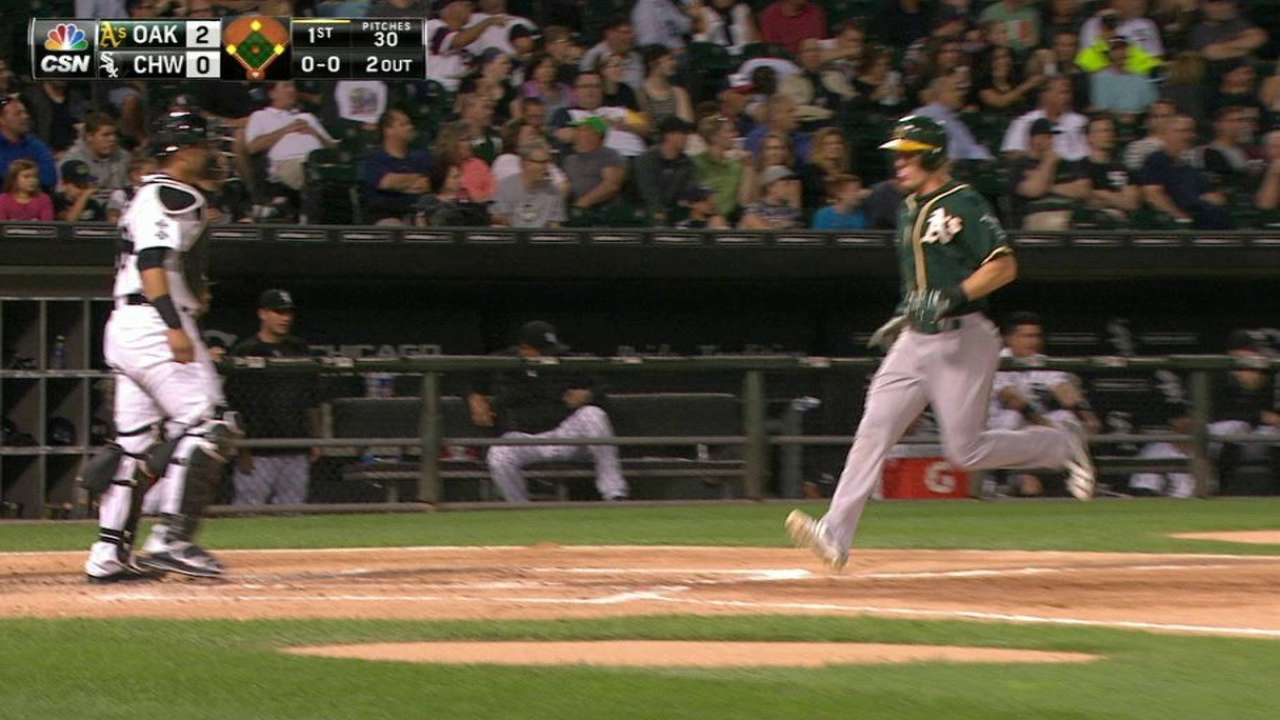 OAKLAND -- A's catcher Josh Phegley, sidelined by concussion symptoms, won't play again this season.
"We were hoping it was minor and he'd be able to come back, certainly here at home," manager Bob Melvin said Tuesday, "but that's not going to be the case."
Phegley was hit in the back of the head by Billy Butler's bat in a freak accident during batting practice in Houston on Friday. He didn't experience any pain immediately, but noticed some symptoms when he returned to the clubhouse, where he went through a string of concussion tests.
"I started zoning in and out and couldn't really focus," Phegley said. "I just didn't feel right. It's been really mild, but constant and I can't seem to shake it. Just some space awareness and balance issues.
"The frustrating part is I feel OK. It's just a nuisance. Kinda sums up our luck this year."
Phegley hit .249/.300/.449 with nine home runs and 34 RBIs in 73 games in his first season with the A's, who will rely on Carson Blair and Bryan Anderson for catching duties going forward until Stephen Vogt gets back behind the plate.
That could happen during the club's homestand, Melvin said. Vogt served as designated hitter Sunday in his first game since Sept. 6, when he took a foul tip to the groin.
Worth noting
• Right-hander Chris Bassitt (shoulder soreness) will return to the mound Thursday for a start against the Rangers, marking his first outing since Aug. 26.
Sonny Gray, who has allowed 18 earned runs in 20 1/3 innings this month, will get an extra day of rest and start Friday against the Giants.
• Jesse Hahn, who last pitched July 1 before being shut down with a forearm strain, is playing catch out to 60 feet. That's a highly encouraging sign for the right-hander, who initially feared another Tommy John surgery. He underwent one in 2010.
• Kendall Graveman (left oblique) is also throwing out to 60 feet, and Jarrod Parker, who suffered an elbow fracture during a Tommy John rehab outing, is doing sock throws.
Jane Lee is a reporter for MLB.com. This story was not subject to the approval of Major League Baseball or its clubs.