Hamilton to test knee by running bases
Outfielder hopes to contribute as more than pinch-hitter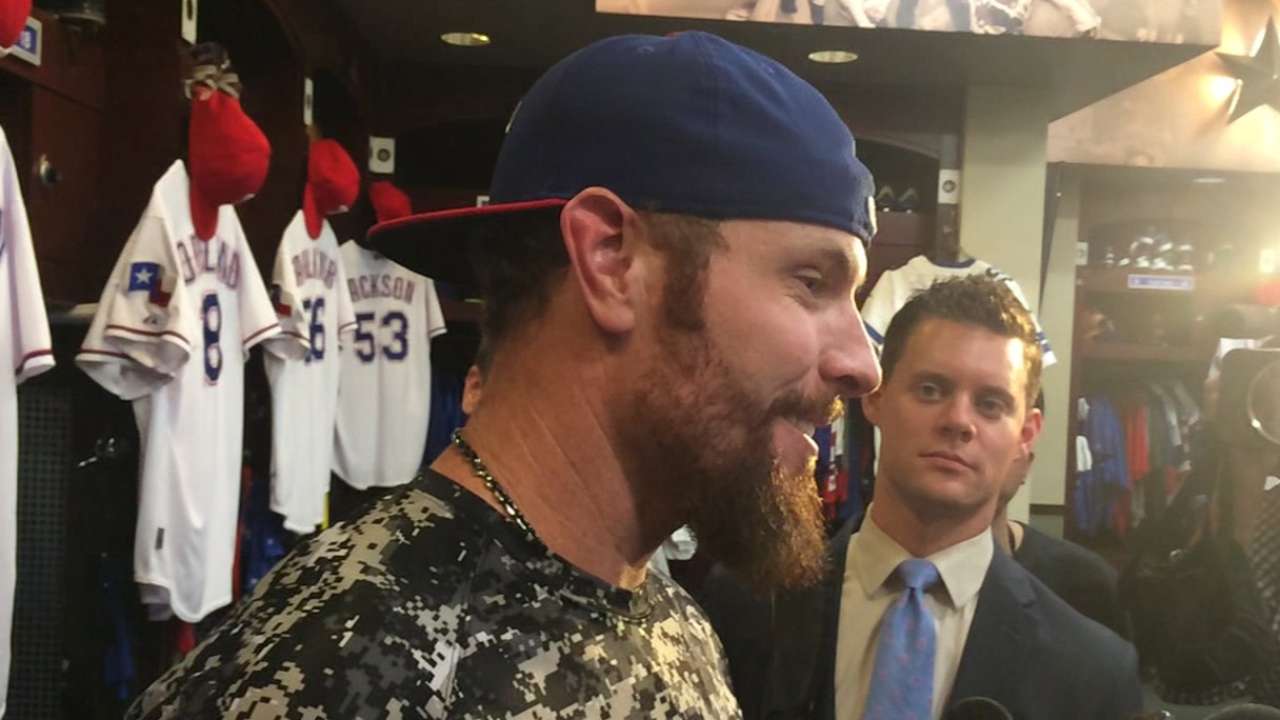 OAKLAND -- Outfielder Josh Hamilton, who is being limited to pinch-hitting duty while recovering from cleanup surgery on his left knee, will try to run the bases Wednesday.
That will be another step in his recovery as he tries to expand his role beyond just being a pinch-hitter before the season ends. Hamilton had surgery on Sept. 11 and was ready to pinch-hit a week later. He struck out twice against the Mariners over the weekend.
"Running in the outfield feels good so we'll see how it feels running the bases," Hamilton said.
The Rangers have been using converted catcher/first baseman Mike Napoli in the outfield lately over Will Venable, Drew Stubbs, Ryan Strausborger and Joey Gallo. Hamilton hasn't played in the outfield since Aug. 15, while dealing with pain in the knee that ultimately led to the surgery.
"It's hard for me to say when I'll be out there,' Hamilton said. "We're trying to get to the playoffs. It's [manager Jeff Banister's] decision to put out there whoever he feels is hot or doing the best for the team. I'm OK with that."
So far, Hamilton's postsurgery recovery has been positive, so the next step is to see how he does running the bases.
"Every step he takes in a positive direction benefits him as well as the club," Banister said. "The closer we can get him to doing all baseball activities is a plus. The benchmark is how he shows up every day. My expectations are Josh will let me know what he can give us each day. We'll take it."
Worth noting
• Catcher Robinson Chirinos has had another setback in his recovery from an injured left shoulder, casting further doubt that he'll be able to contribute much for the remainder of the season.
Chirinos has played in just two games since the end of July while dealing with a torn tendon in his shoulder and said he started experience more pain and discomfort Sunday.
"I'm doing everything I can and the trainers and the doctors are trying to do everything they can," Chirinos said. "It's frustrating. We're getting to the point where we have to make a decision if I can get back on the field. I'm trying to do everything I can to get back and it's not working."
Chirinos and Carlos Corporan shared the Rangers catching duties for the first half of the season. But since the beginning of August, the Rangers have been going with Chris Gimenez and Bobby Wilson.
• Triple-A manager Jason Wood has joined the Rangers for this road trip. He led Round Rock to the PCL championship series before losing to Fresno in five games.
• Delino DeShields was back in the lineup Tuesday after getting two days off to rest his sore left knee. DeShields said the knee has a tendency to stiffen up so the main goal is to keep moving on it.
• Outfielder Leonys Martin, who is active as a pinch-runner and defensive replacement while recovering from surgery on his right hand, is starting to swing a bat and take batting practice. He had surgery on Aug. 26 for a broken hamate bone.
T.R. Sullivan is a reporter for MLB.com. Read his blog, Postcards from Elysian Fields, follow him on Twitter @Sullivan_Ranger and listen to his podcast. This story was not subject to the approval of Major League Baseball or its clubs.