Rios extends hitting streak in blowout loss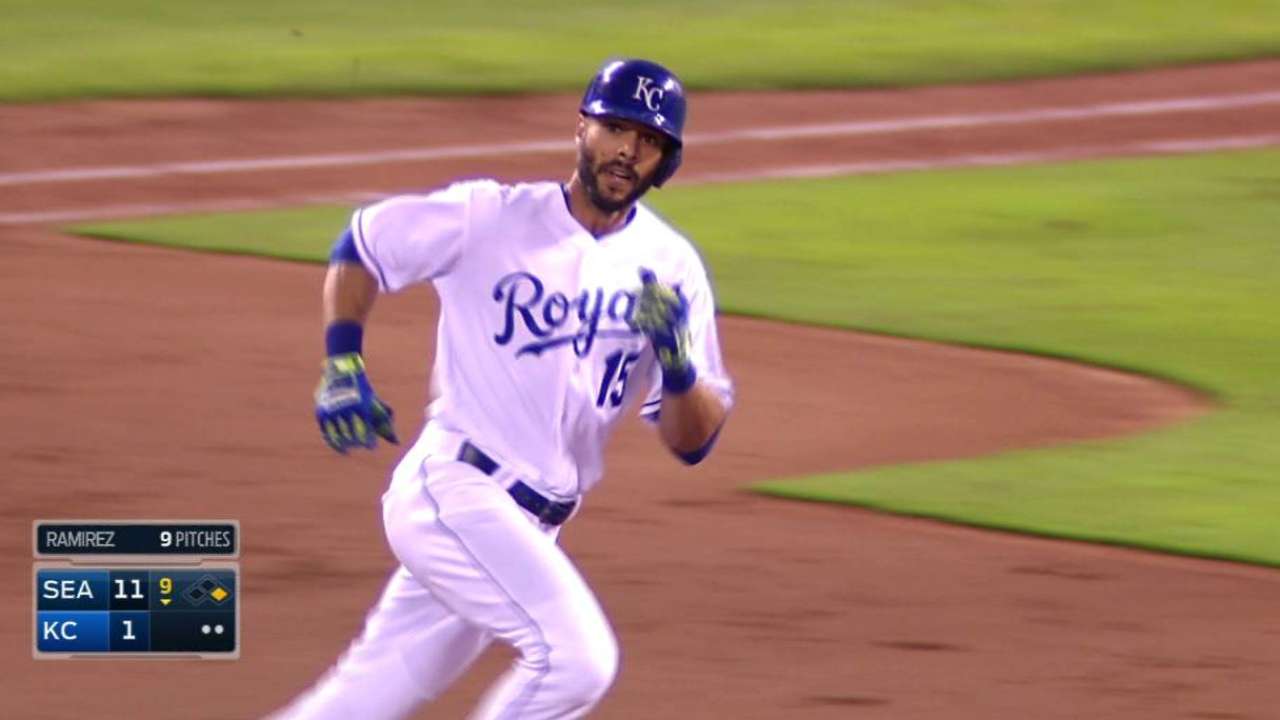 KANSAS CITY -- About the only significant Royals hit in their 11-2 blowout loss to the Mariners on Tuesday night was Alex Rios' double in the ninth inning.
That extended Rios' hitting streak to a season-high 11 games. It's his longest since May 17-29 of last year when he put together a 12-game hitting streak.
Rios was unaware he had a hit streak going.
"No, I didn't," he said. "Hopefully, you didn't just jinx it."
But there was little else to discuss from the Royals' latest loss, which was over quickly as the Mariners bashed five homers en route to an 11-0 lead after four innings.
"During the course of a season, you're going to get some games like this," Rios said. "This loss doesn't mean anything substantial. It's still a loss, but it doesn't mean anything substantial."
Rios is hitting .381 during his streak, raising his average to .267.
Rios went hitless in three trips against Mariners starter Hisashi Iwakuma, who threw seven shutout innings.
"What I saw was he was managing his pitches really well," Rios said. "His cutter, sinker and curveball were all in the right spots. When you manage those pitches and in tough locations, you're going to have success."
The Royals will turn their attention on Wednesday night back toward their magic number, which is three to clinch the American League Central. But Rios said they are more concerned about staying in front of Toronto for home-field advantage, where Kansas City leads the Blue Jays by 1 1/2 games.
"I think we're focusing on getting home-field advantage," Rios said. "I mean, at some point, the division is going to happen. But we really want the advantage of starting [the postseason] at home."
Jeffrey Flanagan is a reporter for MLB.com. Follow him on Twitter at @FlannyMLB. This story was not subject to the approval of Major League Baseball or its clubs.