Cano on brink of 2,000 hits following 2 blasts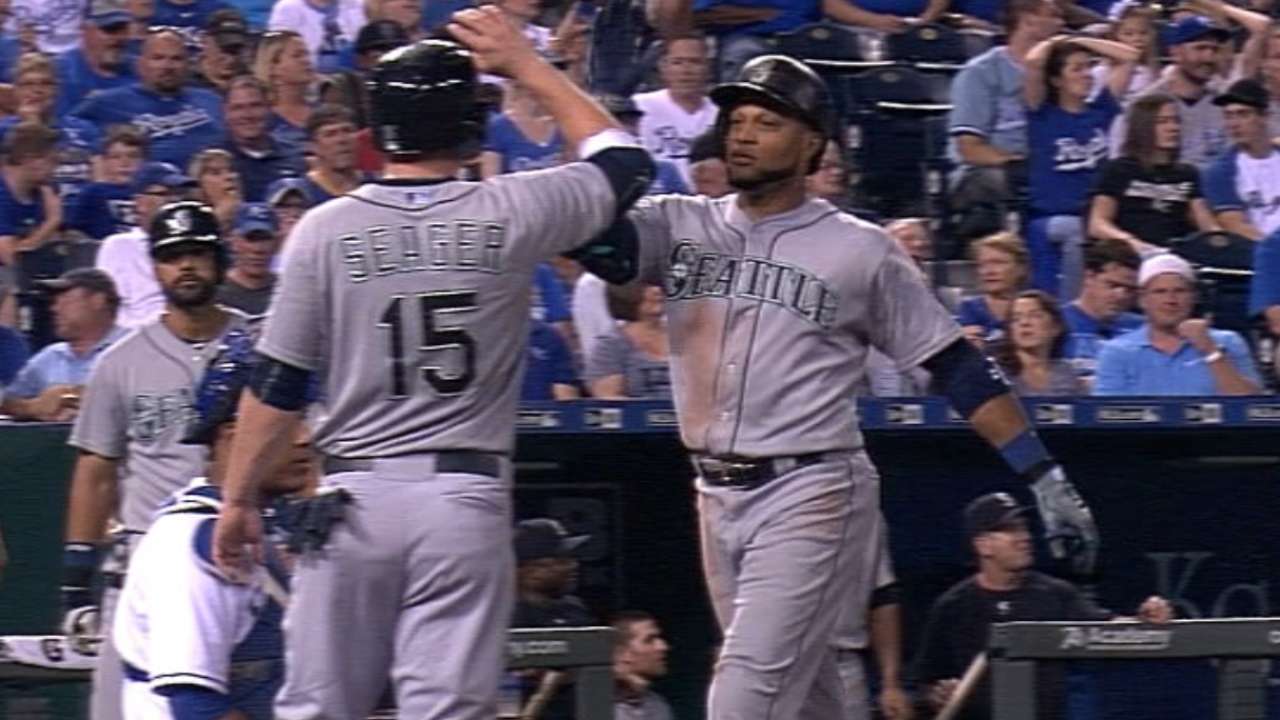 KANSAS CITY - Mariners second baseman Robinson Cano homered in his first two at-bats in Tuesday night's 11-2 win over the Royals and is now one hit shy of becoming the 14th player in Major League history to reach 2,000 hits within the first 11 seasons of a career.
Cano launched a solo homer in the first and a three-run shot in the third off Royals right-hander Jeremy Guthrie at Kauffman Stadium. He finished 2-for-4 before being taken out in the sixth inning with the Mariners leading, 11-0.
And, yes, Cano is well aware he's just one hit away from 2,000.
"I would say it means a lot, not only for me, but to anybody to get to 2,000," Cano said. "For me, it will be very special."
Former Mariners outfielder Ichiro Suzuki holds the MLB record for most hits in his first 11 seasons -- 2,428 from 2001-11.
Also on the list: Paul Waner 2,254 (1926-36), Al Simmons 2,188 (1924-34), Pete Rose 2,152 (1963-73), Kirby Puckett 2,135 (1984-94), Wade Boggs 2,098 (1982-92), George Sisler 2,094 (1915-26), Hank Aaron 2,085 (1954-64), Albert Pujols 2,073 (2001-11), Richie Ashburn 2,067 (1948-58), Stan Musial 2,023 (1941-52), Joe Medwick 2,004 (1932-42) and Jesse Burkett 2,001 (1890-1900).
The 32-year-old Cano will also become the fifth active player to reach 2,000 hits prior to turning 33, joining Miguel Cabrera, Alex Rodriguez, Adrian Beltre and Pujols.
Cano got off to a slow start this season and was batting .238 at the end of June, but now is up to .283 with 19 homers and 73 RBIs with 11 games remaining. He's hit .329 with 15 homers and 49 RBIs in 71 games since July 1.
"Thank God I've been swinging really well because I can't really run," said Cano, who has been slowed by a sore abdominal muscle for the last month or more. "I would say I'm swinging good all season, things are just falling right now. We're going to keep going out there and fight every single day, and that's what we're doing as a team."
"I wish he'd have got hurt earlier," manager Lloyd McClendon said with a laugh. "He's swinging the bat extremely well. Obviously, he can't run the way he'd like and he's not moving in the field as much as he likes to move around, but offensively it really hasn't affected him."
Cano's second homer reached the fountains in center field, a prodigious blast projected by Statcast™ to travel 449 feet from home plate.
"That's one of the furthest balls he's hit all year," McClendon said. "It really jumped off his bat pretty good."
"I knew I had a good swing, but I didn't know it would be that far," said Cano. "For me, it's not how far they go. As long as it goes over the wall, it's good."
It's no coincidence that Cano's second-half surge has correlated with a much-improved offense as the Mariners have put up some of the best numbers in the AL since the All-Star break. Seattle also has the best record in the league in September at 13-6.
"We've been playing pretty good lately," Cano said. "We've been doing the little things. Getting guys moved over, bringing runs in, starting pitchers are pitching good. You have offense, defense and pitching together, and you win games."
And three-run homers into the fountain don't hurt either.
Greg Johns is a reporter for MLB.com. Follow him on Twitter @GregJohnsMLB, read his Mariners Musings blog, and listen to his podcast. This story was not subject to the approval of Major League Baseball or its clubs.