Bauer adjusting to working out of bullpen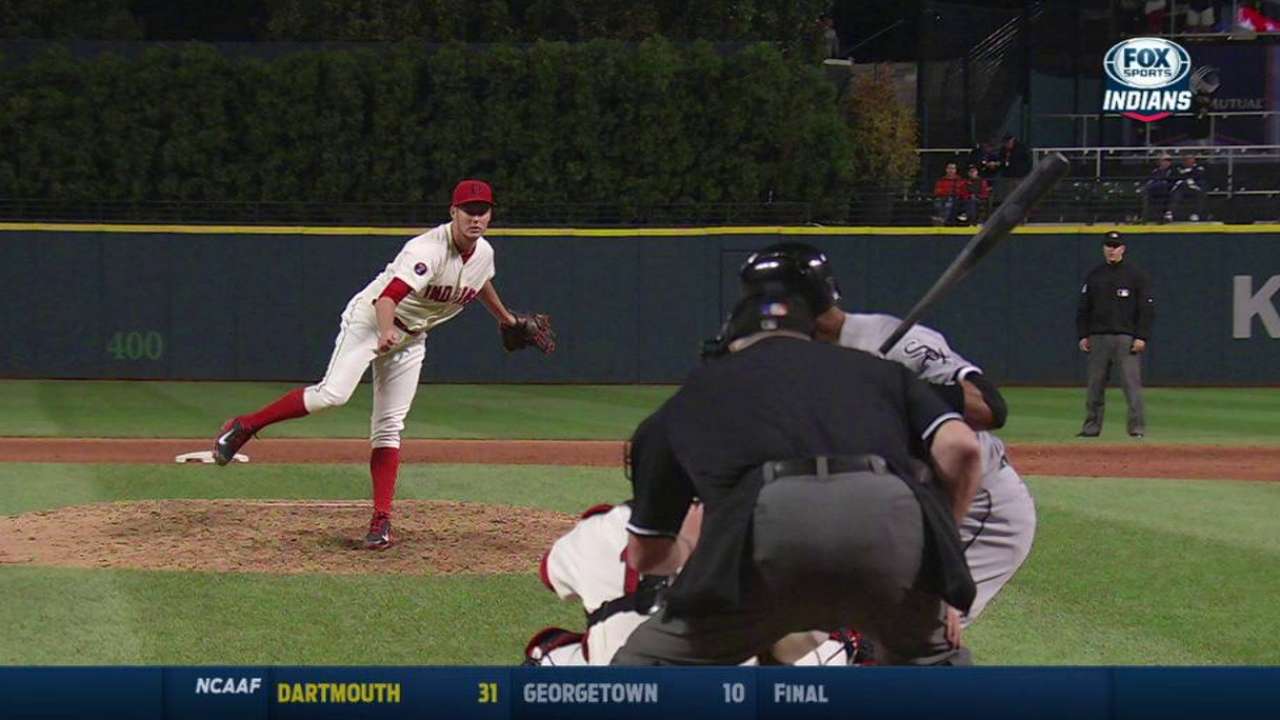 MINNEAPOLIS -- Trevor Bauer was a closer his freshman year at UCLA. He remembers saving his first game and then blowing the next four opportunities. That was the end of that experiment. Bauer was moved to the rotation and hasn't looked back.
But a bout of ineffectiveness, combined with Corey Kluber's return to the rotation, has forced Bauer back to the bullpen. He made his first outing in the bullpen on Saturday, striking out two in a scoreless inning against the White Sox.
Though his new home might be temporary, Bauer was insistent that he was OK with the move. Life in the bullpen, he said, is "fine."
"[They] tell me when to pitch and I'll pitch," Bauer said. "That's how I approach everything, so if that's what's best for the team to win, that's what I'll do."
After starting the season strong, things started getting rocky for Bauer. The righty has given up five or more runs in 10 of his 29 starts this year. And in his three starts before moving to the bullpen, he gave up 13 runs in 11 1/3 innings.
Bauer said he does prefer taking his time to get ready, but he reiterated that he would be ready to pitch whenever the Indians called on him, no matter if that was the second inning on Tuesday, first Wednesday or 12th a few weeks down the road.
Manager Terry Francona said Bauer might start a game or two before the season ends, but he hadn't committed to that possibility.
"Our end game, goal, whatever is not to have him in the bullpen. We actually spent some time with him today just trying to, again, [reiterate] because he's in the bullpen doesn't mean the season is lost," Francona said. "We're continually trying to work and get him feeling really good about things and things he needs to do. I thought we had a good, productive meeting today, basically, just so he knows he's not banished to the bullpen."
And Francona said he thought Bauer did a good job about talking "about things that are important to him," during the meeting.
"As a staff, too, we have an obligation to not just tell someone to do something, but we want to listen, also," Francona said.
Bauer said whether he's a starter or reliever, he gets his work done early. If he pitches, he pitches. If he doesn't, he doesn't. His routine is the same either way, and so, too is the focus -- getting the hitter at the plate out.
"They see me however they're going to see me. Ultimately, we're trying to win games right now to make the playoffs," Bauer said. "Whatever's best for the team is best for the team, so I guess that's how it's going to be. Long term as well. Whatever's best for the team to win, that's what's best for the team."
Betsy Helfand is an associate reporter for MLB.com. This story was not subject to the approval of Major League Baseball or its clubs.