Beckham sees value in assigned role
Found success off bench but struggled when starting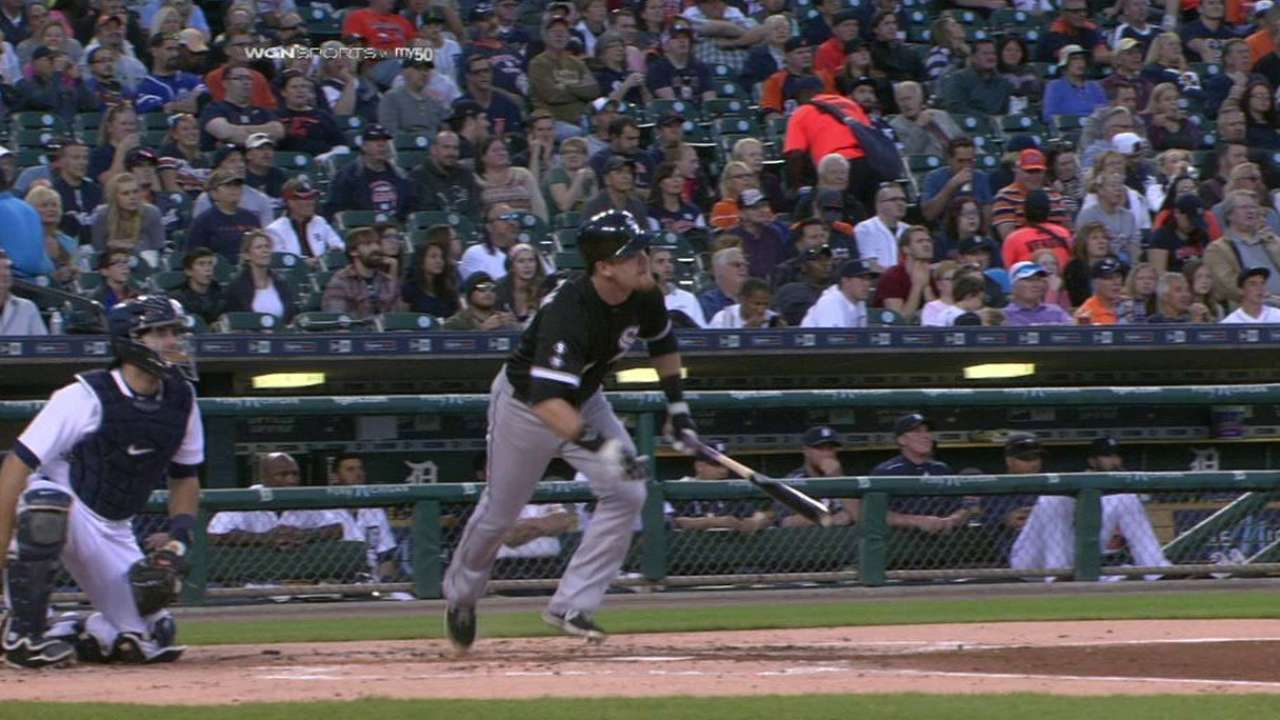 DETROIT -- The 2015 season for Gordon Beckham, on an individual level, received mixed reviews from the veteran infielder.
Where his utility role is concerned, the job he was signed to handle by White Sox general manager Rick Hahn, Beckham feels as if he capably took care of those responsibilities. Beckham performed well enough earlier in the season that he received an extended starting run throughout June, when he had 15 games with at least three at-bats.
That stretch represents the less successful part of the review process for Beckham.
"I was playing well enough to get in the lineup every day, and that was my goal. And then I struggled," said Beckham, who homered in Monday's second game but carried a .209 average over 203 at-bats into Tuesday's contest. "Probably put a little extra pressure on myself to do more as opposed to just going out there and doing the same thing.
"A big shock there, putting more pressure on myself. I just kind of pressed a little bit there when I didn't need to. I just needed to go out and play. So in terms of looking back on it, I clearly, for the role I was doing, I've done a good job.
"When I started, I just kind of brought back all the demons that had been there for so long," Beckham said. "Maybe it takes me leaving Chicago to just get rid of that. Overall, I think I've done a good job of handling the situation, good or bad. I wish it had gone a little bit better when I had gotten the starting job every day, but in terms of going in and spot starting, I think I've done a pretty good job."
A player such as Beckham stands as an asset to winning teams, a status Beckham truly believes the White Sox could hold in '16. He can play second base, shortstop and third base all with above-average defensive skills.
Beckham also has become a clubhouse leader, something he values on the level of a game-winning homer or a three-hit effort.
"Just because my season hasn't gone according to plan, it doesn't mean that I can't be a good influence on these guys and help in any way possible," Beckham said. "Help the younger guys, and help them through situations that might be similar to what I've gone through. And be a good influence on them.
"I want to have success on the field, but that's more rewarding when you can help people and see them progress and get better because of that."
Being part of a winner stands as a '16 target for Beckham. There's no certainty he'll get another everyday starting chance, but if he does, he would like to carry it through in a more relaxed mode.
"Some guys are a tick above because they can put that stuff to the side," Beckham said. "I've been here for so long that I think that some of the expectations I put back on myself when I started starting again every day. Unfortunately, it can't go like that. If I get another opportunity, hopefully I'll just not do that."
Scott Merkin is a reporter for MLB.com. Read his blog, Merk's Works, follow him on Twitter @scottmerkin and listen to his podcast. This story was not subject to the approval of Major League Baseball or its clubs.