Sanchez out, committee in to handle 8th for Toronto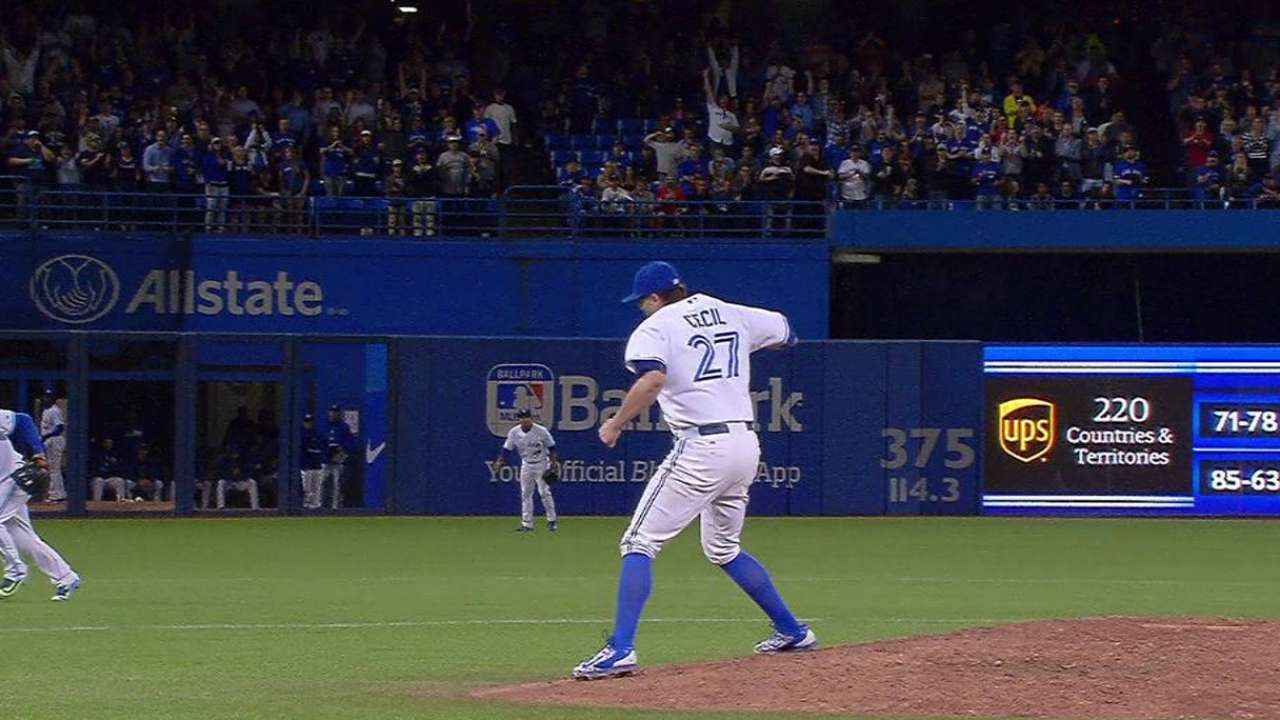 TORONTO -- Blue Jays manager John Gibbons will take a group approach to the setup role in light of Aaron Sanchez's recent struggles. The 23-year-old right-hander has experienced difficulties over his last five outings, most recently issuing a walk and allowing a hit to the only two hitters he faced in the Blue Jays' 4-2 victory over the Yankees in the series opener on Monday.
For now, Gibbons said he'll go with a combination of relievers, including Mark Lowe and Brett Cecil, to handle eighth-inning duties.
"We've talked to Sanchez and told him to be ready at any time. We'll get him back on track," Gibbons said. "He's very confident, but he's also human. He's going through a rough patch."
Sanchez's string of struggles began on Sept. 12, when he walked two and allowed an earned run over an inning of work against the Yankees. Three days later, he took the loss after giving up four hits and an earned run over 1 1/3 innings against the Braves. On Saturday, the sinkerballer had his worst outing of the season, when he was tagged for three hits and threw a wild pitch before exiting the game without recording an out. After Monday's mishap, he's now been unable to retire any of the last six hitters he's faced.
The bulk of Sanchez's challenges have come against left-handed hitters, against whom he has posted a 4.26 ERA with nine homers. That's a strong contrast to his 2.47 ERA and no homers against righties.
"Most of the teams you'll have half and half righties and lefties, and that works in his favor," Gibbons said. "Righties don't really touch him."
Lowe and Cecil are viable alternatives as the Blue Jays give Sanchez some time to get back to form.
Though Cecil wouldn't be available to pitch in Tuesday's game against the Yankees, the big left-hander has been the most reliable Blue Jays relief pitcher over the last three months. He hasn't allowed an earned run in 31 appearances. Over that span, Cecil has lowered his ERA from 5.96 to 2.72 while registering 36 strikeouts.
Lowe, who was acquired at the non-waiver Trade Deadline from the Mariners, was hit around for three earned runs in his Blue Jays debut, but has since put up scoreless appearances in 17 of his 18 outings.
Jamie Ross is an associate reporter for MLB.com. This story was not subject to the approval of Major League Baseball or its clubs.