Nelson understands decision to shut him down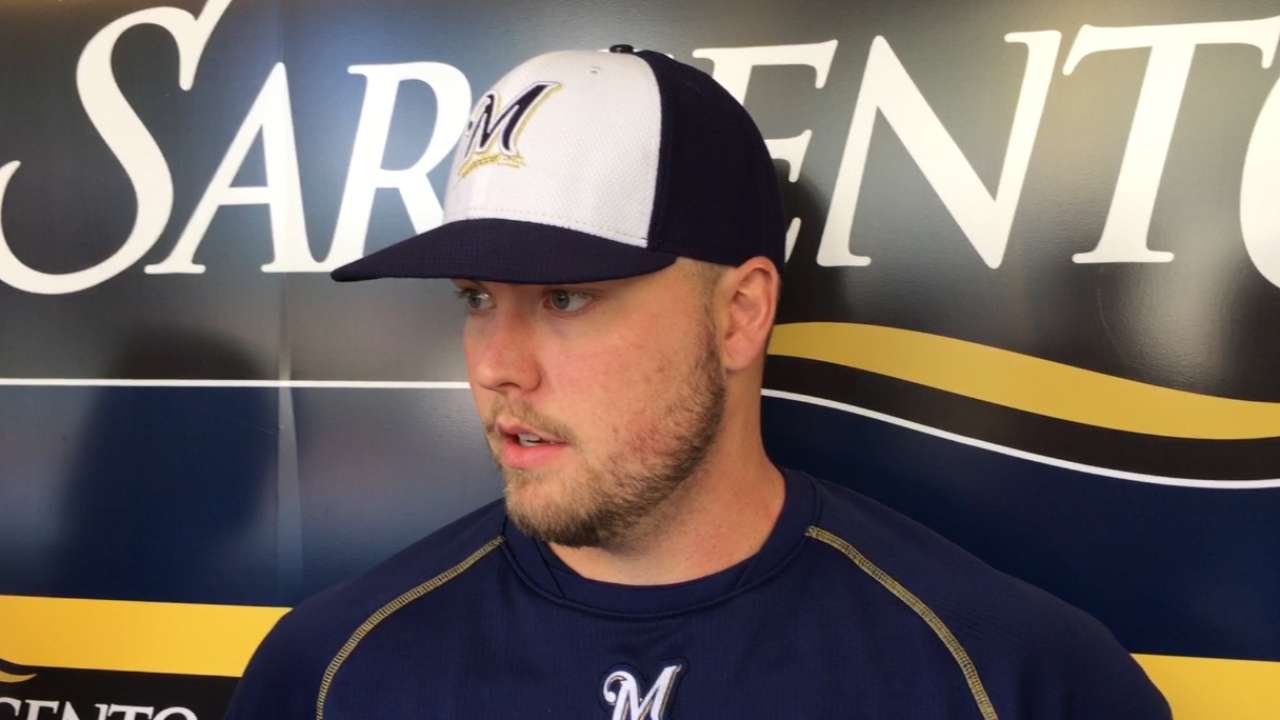 CHICAGO -- On Tuesday, less than a week after being hit in the head by a line drive, Brewers right-hander Jimmy Nelson said that he feels fine. No, make that great. He feels great.
"Since the ball hit my head, I've felt great," Nelson said. "I've never, through the whole process, had any symptoms of a concussion. Even the doctor said I never had a concussion or a fracture in the skull or anything."
Still, Nelson understands why the neurologists who have been treating him decided that he should not pitch the rest of the season.
"What shows up on the CT scan is a dime-sized bruise," Nelson said. "They put me through a couple hours of mental and physical tests. They said I passed with flying colors. I was cleared to do literally everything -- throwing, running, working out -- except for pitching [in a game]. They said I can't be back in that scenario where something can hit me in the same spot, because it could be career-ending if I got hit in that same spot.
"I understand that decision. But it is tough, especially since I feel so good. Physically and mentally, I feel good. My body feels good. I feel better than I did a couple of months ago. That's the positive I have to take from it."
Although he won't pitch in a game, Nelson will maintain the rest of his routine.
"I'm still going to be out there doing conditioning and stuff, getting my heart rate up, get the blood pressure up, and just make sure my body and head respond the right way," he said. "I'm still hanging out with the starters doing our normal thing -- bullpen, shagging, pitcher's BP, all kinds of stuff."
To further occupy his time, Nelson will try to mentor the four pitchers who were among the six players the Brewers called up on Tuesday.
"I know when I first got called up a couple of Septembers ago, having guys like [Matt] Garza and [Kyle] Lohse and Yovani [Gallardo] was huge for me," Nelson said. "Those guys were pitching at the time, but even if they weren't pitching, just having them there in the dugout and during BP and during bullpen sessions, the amount of knowledge was huge, and I was able to soak in the knowledge from them.
"At this point of the season, the rest of this season, that's what I've got to do. I've got to try to help out those guys as much as I can. That's going to be my role."
Worth noting:
• Catcher Jonathan Lucroy (concussion) is close to being cleared to return, but the Brewers will limit his exposure to avoid him taking another blow to the head.
"Jonathan will not catch the rest of the year," manager Craig Counsell said. "I'm confident Jonathan will play in a game this year, though. I think he can play in the field. It just kind of depends on the game situation. He's doing really well."
• Ryan Braun (stiff back) took batting practice on Tuesday.
"I think we'll have better information after today," Counsell said. "I think we're getting close."
John Jackson is a contributor to MLB.com. This story was not subject to the approval of Major League Baseball or its clubs.