Sandoval out with upper respiratory illness
Buchholz, Vazquez, Johnson working through injuries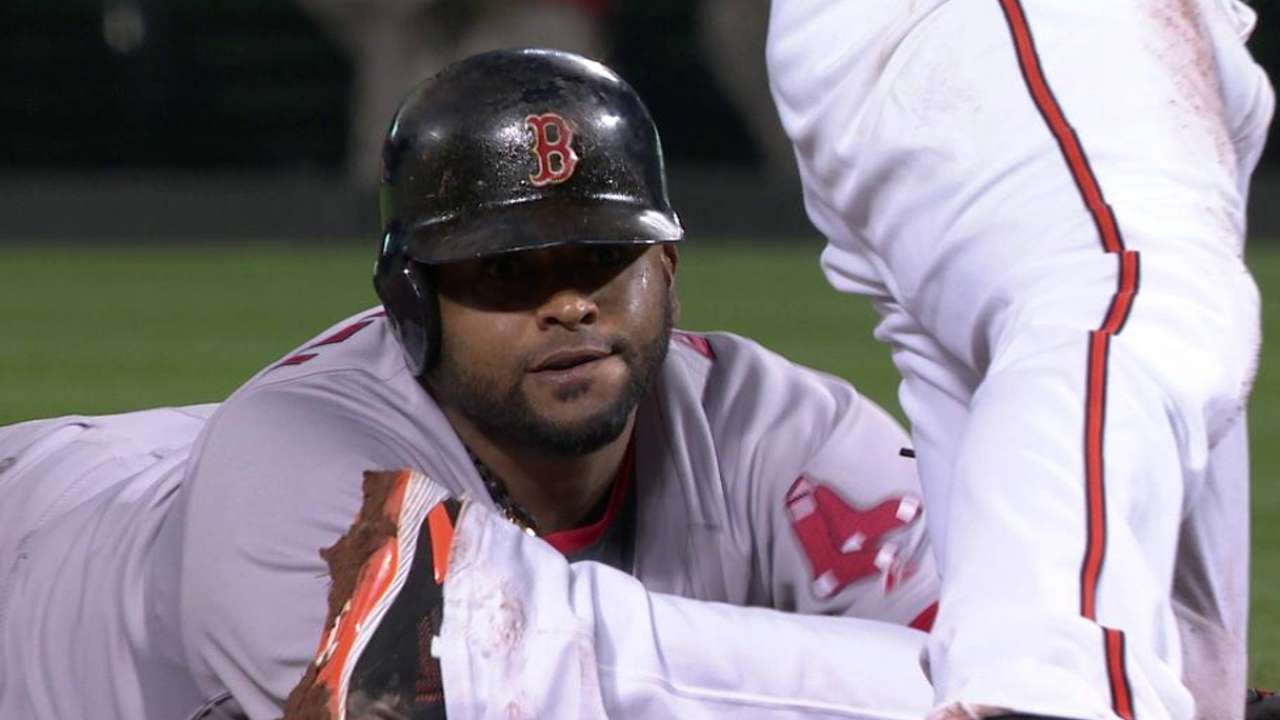 BOSTON -- On Tuesday, Red Sox interim manager Torey Lovullo busted out the laundry list of injuries and illnesses and did some proper tidying up of the status on some of his players.
A day after Pablo Sandoval was sent home with what was then deemed an "illness," it was announced that he has been diagnosed with a significant upper respiratory illness.
"He is going to be down for a couple of days," Lovullo said. "He's seen the doctor. He's beginning to take some medication. He's not here right now, he's at home recuperating and getting some rest."
The manager said the team was given a two-to-three-day timetable for Sandoval's return, and he has chosen to use Deven Marrero at the hot corner.
"I'm going to take this as Day 2," said Lovullo of the time frame given. "I'll probably have an update for you guys at some point in the next 48 hours. It was just explained to me that it was a significant upper respiratory infection."
Lovullo also provided an update on Clay Buchholz, who threw 60-to-90 feet on Tuesday as part of his rehabilitation for a right elbow strain that has had him on the disabled list since July 11.
Although it was thought possible for Buchholz to be able to work his way back for at least an inning before the season was over, the Sox skipper indicated that the time frame to make that determination is quickly closing, especially given that Buchholz has yet to throw off of a mound.
"We're creeping up on him not being able to throw in a game unless something starts to move forward with it," Lovullo said.
There were additional updates given for catcher Christian Vazquez and left-hander Brian Johnson.
Vazquez is making strides with his throwing program at the Red Sox's facilities in Fort Myers, Fla., as he rehabs back from Tommy John surgery, but he is still not scheduled to get behind the plate in game action any time soon.
The backstop will serve as designated hitter once the instructional league starts up, but Lovullo did squash the notion that he might continue his progress in winter ball, as the team is looking to provide some down time for Vazquez before Spring Training.
"It's too soon," Lovullo said of sending Vazquez to get some catching in during the winter. "It was discussed, it was brought up. He needs a little bit of time now. He's been working hard to get himself ready to go."
Johnson, out since early August with elbow tightness, is scheduled to be re-evaluated on Oct. 1, and at that time the team will determine the next step for his recovery.
Craig Forde is a contributor to MLB.com. This story was not subject to the approval of Major League Baseball or its clubs.