'Down goes Frazier' while making great grab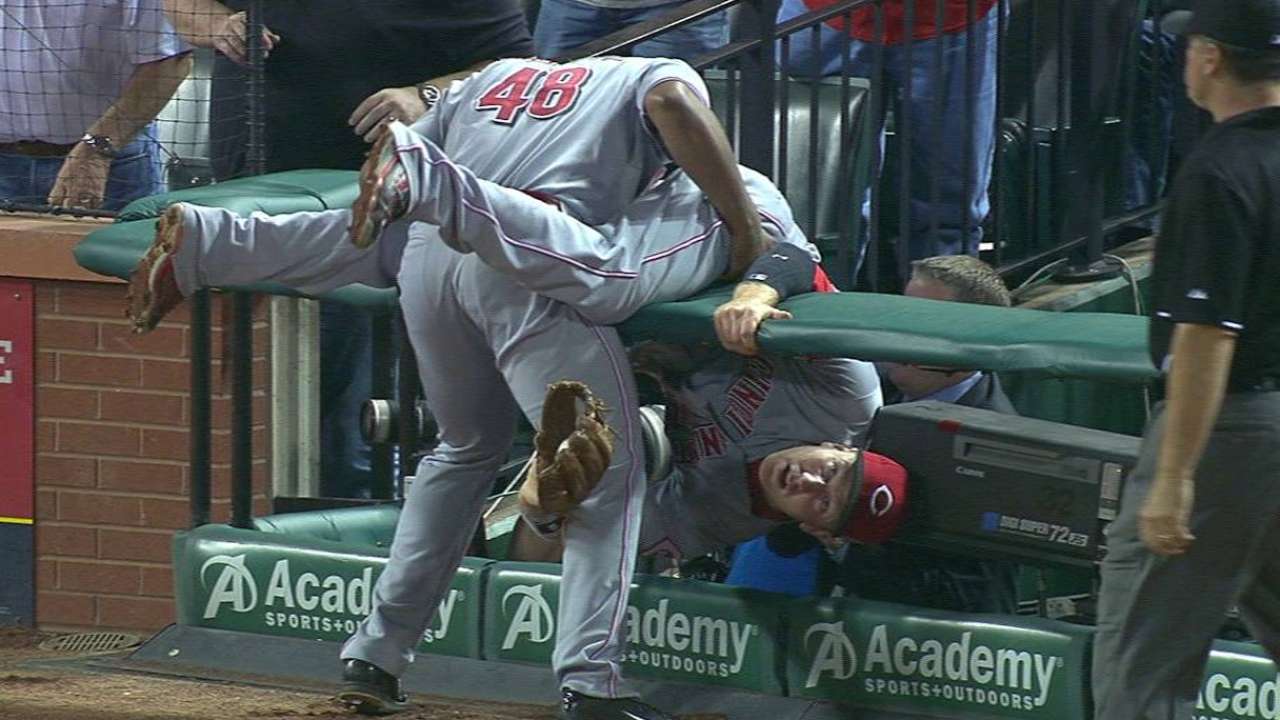 ST. LOUIS -- Todd Frazier has played a starring role with his bat throughout this season, but the Reds' third baseman has long taken pride in his ever-improving defense. Two nice plays underscored the efforts on Tuesday night vs. the Cardinals despite a 3-1 Cincinnati loss.
To begin the fourth inning, Cardinals slugger Matt Adams lifted a popup in foul territory near the Reds' dugout. Running in at full speed from near third base, Frazier made a catch as he crashed into the railing of the camera pit and went over. Pitcher Keyvius Sampson, who also ran for the ball, alertly grabbed Frazier from behind to prevent him from flipping over entirely.
"If it wasn't for [TV reporter] Jim Day, he helped me out there at the end. Keyvius gave the most awkward-looking help he could do," Frazier said. "I thank both those guys. I could have stopped, I think, but at the same time, I would've gotten hurt. I just went right into the rail. I made the catch. That was basically it. I just wanted to make sure the umpire saw I got the ball. It looked kind of funny, basically. I can't wait to see what people have to say."
After he managed to hang on to the ball for the out, Frazier had the wherewithal to show third-base umpire Tony Randazzo the ball by reaching between Sampson's legs. When Randazzo saw the ball in the glove, he called Adams out.
"You don't know what your brain is going to do. I just had to make sure he knew I caught it. I couldn't see [Randazzo]," Frazier said. "I showed the ball. I heard I'm getting killed on Twitter. I wish we could have come up with [the win], and we could have laughed a little more."
Despite the railing and nearly hitting his head on a television camera, Frazier wasn't afraid of giving up his body on the play.
"Sometimes you have to play with reckless abandon," he said. "When you're going after a ball, you have to pretend like there's no wall or no railing there. I try to get every ball and help the pitchers out."
Only one inning earlier, Frazier made another nice play to prevent a possible run-scoring hit. One run was already in with a runner on third base and two out when Jhonny Peralta hit a sharp grounder down the line. From behind the bag, Frazier made a nice back-handed grab as his momentum carried him foul. His long throw to first base barely beat Peralta for the third out.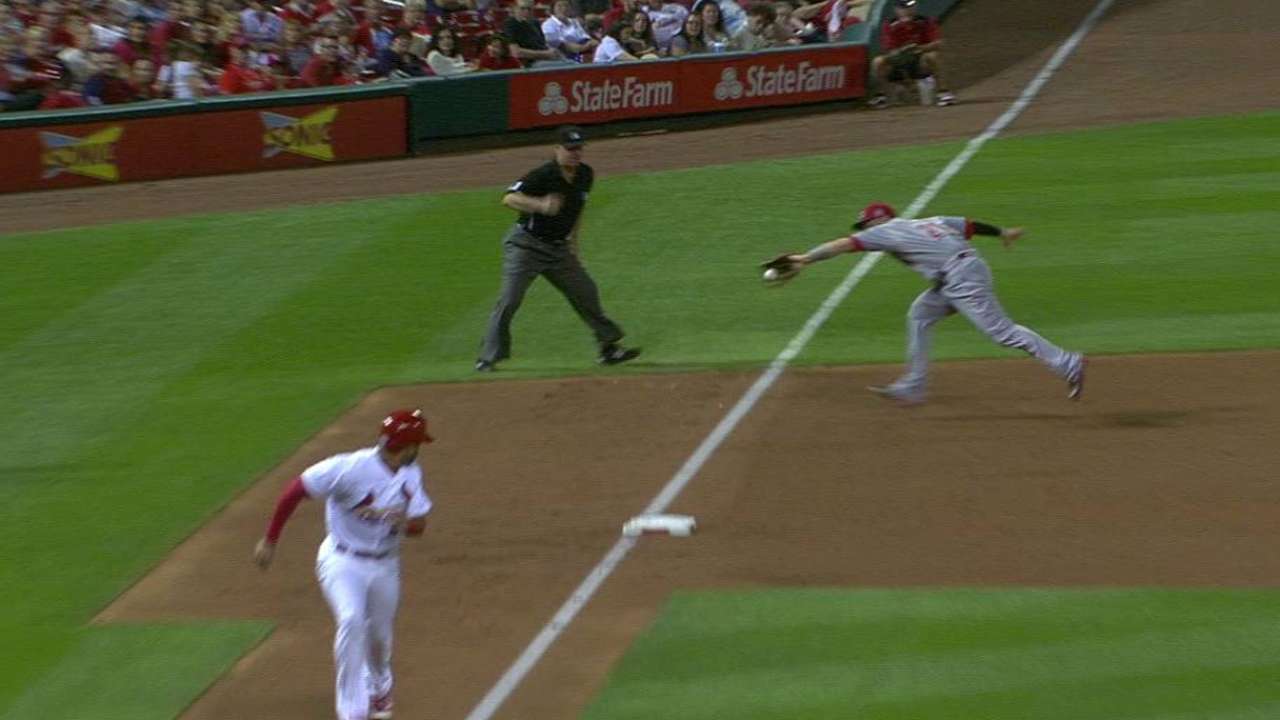 Frazier pumped his fist and ran excitedly into the Reds dugout -- happy with a defensive job well done.
"Those are tough plays. You get the ball and you've just got to chuck it and huck it down there," Frazier said. "For me, I haven't gotten many opportunities way down the line. I threw a seed. Why not get excited? It saved a run. The dugout was pretty pumped, too. ... I was juiced on that play."
Despite leading National League third basemen with 17 errors, Frazier has some strong sabermetric defensive numbers this season. His ultimate zone rating of 8.4 entering the night was second-best in the NL. He had nine defensive runs saved going in, which was third-best.
Mark Sheldon is a reporter for MLB.com. Read his blog, Mark My Word, follow him on Twitter @m_sheldon and Facebook and listen to his podcast. This story was not subject to the approval of Major League Baseball or its clubs.