Price not concerned by Hoover's recent slump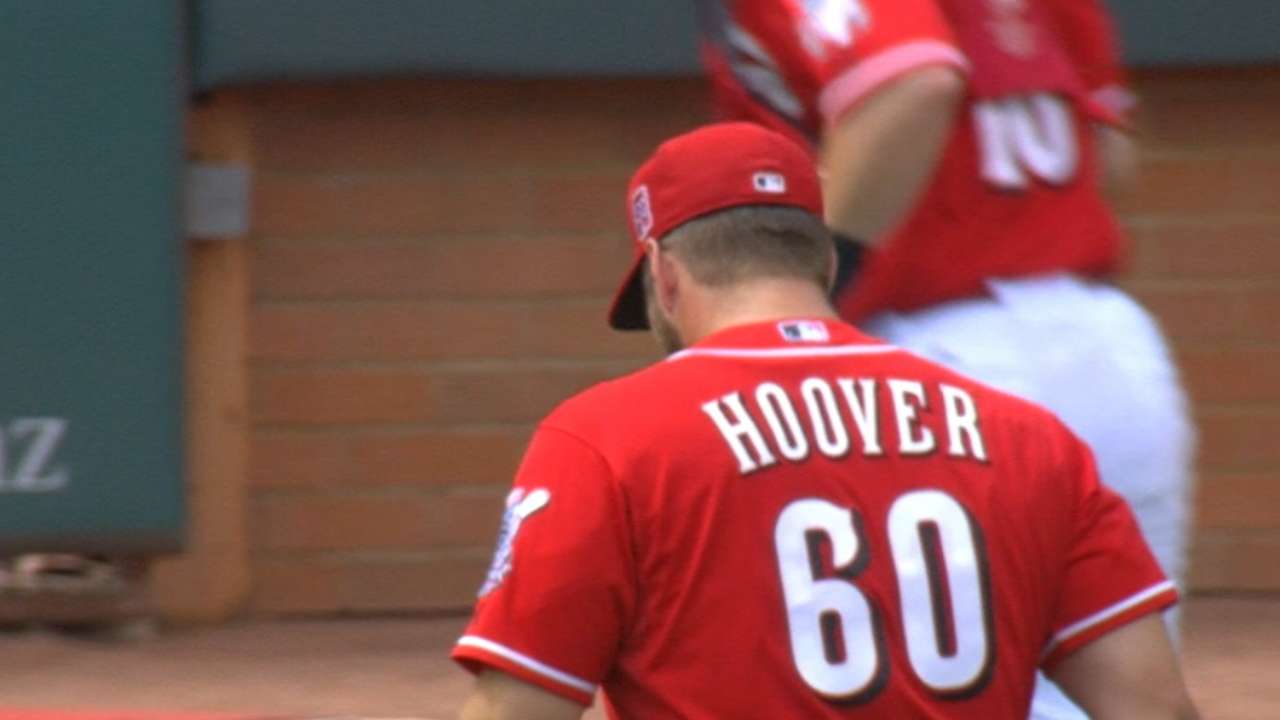 CINCINNATI -- It's been a very nice bounce-back season for Reds reliever J.J. Hoover, which included the right-hander regaining his eighth-inning setup role following a disastrous 2014. But this final month has seen Hoover struggling at times.
Hoover entered Tuesday with a 9.95 ERA over his last seven games, with seven earned runs, eight hits, five walks, eight strikeouts and three home runs over his last 6 1/3 innings. Twice he has blown leads, including Monday's 2-1 loss to the Cardinals, in which he gave up both runs and three hits in the decisive eighth inning.
"It's hard when you cluster a few tough outings in a row, to endure it," Reds manager Bryan Price said of Hoover on Tuesday. "But it's the unfortunate part of it. You want these guys to play flawlessly. It's a game that can't be played perfectly. You have to tip your hat to the guys that continue to take the ball in these high-leverage situations time and time again, and stay with them even if they have a bump in the road."
With a 2.56 ERA and 1.14 WHIP, Hoover likely will surpass career highs in both appearances and innings that he previously set in 2013. His team-most 66 appearances entering Tuesday are three away from his career-high mark, and his 63 1/3 innings has him close to his high of 66 innings.
Last week, Price revealed that Hoover was given a break because of what he described as a "knot in the back" of his right shoulder. He pitched on three days' rest in his two previous outings, at San Francisco and Milwaukee, and pitched on two days' rest Monday.
Price wasn't worried about fatigue bothering Hoover, but with the Reds out of contention, the club can afford to space out his appearances as needed, as opposed to needing him ready daily for a pennant chase.
"I won't say there's a concern as much as an awareness, because I think there are plenty of other guys in the league that have more appearances and [times warming up but not entering the game] than J.J.," Price said. "He's just our most-used guy. But I think it's rare to find somebody that's pitched like J.J., or any of the guys in the [top 20] of appearances in the league, that aren't showing some signs of fatigue, or at least feeling it if they are continuing to perform.
"I certainly wouldn't use him in a situation where he's saying, 'I'm on fumes today,' or, 'I could use a day.' But if he's feeling good, he's kind of built for that role, unless he establishes he can't do it. I haven't lost faith in him at this point."
Worth noting
• Recovered from a strained right hamstring, catcher Brayan Pena was back in the Reds' lineup for the first time since Sept. 8. Despite having September callups, the bench is still down to only five players because of injuries to Billy Hamilton, Ryan LaMarre and Kristopher Negron.
"A 22-man bullpen but a five-man bench," joked Price.
If the Reds need an extra pinch-runner or pinch-hitter, pitcher Josh Smith could be utilized.
"Just because he's athletic," Price said. "He's used to hitting and being on base. He runs well."
Mark Sheldon is a reporter for MLB.com. Read his blog, Mark My Word, follow him on Twitter @m_sheldon and Facebook and listen to his podcast. This story was not subject to the approval of Major League Baseball or its clubs.