Tulo catches, fields, but no full activity yet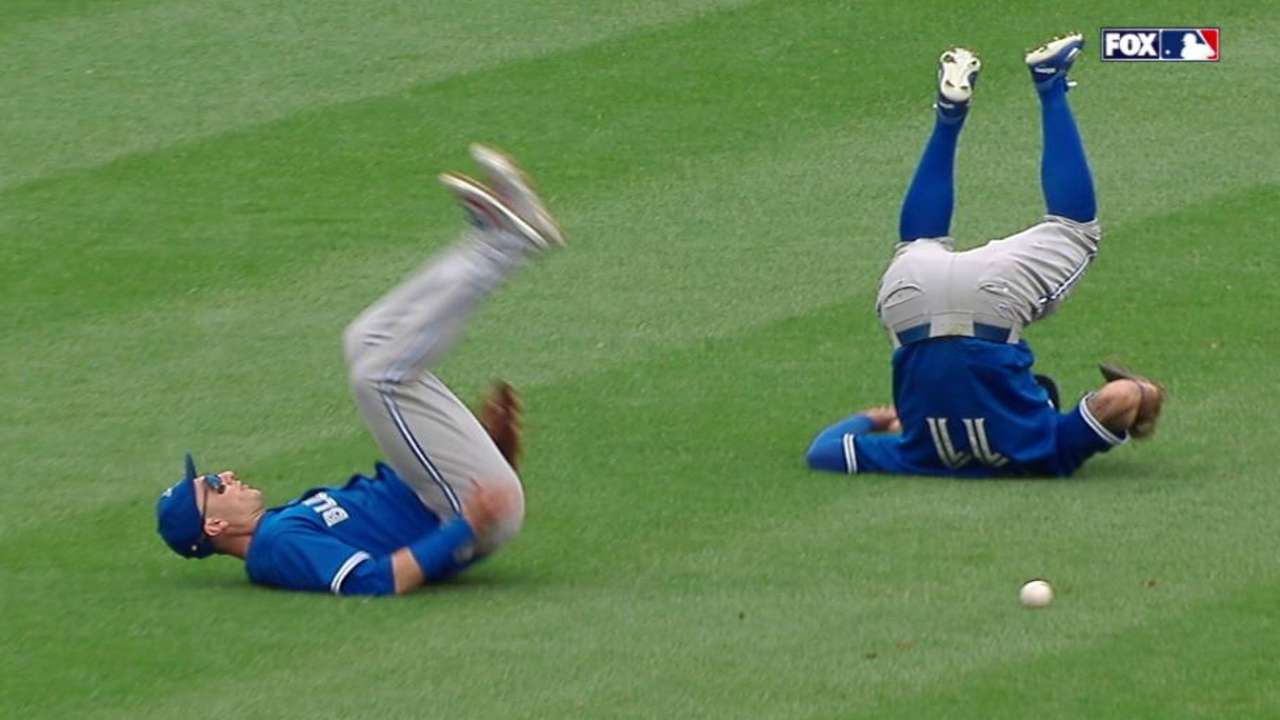 TORONTO -- Blue Jays shortstop Troy Tulowitzki played catch and fielded some ground balls on Tuesday afternoon for the first time since suffering a cracked left shoulder blade, but there is still no timetable for a return to full baseball activities.
Tulowitzki was injured during a collision with center fielder Kevin Pillar on Sept. 12, and the tentative rehab schedule was listed for 2-3 weeks. He's 10 days into that recovery, but will need to wait a little while longer before his routine becomes clearly defined.
The 30-year-old eventually will have to resume full fielding drills and start swinging a bat before a return can be considered realistic. He remains questionable to make it back before the end of the regular season.
"I feel way more comfortable," Tulowitzki said. "The first couple of days I was struggling. The pain is definitely dying down, getting more mobility, feeling better every single day.
"Everyday life stuff is getting a little bit easier, and now it's about -- hopefully soon -- doing all baseball activity and then go from there."
All eyes will be on Tulowitzki over the next week and a half as the Blue Jays near the end of their regular season. Toronto entered play on Tuesday 3 1/2 games ahead of the Yankees for first place in the American League East and is closing in on a spot for the postseason.
The goal is to get Tulowitzki back on the field for the first round of the postseason, either the AL Division Series or the AL Wild Card Game depending on where the Blue Jays ultimately finish the regular season. That will still be an uphill battle for Tulowitzki, who expressed optimism that his return would be "soon," but then admitted he didn't know how soon.
"I wish I had that answer," said Tulowitzki, who is hitting .232 with a .682 OPS in 39 games for Toronto. "I really don't know. I think when I start doing more baseball activity, that will tell us a lot more."
The crack in Tulowitzki's left clavicle is one of several issues he's currently dealing with. There's also soreness in a lot of the surrounding muscles, and the pain needs to subside before he can start doing more strenuous baseball activities.
A week ago, Tulowitzki couldn't lift his arm above his head and had to have his wife or teammates help him get dressed. That's no longer the case, but the progress is still a long way from being able to swing a bat.
"You'd much rather be in there helping the team win games, but at the same time, we're still first in the division, playing good baseball and this team is more than capable of winning games nightly," Tulowitzki said. "Then hopefully, when I do get back out there, it makes us that much better of a team and helps us down the stretch run and in the playoffs."
Gregor Chisholm is a reporter for MLB.com. Read his blog, North of the Border, follow him on Twitter @gregorMLB and Facebook, and listen to his podcast. This story was not subject to the approval of Major League Baseball or its clubs.