Collins honored by NL Manager of the Year talk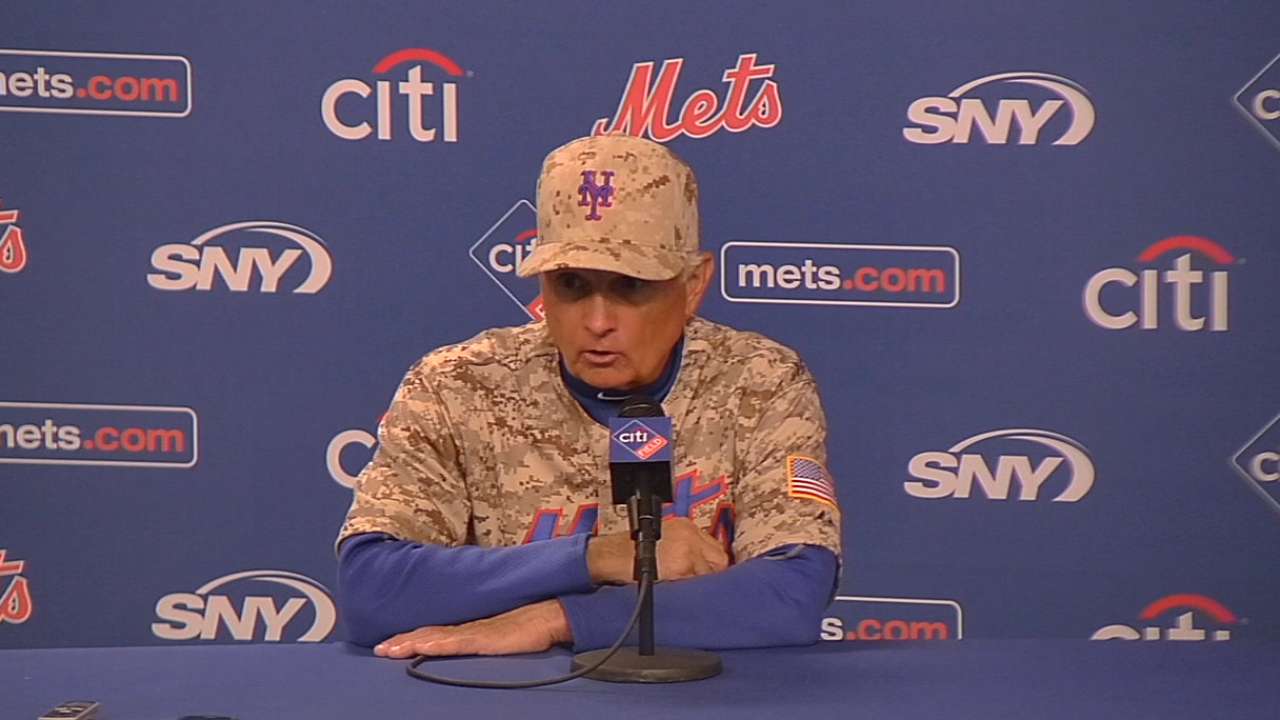 NEW YORK -- Rightly or wrongly, the Baseball Writers' Association of America tends to give its Manager of the Year awards to the team leaders that best outperformed mass-media expectations -- Pittsburgh's Clint Hurdle in 2013, for example, Cleveland's Terry Francona that same year or Arizona's Kirk Gibson in 2012.
Count Terry Collins among this year's candidates, then, for guiding a club widely considered to finish in second or third place to the brink of its first National League East title since 2006.
"I will tell you, it's always nice to get an award," Collins said when asked about his potential to win. "It always is. But those kinds of things, it's all about the players, believe me. I've talked to a lot of great managers in the game that have won this award hundreds and hundreds of times, and I will tell you what: very few of them have ever said, 'Boy, I managed my butt off.' They put the right names in the lineups is what they've done, and let them go play."
For Collins, things began improving rapidly after the team acquired Kelly Johnson, Juan Uribe and Yoenis Cespedes at the July 31 non-waiver Trade Deadline. And to be fair, Collins still receives regular criticism for his bullpen management and lineup decisions, even if they have largely been successful.
But Collins has also led the Mets to their first winning season since 2008, steering them around plenty of controversies -- Matt Harvey, anyone? -- along the way. No matter what happens in October, he is almost certain to receive NL Manager of the Year votes for his efforts.
"It's nice to be mentioned because you know why? Our players are playing good, and that makes me happier than anything else," Collins said. "And if we can finish this off, nothing can top that. With what we've gone through here for five years, nothing can top the fact that we've finally given this organization and our fan base something to cheer about."
Anthony DiComo is a reporter for MLB.com. Follow him on Twitter @AnthonyDiComo and Facebook, and listen to his podcast. This story was not subject to the approval of Major League Baseball or its clubs.