MLB.com Columnist
Roger Schlueter
Stats of the Day: Keuchel joins Astros' elite
Southpaw becomes 12th Houston pitcher with 18 wins and 200 K's in a season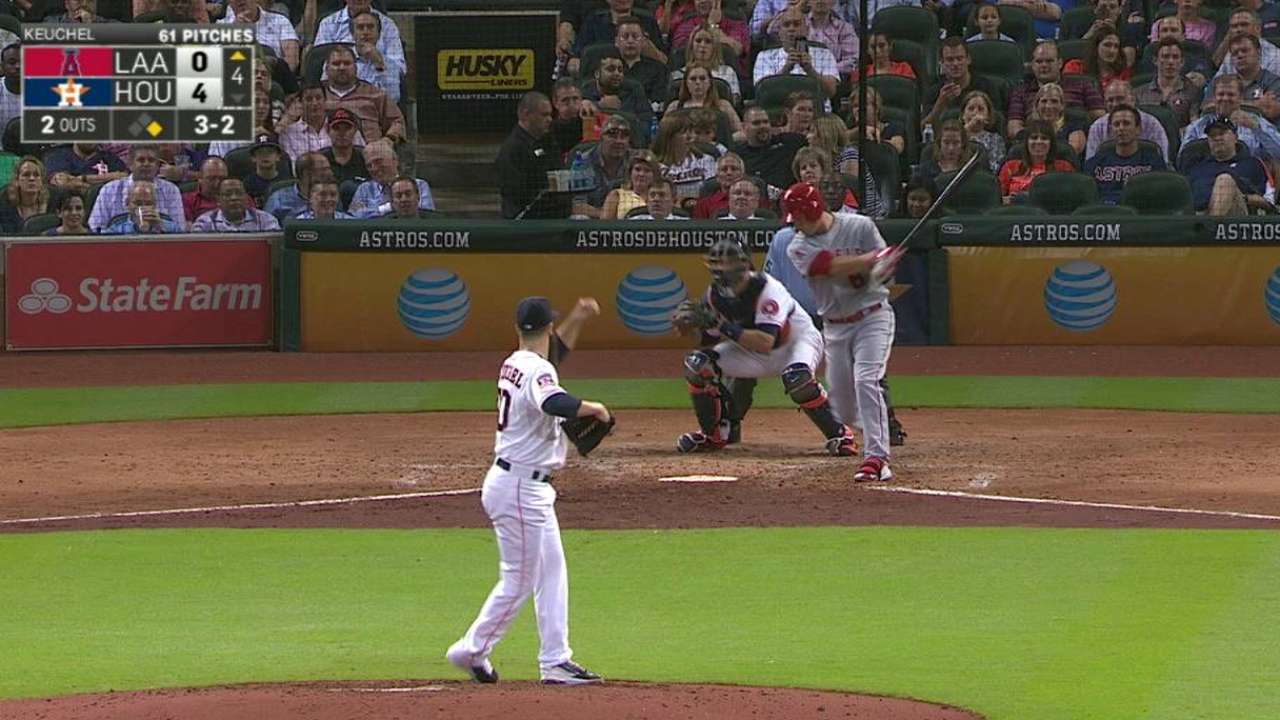 Here are four interesting items from around the big leagues Monday …
• In Houston, Dallas Keuchel allowed one run over 7 2/3 innings, struck out six and picked up his 18th win of the season as the Astros defeated the Angels, 6-3. Only one Houston left-hander has ever won more games in a season: Mike Hampton, with 22 victories in 1999. Keuchel has 203 K's this year, tied with Mike Cuellar for the most by an Astros lefty. Keuchel's 161 ERA+ would be the second highest for a Houston southpaw, behind Andy Pettitte's 177 ERA+ in 2005. Keuchel's 1.02 WHIP would be the lowest for an Astros left-hander, and the lowest for any qualifying pitcher since Roger Clemens posted a 1.01 WHIP in '05.
Sticking with the traditional Triple Crown stats, Keuchel is the 12th Astros pitcher to have a season with at least 18 wins and 200 strikeouts. His 2.51 ERA would slot in as the third-lowest mark among this dozen, behind Mike Scott's 2.22 ERA in 1986 (when he won 18 games and fanned 306 batters) and Larry Dierker's 2.33 ERA in '69 (when he won 20 and struck out 232). Randy Johnson ('97) is the last American League left-hander to have a season with at least 18 wins, 200 strikeouts and an ERA no higher than 2.50. In that campaign for Seattle, Johnson won 20 games, fanned 291 batters and recorded a 2.28 ERA.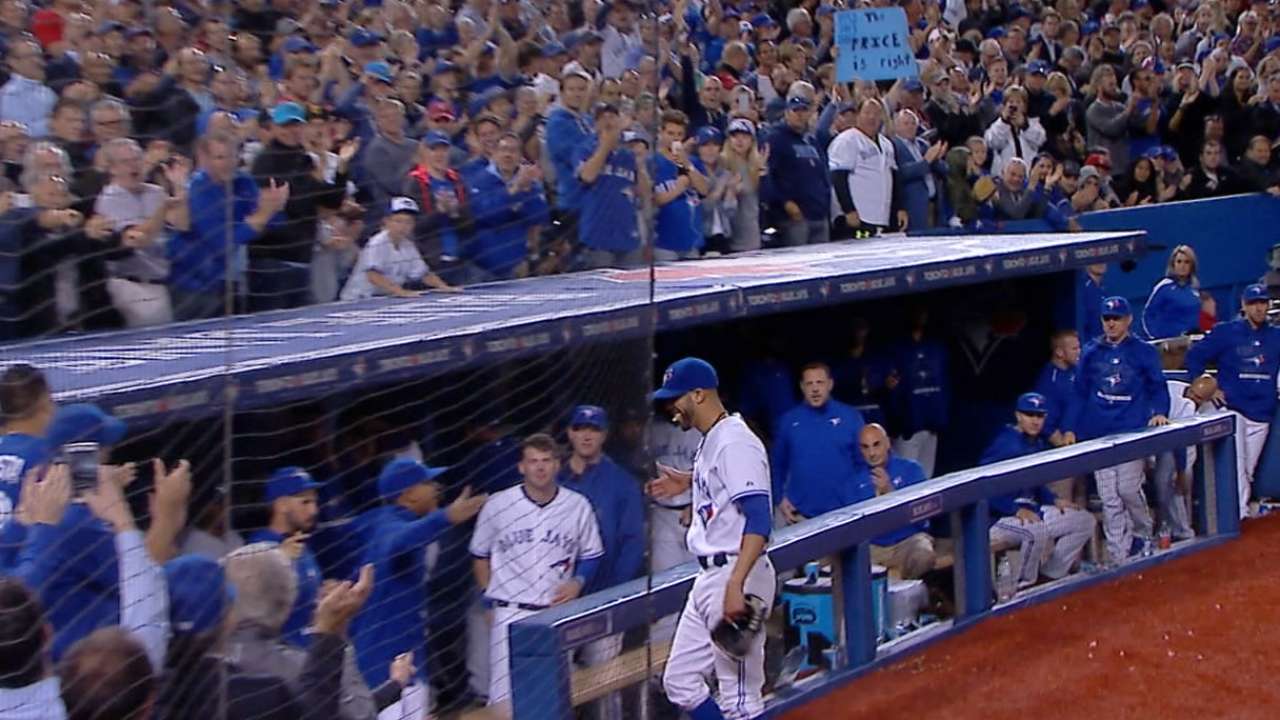 • Toronto's David Price allowed two singles and a walk in seven scoreless innings and came away with his 17th win as the Blue Jays beat the Yankees, 4-2. In 10 starts since joining Toronto, Price is 8-1 with a 1.95 ERA. Price has faced the Yanks four times since being traded to the Blue Jays, posting a 3-0 record with a 1.71 ERA. This latest effort has been the second time Price pitched at least seven innings and allowed no more than three hits in a scoreless start. He is the first Toronto pitcher to have two such outings against New York in a season, and he is the first left-hander to do this since the Orioles' Dave McNally in 1974 (two complete games). Price lowered his league-leading ERA to 2.34 with Keuchel second at 2.51, and 2015 has a chance to be the second straight season to have two AL southpaws finish the year at 2.50 or below (Chris Sale and Jon Lester in '14). Prior to last year, Allan Anderson and Teddy Higuera were the last to do it in '88.
• Carlos Correa contributed to the Astros' victory with a single, a double, a homer, and three RBIs. Correa, who turned 21 on Tuesday, entered the day with 19 homers and 21 doubles. There have been 15 players to finish their age-20-or-younger season with at least 20 home runs and 20 doubles. The list includes 12 outfielders (Al Kaline, Bryce Harper, Frank Robinson, Giancarlo Stanton, Ken Griffey Jr., Mel Ott, Mickey Mantle, Mike Trout, Ted Williams, Tony Conigliaro, Vada Pinson, Willie Mays); one shortstop (Alex Rodriguez); one first baseman (Orlando Cepeda); and one third baseman (Eddie Mathews). Harper and Conigliaro accomplished the feat twice.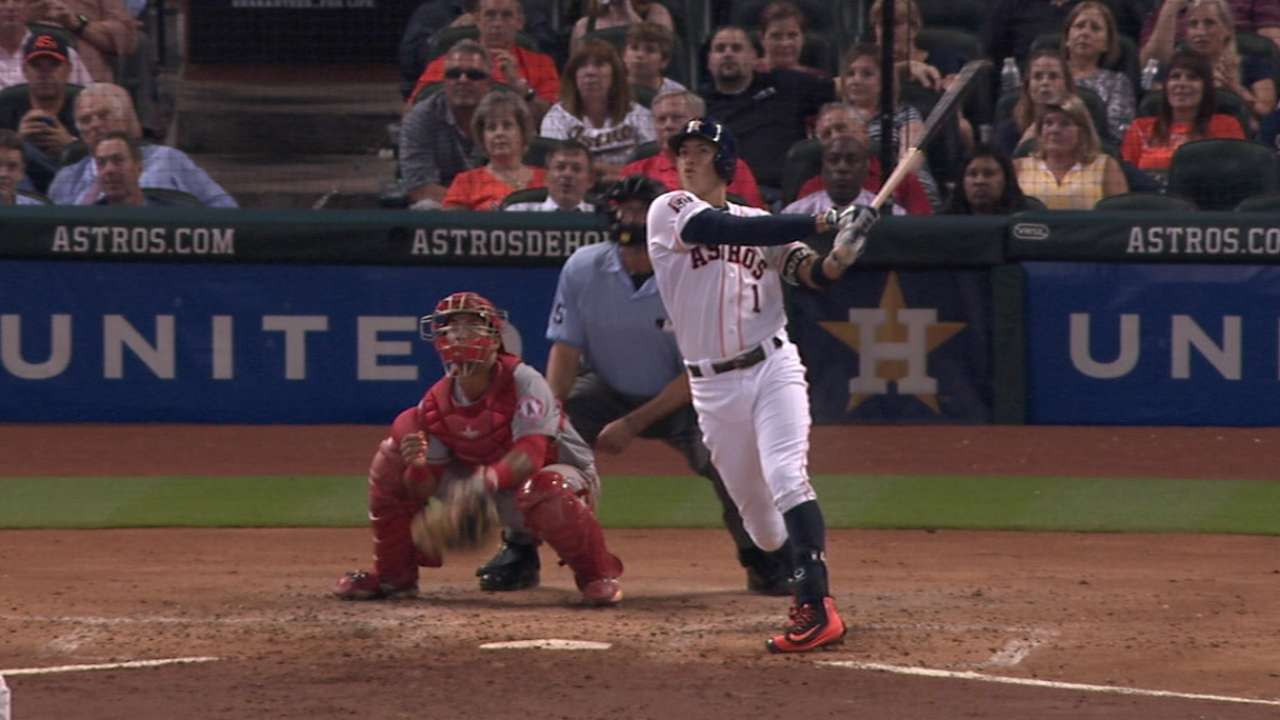 • In the first game of a doubleheader against the Tigers, White Sox righty Jeff Samardzija faced one batter over the minimum and put together a one-hit shutout with six strikeouts and no walks. He became the 17th White Sox hurler since 1914 to throw a complete game of at least nine innings and allow no more than one hit and no walks. Those 17 outings are the most for any franchise, ahead of the Dodgers' 16, and they include three perfect games: Charlie Robertson (1922), Mark Buehrle (2009) and Philip Humber ('12).
Milestone watch for Tuesday
• Robinson Cano is three hits shy of 2,000 for his career. No second baseman has reached that milestone through 11 seasons, and Cano would be the 14th player at any position to get there that early in his career.
• Rodriguez needs two runs scored for 2,000 in his career. Seven players have reached the milestone: Rickey Henderson, Ty Cobb, Barry Bonds, Hank Aaron, Babe Ruth, Pete Rose and Mays.
Roger Schlueter is a contributor to MLB.com. This story was not subject to the approval of Major League Baseball or its clubs.