MLB.com Columnist
Anthony Castrovince
Don't count out Twins, Tribe just yet
Though a lot needs to happen, AL Central rivals could beat the odds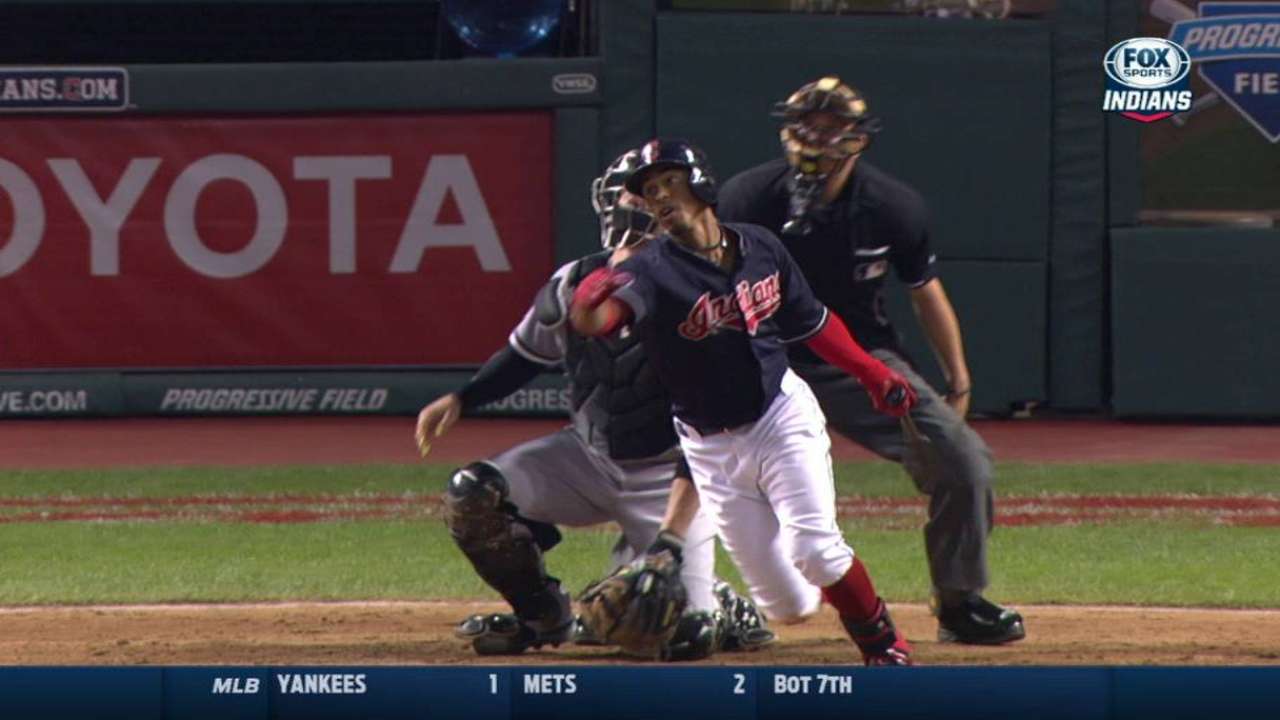 Back on April 1, I would not have believed the Minnesota Twins would be playing meaningful baseball games in the second-to-last week of the season.
Back on August 1, I would not have believed the Cleveland Indians would be playing meaningful baseball games in the penultimate week of the season.
But here we are.
A three-game set that begins Tuesday night at Target Field features baseball's two unlikeliest remaining contenders. For the Twins, it is because 2015 was supposed to be the bridge year sending them away from the 90-loss abyss of the past four campaigns and toward a better future. For the Indians, it's because they went from Sports Illustrated's World Series pick to first-half flub to the dreaded midseason punt that usually signals a reboot.
So what are the odds that either of these clubs will reach the postseason?
For the uninitiated, this is the American League's second Wild Card picture, entering Tuesday (and as you know, the Astros, just a game back in the AL West, still have something bigger to play for):
| Team | Record | Games back |
| --- | --- | --- |
| Astros | 80-71 | -- |
| Twins | 76-73 | 3 |
| Angels | 76-74 | 3.5 |
| Indians | 74-74 | 4.5 |
Baseball Prospectus gives Cleveland (7.8 percent) a higher percentage chance of reaching the playoffs than the Twins (5.5), despite being a game behind Minnesota in the standings. This makes sense, given the Indians have been the hotter team. They've won 16 of their past 24, while the Twins have a sub-.500 record (10-11) in September, including five losses in their past six games.
So let's just focus for a moment on the hotter hand. The Indians have played .556 ball in the month of September. Just for the sake of discussion, let's say they continue that pace the rest of the way. That would leave them with an 82-80 record at season's end (a record, by the way, that they surely would have signed up for back on Aug. 7, when they were 10 games under .500).
The Astros beat the Angels on Monday night, further complicating matters for the Indians. For the Astros to finish 82-80, they'd have to go 2-9 the rest of the way. That doesn't seem particularly likely, but remember, this is the same team that went 4-12 to start September. And though Houston plays much better at home than on the road, the rest of its home slate is the two games left in this series against the Angels, followed by a weekend set with the first-place Rangers team that swept it in Arlington last week. The Astros finish the season with six on the road, where they are an AL-worst 9-27 since July 5.
So while it's doubtful that the Astros will collapse, it's at least remotely conceivable.
It could very well be that, with seven games left against each other (they'll meet again in Cleveland next week), the Tribe and Twins may spoil each other's season, trading wins and losses and preventing either club from making a surge up the standings.
All it takes, though, is a sweep in this series -- in either direction -- to make this race just a little more Wild.
For the struggling Twins to have that in them, they'll need Phil Hughes to make a rousing return to the rotation after a (very brief) demotion to the bullpen. Hughes was Minnesota's best starter in 2014. In 2015? Not so much. And he missed several weeks with a herniated disk in his back before an not-so-encouraging (and again, very brief) outing against the Tigers last week.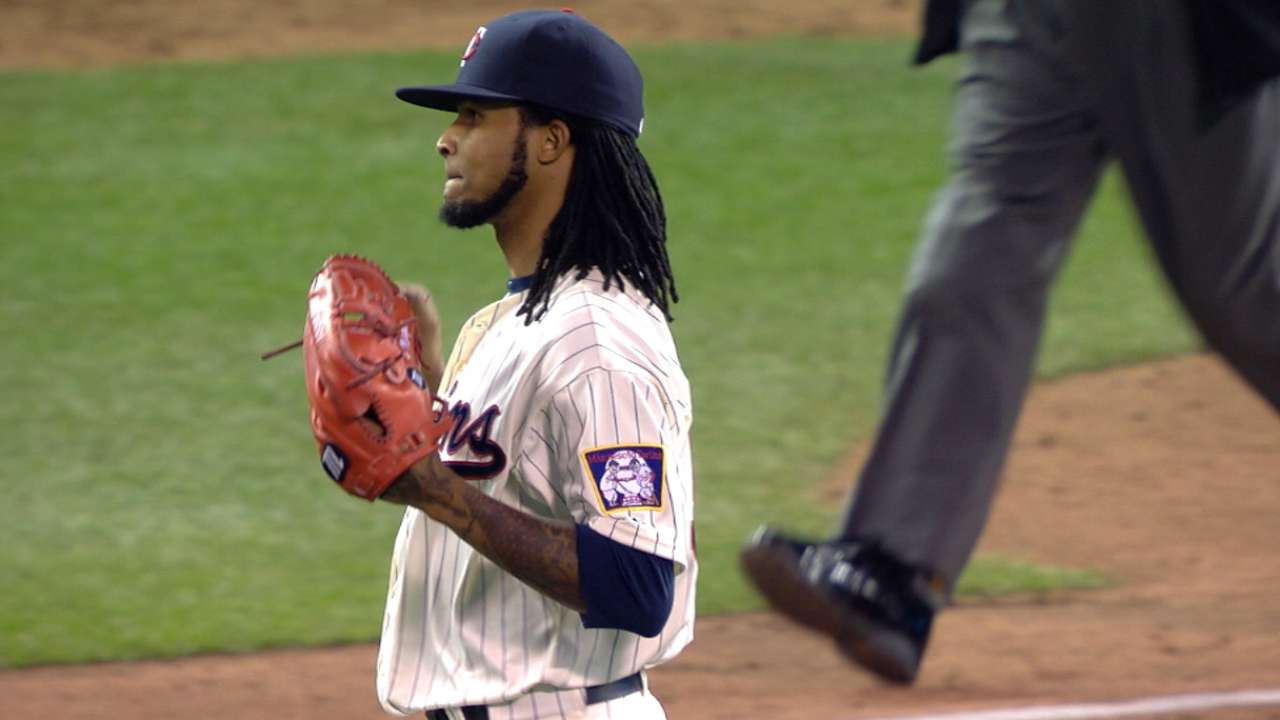 But Hughes pitched well in two innings out of the bullpen over the weekend, and Tommy Milone's tired shoulder prompted a need. So Hughes gets the ball Wednesday, sandwiched between Ervin Santana (who has a 1.55 ERA over his past four outings) and Kyle Gibson (who has been probably the Twins' most consistent starter).
The other thing that needs to happen is for Brian Dozier to come alive at the plate. He's been susceptible to a steady dose of sliders, and this is the third straight year he's slumped in September, turning in a .176/.282/.257 slash line in 18 games.
You'd be hard-pressed to say the Twins do any one thing particularly well. Their rotation has been in constant flux with Santana's suspension and various injuries. Rookie Tyler Duffey has been a late-season savior, but he won't pitch in this series.
And Minnesota's bats have been largely mediocre, with the obvious exception of Miguel Sano, who is an AL Rookie of the Year Award candidate. The Twins won 20 of 27 in May, but they haven't had a single month above .500 before or since, so it's hard to imagine them getting as hot as they'd need to get to bridge this gap.
The Indians? Well, this 16-8 stretch is encouraging, to say the least. And though this isn't the specific cast SI and others expected to contend -- Brandon Moss, David Murphy, Michael Bourn and Nick Swisher were all shipped off --- the Tribe is playing a brand of baseball that would have been worthy of all that preseason hype and hope.
With Jason Kipnis, Francisco Lindor (my pick for the AL Rookie of the Year Award at the moment) and Michael Brantley at the top of the order, the Indians have an offense creating traffic. Their starting staff, with just a .297 OBP against, has done a strong job of avoiding traffic all season.
In this series, Cleveland will go with Danny Salazar, whose strikeout stuff has been especially effective against Minnesota (21 K's in 13 innings, with just three total runs allowed over the two starts), reigning AL Cy Young Award winner Corey Kluber and the unheralded Cody Anderson, who has a 2.12 ERA in his past five starts. There's a lot to like there.
Again, though, even a sweep would require additional assistance. For either the Twins or Tribe to reach the playoffs would still best be described as unlikely.
Of course, "unlikely" is a label both of these clubs have shown an ability to shake off.
Anthony Castrovince is a reporter for MLB.com. Read his columns and follow him on Twitter at @Castrovince. This story was not subject to the approval of Major League Baseball or its clubs.