Mattingly expects Dodgers to finish strong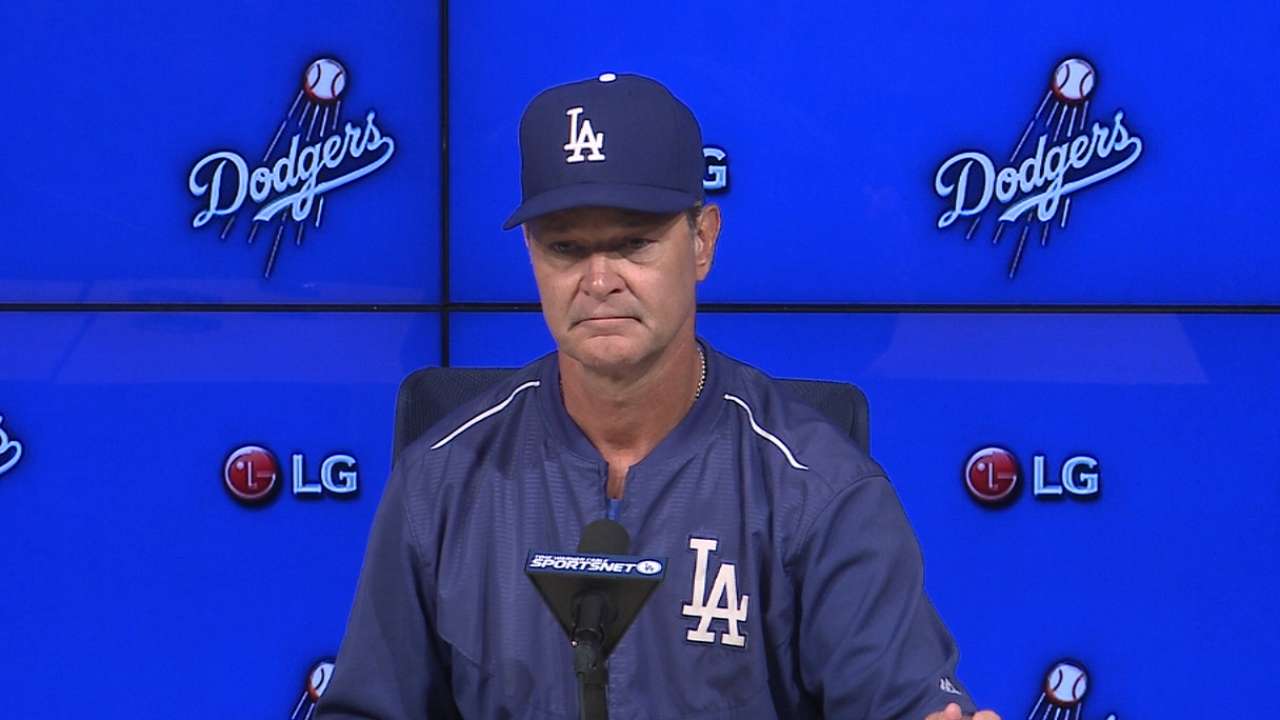 LOS ANGELES -- In 2009 the Dodgers led by six games with seven to play when the magic number stalled in a late stumble, the champagne hauled around on a three-city trip until corks finally popped the second-to-last day of the season at home.
Whether it's the memory of that, or just superstition, manager Don Mattingly won't talk about the postseason until he's officially qualified. And that celebration is no closer after Monday night's 8-4 loss to the D-backs, who teed off on Brett Anderson as the Dodgers' losing streak reached three and the magic number remained seven.
The lefty let a 2-0 first-inning lead get away and didn't finish the fifth inning, matching his shortest start of the year. He allowed two of Arizona's three home runs and has served up a team-high 17 homers this season. Injury prone for the last five years, Anderson has thrown 168 2/3 innings in 29 starts in 2015, the heaviest workload since his rookie year of 2009.
"My stuff was fine," he said, rejecting a suggestion that he is fatiguing. "They were swinging early in the count and just hit me. Only a handful of times I feel I just got beat and today was one of those times. They had a good game plan, like they were angry at the baseball or something, hitting rockets. It was just a bad outing. I only have a couple more and I expect to pitch better."
He also wants to pitch regularly. While management has been trying to give him extra days of rest, especially after he suffered a calf cramp three starts ago, Anderson feels whatever benefit is negated by messing with routine.
"I would like to be on normal rest to get back in the rhythm," Anderson said. "It's tough, trying to get me extra rest. I'm in uncharted territory with starts and stuff; still, I'd like to get in a normal routine. That's when I was pitching the best, every four or five days and knowing what I'm doing day in and day out."
With no more days off between now and the end of the regular season (or until a clinching), Anderson expects to pitch every five days, this Saturday in Colorado and next Thursday in San Francisco.
Mattingly didn't say he felt the losing streak was a case of letting down with a big lead, but ...
"Guys do look ahead," he said. "You've got to win a game. We've got a veteran group for the most part that's been through battles; it's not like we're going to get surprised by what's going on. We've got Chase [Utley] and Howie [Kendrick] and Jimmy [Rollins] and even our guys have been through this a few years. I feel like we won't panic."
Mattingly said he was pleased with Utley's professional debut at third base, filling in for the injured Justin Turner. Utley fielded three grounders and threw strikes, two to first base and one to second base.
Ken Gurnick is a reporter for MLB.com. This story was not subject to the approval of Major League Baseball or its clubs.