Peralta makes hay late vs. left-hander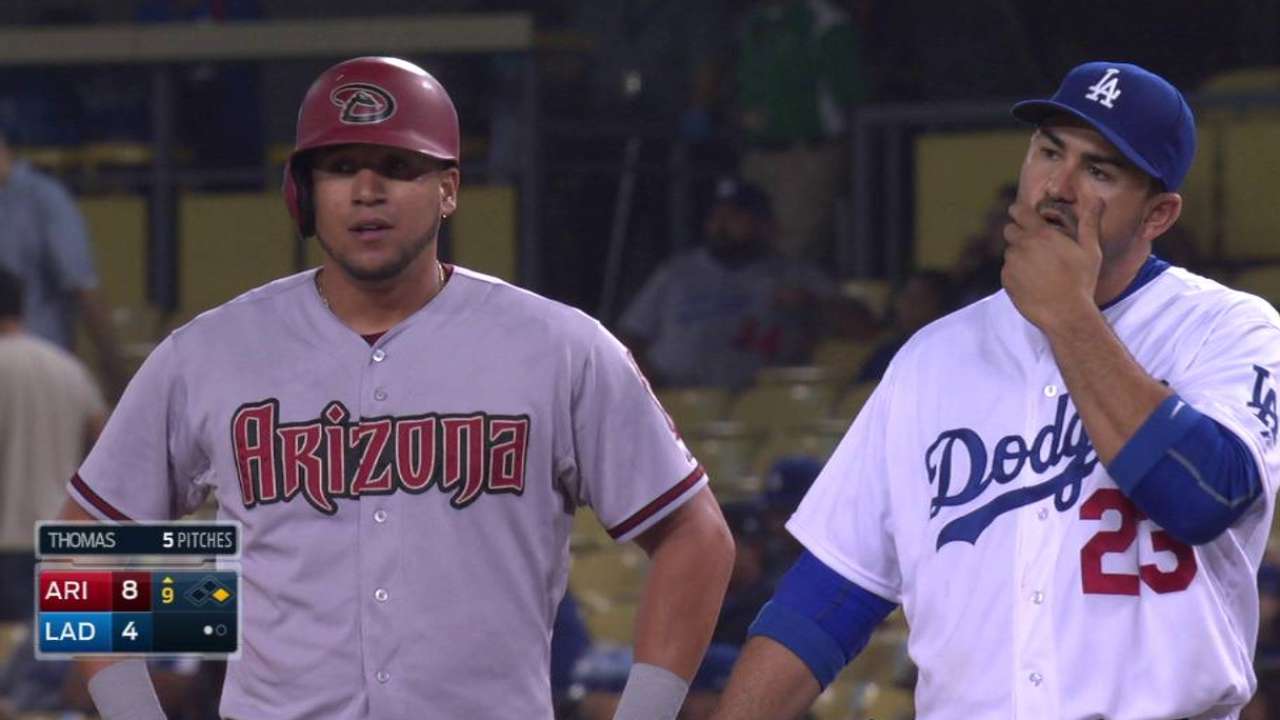 LOS ANGELES -- David Peralta didn't start Monday's game against the Dodgers because a left-hander was on the mound, but he contributed a pair of insurance runs off a southpaw in the ninth to help the D-backs to their first win at Dodger Stadium since June 15, 2014.
Arizona whacked 17 hits and rebuffed a Dodgers comeback by adding on to their lead courtesy of Peralta's two-run single in the ninth to win, 8-4.
Peralta was 2-for-2 with two stolen bases and two RBIs as he entered the game in the seventh inning. Peralta's numbers become much more mortal when facing left-handers instead of righties; he is hitting .322 and has 15 home runs this year against righties, compared to a .260 average and just one home run against lefties.
With left-hander Ian Thomas on the mound in the ninth, manager Chip Hale stuck with the 28-year-old despite the matchup, and it paid off.
"Sometimes we don't start him against lefties, but when we do play him, very rarely do I pinch-hit for him," Hale said. "He's proven to us that he can handle most relievers, and if he doesn't, we feel really comfortable with him in there."
The Dodgers, who had a nine-game winning streak at home against the D-backs, trimmed the lead to 6-4 in the eighth as catcher Yasmani Grandal blasted his 15th home run of the season. The D-backs had already experienced close defeat at Dodger Stadium multiple times before. The Dodgers had walk-off wins over the D-backs on May 3 and June 10 this season and, on two other occasions, the D-backs blew leads in the sixth inning to lose the game. So the club can appreciate the value of a couple of insurance runs.
"Maybe biggest of all was getting those runs in the top of the ninth," said Paul Goldschmidt, who was 2-for-4 with a home run and two walks. "You just know with their offense and with how good their bullpen is, it's going to be a tough game. Even though we had the lead, we just had to keep scoring runs."
The D-backs scored in five innings and their offense was well-balanced throughout. But despite the eight runs, Arizona could've put a much bigger number on the board. Before Peralta came through in the ninth, the Snakes were 2-for-14 with runners in scoring position and had stranded 11 runners on base.
Regardless, the D-backs provided enough support for starting pitcher Jhoulys Chacin to earn his first victory since June 12, 2014.
"We wanted to be relentless; we wanted to keep scoring runs," Hale said. "We know in this ballpark, they're going to keep coming back."
Steve Bourbon is an associate reporter for MLB.com. This story was not subject to the approval of Major League Baseball or its clubs.