Mercer's patience pays off with 4-hit night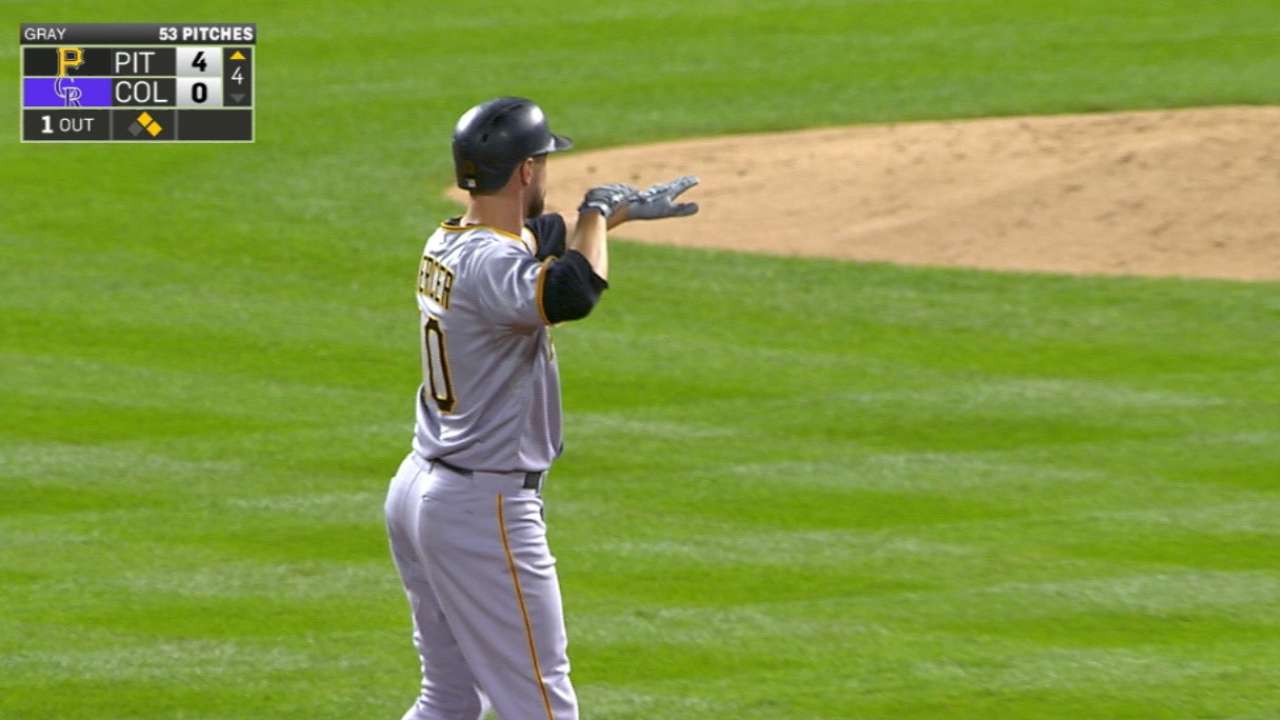 DENVER -- Pirates shortstop Jordy Mercer was looking for instant results. He had never been on the disabled list in his career before a left knee injury put him there July 20 and caused him to miss 30 games.
The Pirates activated Mercer on Aug. 23, and he had gone 16-for-72 (.222) in 23 games entering Monday night's matchup with the Rockies.
"That's what's been tough is to just stay with the process," Mercer said. "And that's what a lot of people have told me, 'Continue to stay with the process and continue to get your work in, and it's eventually going to turn.'"
It happened in the series opener at Coors Field as Mercer went 4-for-5 with two doubles and two RBIs as the Pirates beat the Rockies, 9-3. He tied his career-high with his third four-hit game, his first this season.
On each of his first two at-bats, in the second and the fourth, Mercer lashed doubles into the left-field corner, scoring catcher Francisco Cervelli from first both times. The fourth-inning double gave the Pirates a 4-0 lead.
Mercer singled in the sixth, grounded out in the eighth and singled again in the ninth. His robust performance raised Mercer's overall average eight points to .246 (86-for-350) and left him 20-for-77 (.260) since coming off the DL.
"He's been doing a better job of managing his at-bats for a while," manager Clint Hurdle said. "Silently, I think he's getting back up to speed. Tonight, the first two swings were big for us. You score Cervelli twice from first base with doubles down the line, and he adds on two more singles.
"Nothing breeds confidence like success for players. To go out there and throw out four hits, he feels better about himself, because he's been battling. He's had some good at-bats, just maybe hasn't had as much to show for it as you'd like to see the way he's hit the ball."
The Pirates, whose magic number to clinch a playoff spot is two, will be relying more on Mercer in October, following last week's season-ending injury to infielder Jung Ho Kang.
Before returning to the Pirates, Mercer played seven games with Triple-A Indianapolis from Aug. 11-22 on a rehab assignment and went 6-for-25 (.240). Since this was Mercer's first stay on the DL, he had no history to fall back on as far as how long it took him to feel fully comfortable with his swing and to find an offensive rhythm upon returning to the Majors.
"I've had struggles with [this] being the first time on the DL," Mercer said. "I want to get results right away, but it takes time. Every guy's different obviously. Some guys it takes 50-100 at-bats to get back into the flow of your swing and everything. I think every game I go out and play, it's a step in the right direction."
Jack Etkin is a contributor to MLB.com. This story was not subject to the approval of Major League Baseball or its clubs.