Statcast: First to home, Bourjos hits top gear
Speedster's eighth-inning run helps Cards deny Reds; Price springs to action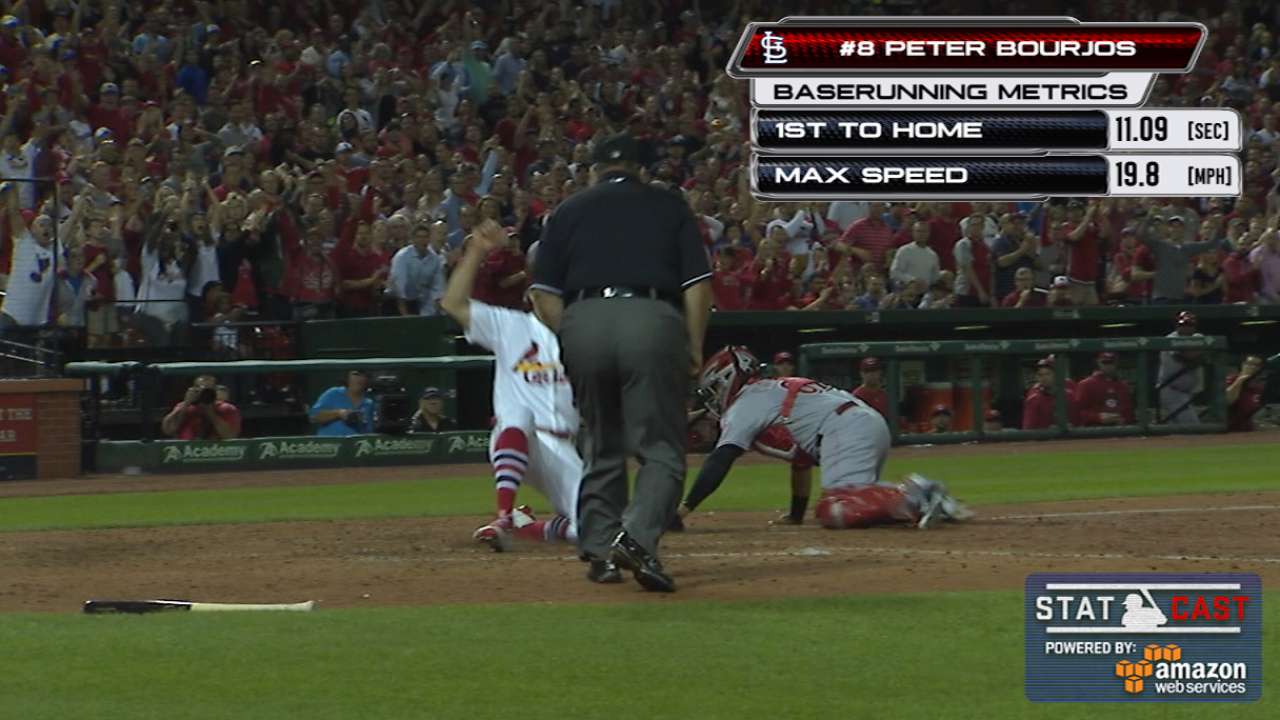 Peter Bourjos' quick trip around the bases on Monday night helped the Cardinals continue their long march toward a National League Central title.
Bourjos entered the Cardinals' 2-1 win over the Reds -- their 94th of the season -- in the eighth inning as a pinch-runner and made an immediate impact with his legs. Statcast™ shows just how quickly Bourjos got the job done, tracking his time from first base to home plate as he scored the go-ahead run.
But Bourjos' mad dash wasn't the only highlight worth tracking on Monday night. Blue Jays ace David Price stabbed a line drive, Angels left fielder Shane Victorino went to work early and Coors Field and Fenway Park each saw a titanic first-inning blast to left field.
Here is an in-depth look at each play.
Bourjos blazes around the bases
With one out in the eighth inning and the Cardinals trailing by a run, shortstop Jhonny Peralta singled in Tommy Pham to tie the game. In came Bourjos, pinch-running at first base. Two pitches later, Stephen Piscotty blasted a double off the base of the left-center-field wall.
Bourjos was off and running, racing from first to home plate in just 11.09 seconds while reaching a top speed of 19.8 mph. That allowed the speedy outfielder to beat the relay home, sliding in safely to score the go-ahead run.
Price puts reflexes to the test
Price got an early wake-up call in the first inning of the Blue Jays' 4-2 win over the Yankees at Rogers Centre. Yankees leadoff man Jacoby Ellsbury rocketed the lefty's fourth pitch of the game, an 89-mph offering, right back at Price with an exit velocity of 98.7 mph.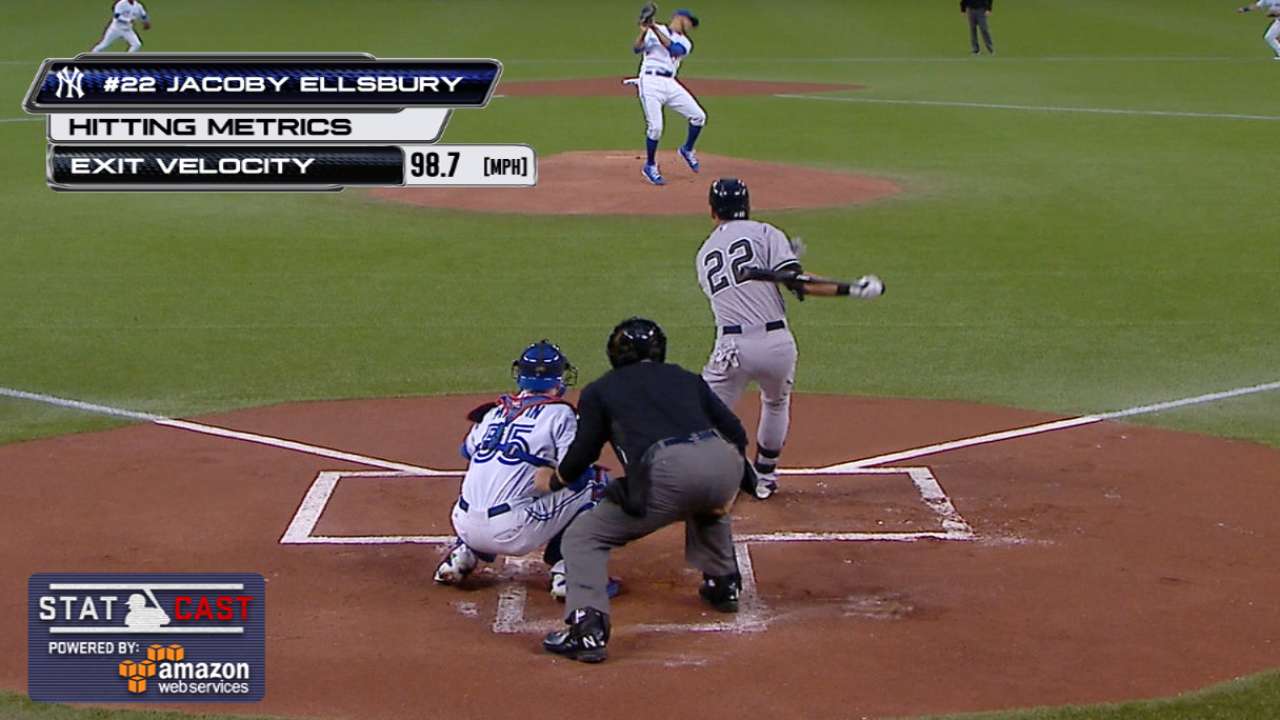 Price threw his gloved right hand in front of his face and snared the line drive on the mound, smiling as he turned around after recording the out.
Victorino recovers, then gets Correa
Victorino had an eventful first inning on Monday night at Minute Maid Park. Three pitches into Jered Weaver's outing in a 6-3 Astros win over the Angels, Houston second baseman Jose Altuve knocked a fly ball 335.56 feet to left field.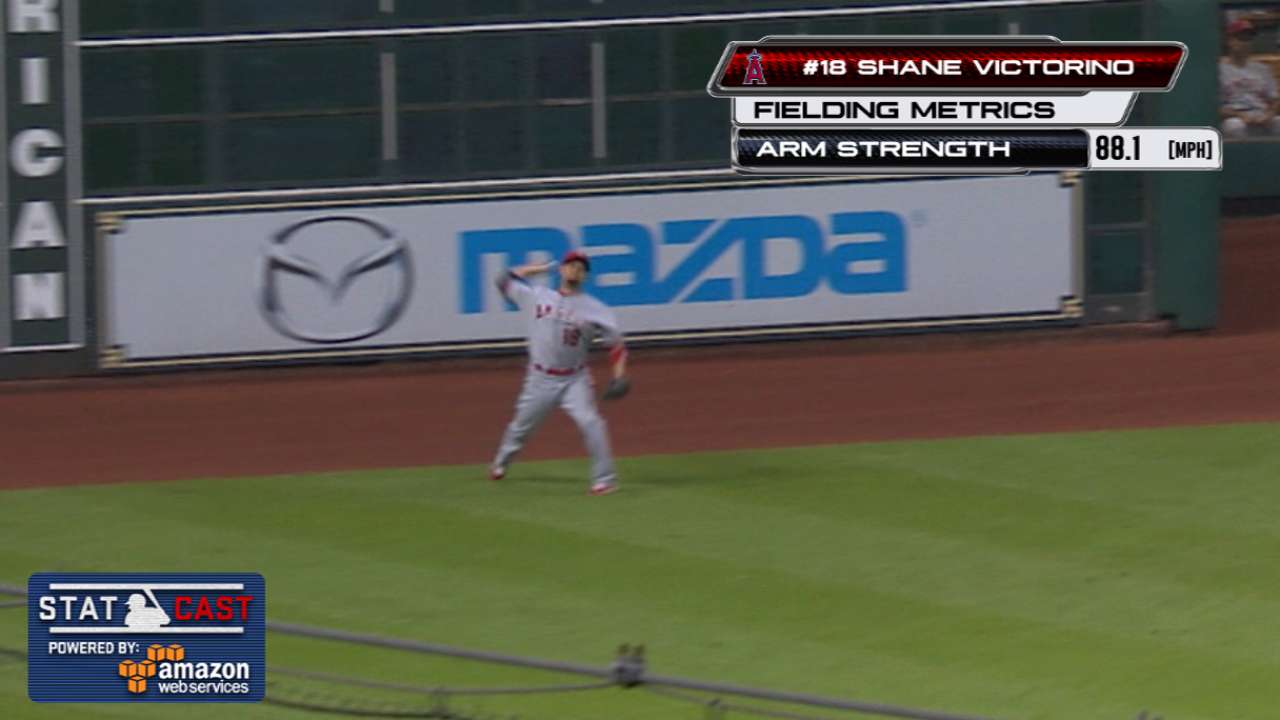 Victorino made a quick first step in 0.29 seconds and took a somewhat circuitous route to the ball but recovered by extending his left arm to make an acrobatic catch. According to Statcast™, Victorino's route efficiency was just 83.3 percent.
The Astros kept Victorino busy. With two outs and nobody on, Houston rookie Carlos Correa smashed a 106.46-mph line drive off the left-field wall. Victorino fielded the carom, turned and fired a 181.95-foot strike to second baseman Taylor Featherston, who tagged out Correa. Victorino's throw was clocked at 88.09 mph, according to Statcast™.
Marte mashes a homer
Nearing the end of the regular season, the Pirates played their first game at Coors Field on Monday night, and Bucs left fielder Starling Marte was clearly ready for the homer-happy atmosphere.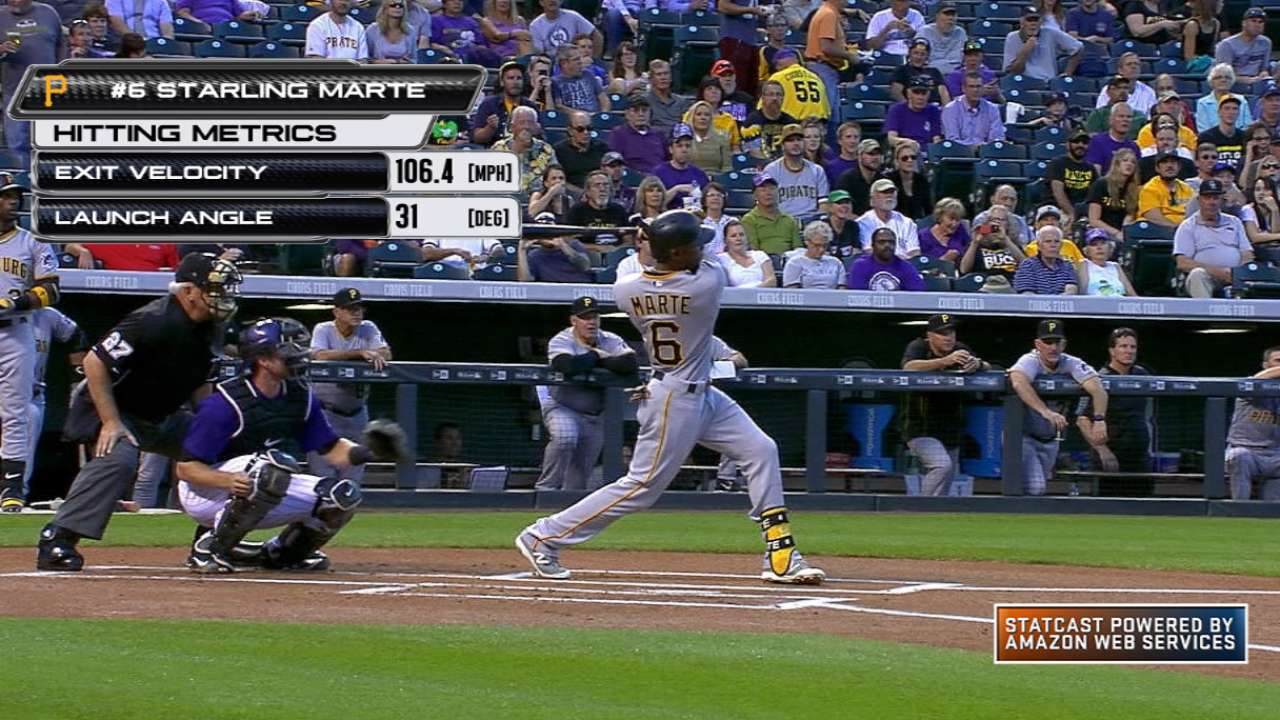 In the first inning of a 9-3 Pittsburgh win in which he logged four hits, Marte launched a 443.41-foot home run to left field off Rockies righty Jon Gray, turning on a 93-mph fastball and ripping it off his bat at 106.43 mph.
Marte's third-longest home run of the season, as tracked by Statcast™, bounced off the last row of the left-field seats. He crushed a 467.22-foot homer on April 17, his longest of the season, and hit one 445.92 feet on Sunday at Dodger Stadium.
Guyer goes deep
Rays outfielder Brandon Guyer got things going right away Monday night. Guyer swung at Eduardo Rodriguez's second pitch in the first inning, sending it over the Green Monster and out of Fenway Park to give Tampa Bay an early lead.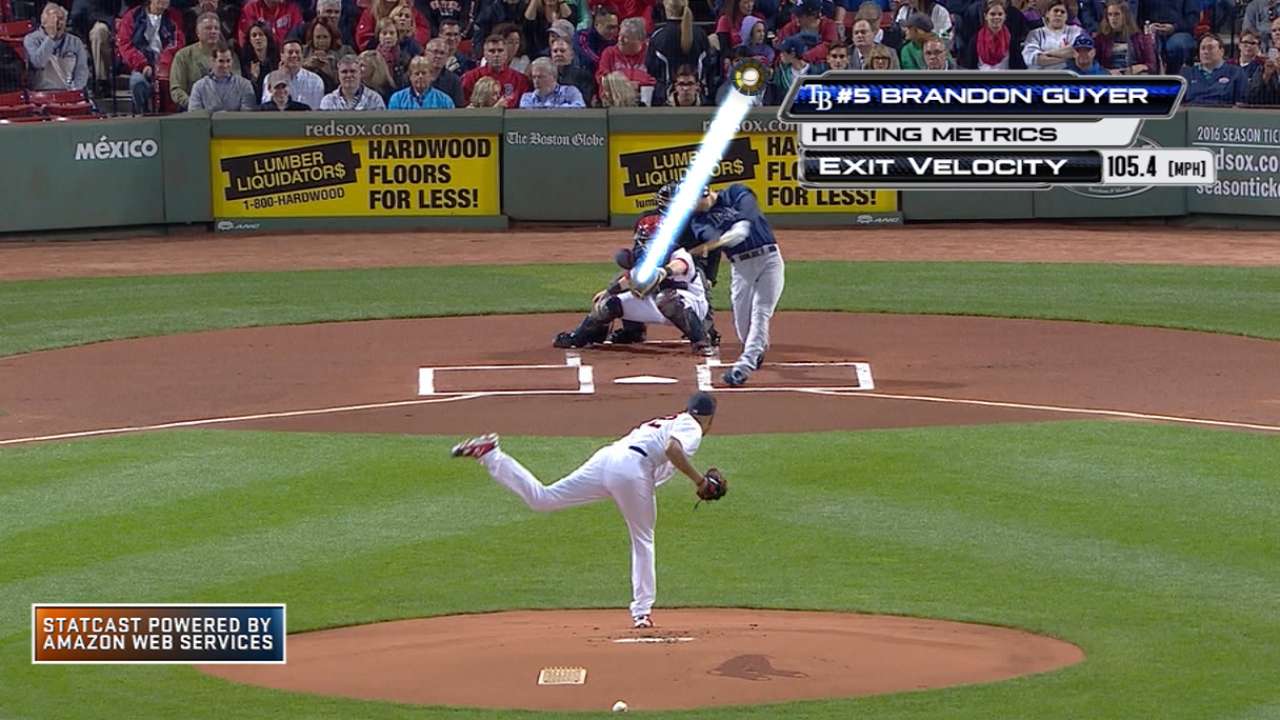 Guyer's moonshot came off his bat at 105.39 mph, according to Statcast™, traveling 417.18 feet and hanging in the air for 6.48 seconds.
Adam Berry is a reporter for MLB.com. Follow him on Twitter at @adamdberry. This story was not subject to the approval of Major League Baseball or its clubs.