Frustration on the hill continues for Weaver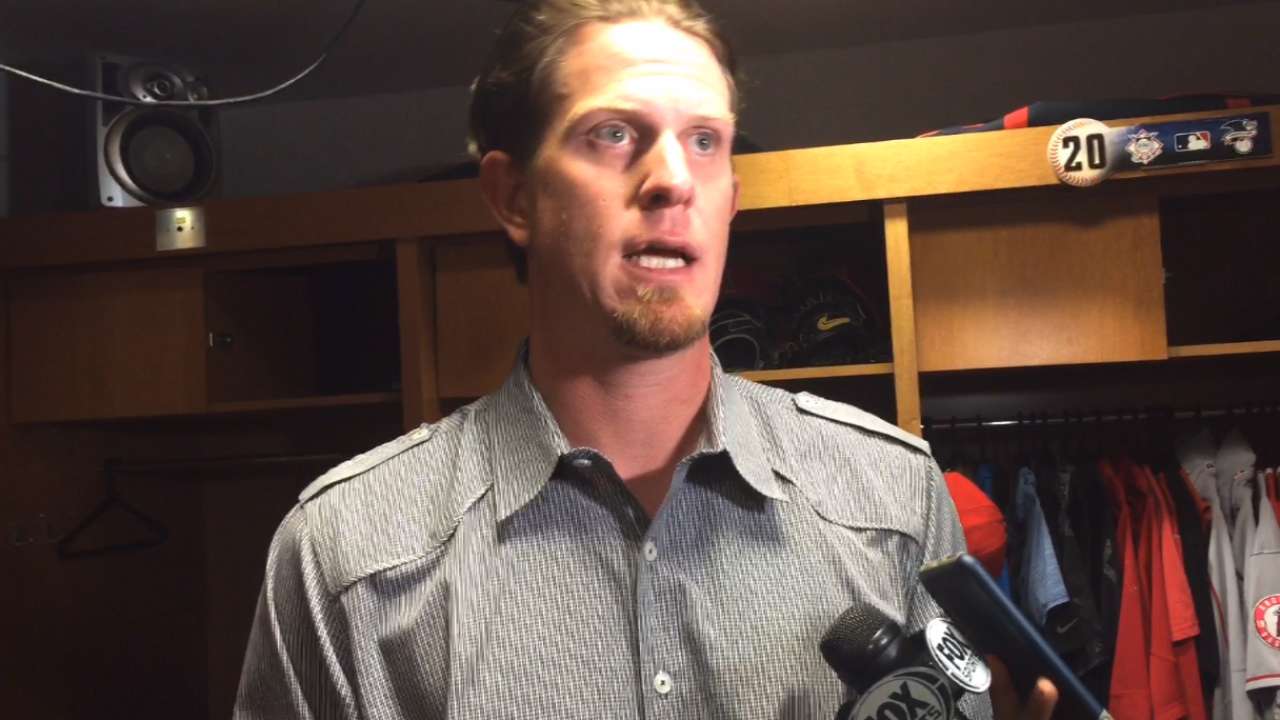 HOUSTON -- His teammates had already retreated to the dugout after Monday's third inning, but Jered Weaver remained on the field, head down, slowly making his way back to the bench shortly after surrendering his second home run. When Colby Rasmus flied out to the right-field wall to begin the fourth, Weaver stared off for a few seconds. When Jose Altuve's grounder snuck into left field in the fifth, he looked on in disgust. And when Luis Valbuena singled through the shift with two outs in the sixth, Weaver scoffed, handing Mike Scioscia the ball before the Angels' manager reached the pitcher's mound.
Another rough start, another loss for Weaver, now 7-12 with a 4.86 ERA in the late stages of his worst season.
"It's more than frustrating," Weaver said after the Angels' 6-3 defeat to the Astros, which put his team 3 1/2 games out of the second Wild Card spot in the American League. "I haven't been able to keep my team in games for the most part this year."
Weaver began his night with "probably the best pregame bullpen I've thrown in a year," then gave up five runs on nine hits and two walks in 5 2/3 innings. It would've been more, if not for a pair of great defensive plays by Shane Victorino and a laser throw from Kole Calhoun to get Altuve out at the plate.
With one out in the second, Weaver gave up a two-run homer to Evan Gattis, who lined it off the left-field foul pole.
With two outs in the third, he gave up a two-run homer to Carlos Correa, who lifted it into the Astros' bullpen in right-center field.
Weaver's fastball velocity -- a byproduct, largely, of the wear and tear his shoulder sustains from an exaggerated, across-the-body delivery -- is down to 84 mph this season, causing him to surrender a career-high 1.4 homers per nine innings. He sports a career-low walk rate of 1.8, but a career-low strikeout rate of 5.2. His WHIP is up to 1.26, his highest mark since 2008. And opposing left-handed hitters now have an .802 OPS against him this season, probably because Weaver doesn't possess the stuff to attack them on the inside part of the plate.
"Nobody feels this more than Jered," said Scioscia. "He's a competitor. He knows how important he is to our club. He hasn't had the type of year I know he wants to have, but he still goes out there and gives us chances to win ballgames. He's going to go out there with whatever he has."
Asked if he's worried about Weaver long term, Scioscia thought back to Game 1 of last year's AL Division Series. Weaver limited the Royals to two runs in seven innings that night, the culmination of a two-month, season-ending run that saw him recapture the life of his fastball and return to being the effective pitcher he always had been.
"My body started to feel good there toward the end," Weaver said of a 2014 season that ended with an AL-leading 18 wins. "This year, I just haven't been able to get to that point. That's the frustrating part. You're putting all this work in to get yourself back to where you want to be, and there's no results coming."
Weaver will go down as one of the greatest pitchers in franchise history, regardless of how it all ends. His next win will be No. 139, good enough to pass Hall of Famer Nolan Ryan for second on the Angels' all-time list. He's been to the All-Star Game three times, finished within the top five in AL Cy Young Award voting three times and has thrown a no-hitter.
But now Weaver is two weeks away from his 33rd birthday and winding down a season in which his effectiveness has only come in spurts.
Next season will be the last of Weaver's contract, a deal set to pay him $20 million in 2016.
This offseason, whenever it comes, will be a crucial one.
"We're focused on this last stretch of games," Scioscia said, "but I know that we're very, very confident he's going to be re-tooled as he gets back into the winter and hopefully come back with stuff a little more reminiscent of what we've seen from Jered."
Alden Gonzalez is a reporter for MLB.com. Follow him on Twitter @Alden_Gonzalez and listen to his podcast. This story was not subject to the approval of Major League Baseball or its clubs.