Keuchel makes history in latest victory
Ace ties Astros' single-season K record for lefty, first to start 14-0 at home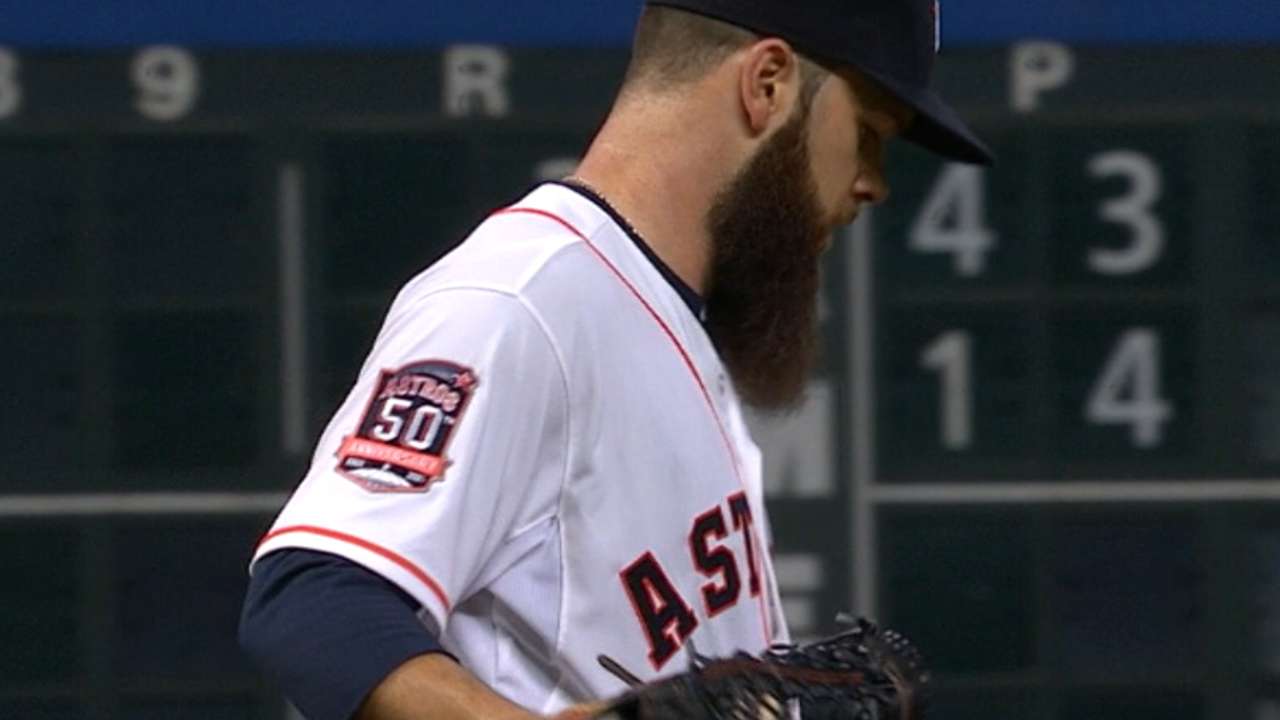 HOUSTON -- Dallas Keuchel isn't as concerned about his strikeout total as some of his statistics-focused admirers. The Cy Young contender is just more concerned about making a good pitch or two.
From last season to now, the increase in his strikeouts is blatant. Keuchel pays it no mind. He takes more solace in the soft contact he's become known to induce, often relishing more in a slow roller to second than a big punchout to end a threat.
• Is Keuchel #AwardWorthy? Vote now for Best Starting Pitcher
So after Monday's 6-3 win against the Angels, in which he tied a 48-year-old Astros franchise single-season record for left-handed pitchers with his 203rd strikeout, Keuchel cared more about that soft contact -- and was upset it turned into six Angels hits in his 7 2/3 inning outing that ran his record to 14-0 at Minute Maid Park.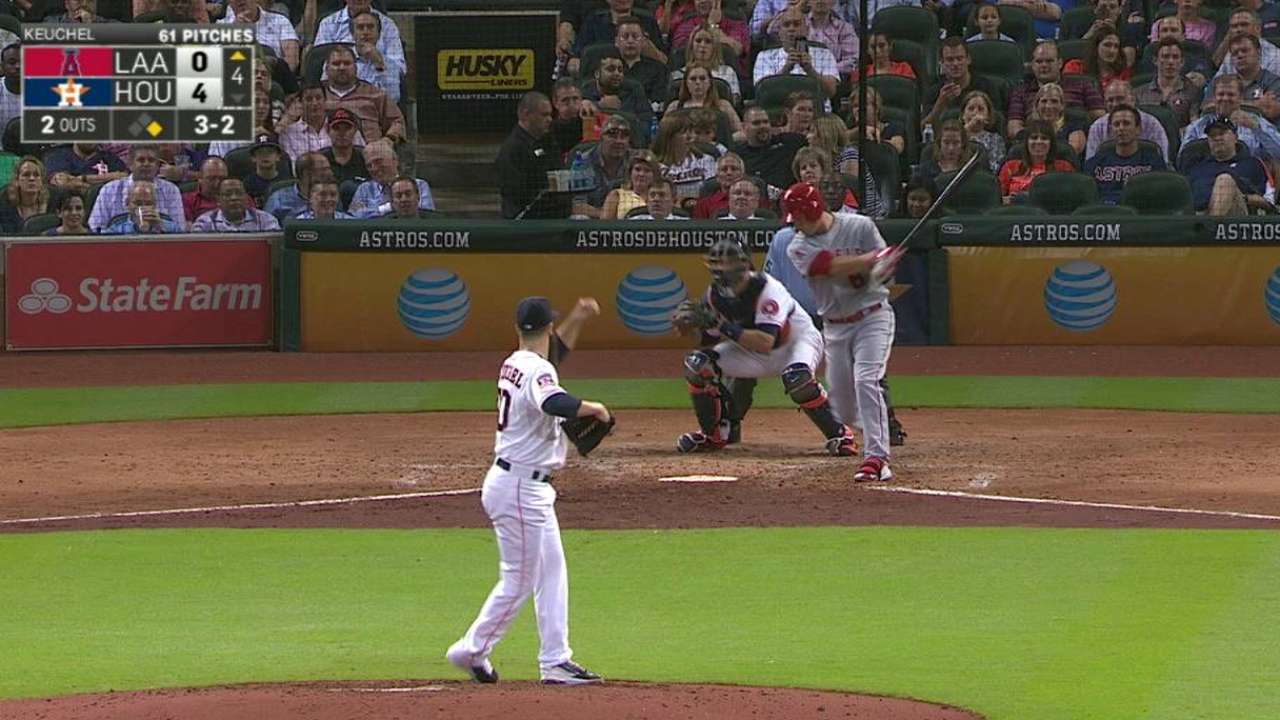 "That really wasn't on the top of my list or even in the middle of it," Keuchel said when told of tying Mike Cuellar for the strikeout record. "It's definitely nice. It's more for the baseball nerds to look at than myself. I'll take them as they come. I'm still looking to make the playoffs and help this team win."
The way he pitches at home, that's not an issue.
Keuchel's the first pitcher in Major League history to start 14-0 at home and his 1.47 ERA at Minute Maid Park is the lowest by an American League pitcher at home since Nolan Ryan's 1.07 ERA in 1972 as a member of the Angels.
His strikeout numbers have augmented considerably from last season, when he averaged just 6.6 strikeouts per nine innings and fanned 146.
His start Monday, on the heels of the worst outing of his career in Arlington where he gave up 11 hits and nine earned runs in just 4 2/3 innings, was vintage Keuchel. Bats shattered, including two on consecutive swings from Erick Aybar, and 12 ground-ball outs were induced -- including three in a row in the seventh as his arsenal only grew sharper.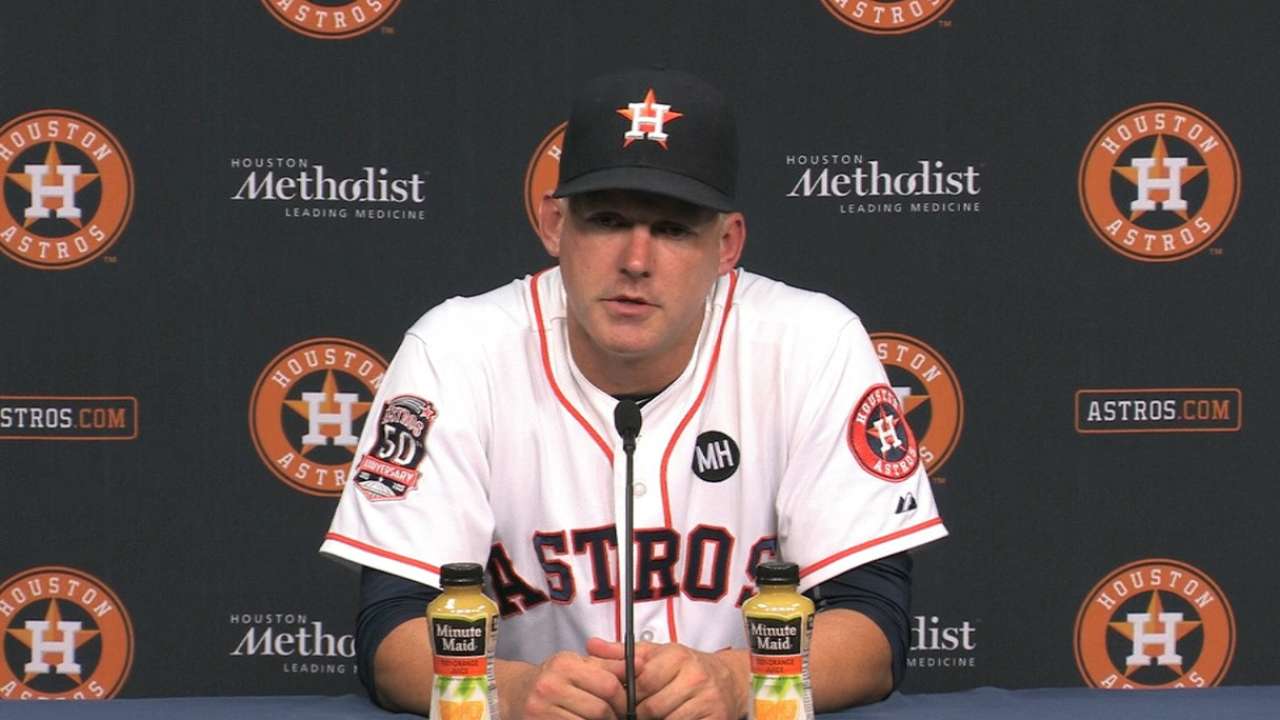 "Never a doubt with Dallas," Astros manager A.J. Hinch said. "He was going to post and use his stuff effectively. I thought his stuff was as good as it's been in a few starts. Even the inning they scored off of him in the sixth, it was soft singles, soft out, soft single, soft single, soft out, and they get a run out of it. I thought his stuff was pretty crisp."
Hinch has managed Keuchel for only one season, so he can't pinpoint just what's gone better this season to produce the strikeout increase, though he said Keuchel's put-away pitches have improved just as his Cy Young-caliber season has progressed.
Keuchel argued, though, the secondary stuff has always been effective, it's just not been noticed.
"They were pretty good last year, I think they were just overlooked by the amount of ground balls I got," Keuchel said. "Pitching is all about quality and I've made a lot of quality pitches over the last two years and that's a tribute to me becoming a better pitcher."
One more strikeout gets Keuchel the record. He'll have that chance Sunday, facing the Rangers in Minute Maid Park, in a last attempt in front of the home crowd to solidify his Cy Young status.
"Swing early on Dallas and chances are, your soft contact is on the ground," Hinch said. "If you wait him out, he's got some ways to punch out. That's why he's arguably the best starting pitcher in the American League this year."
Chandler Rome is an associate reporter for MLB.com. This story was not subject to the approval of Major League Baseball or its clubs.