Yanks unable to cash in on few opportunities
Blue Jays ace Price escapes jam in third; Cecil works out of trouble in eighth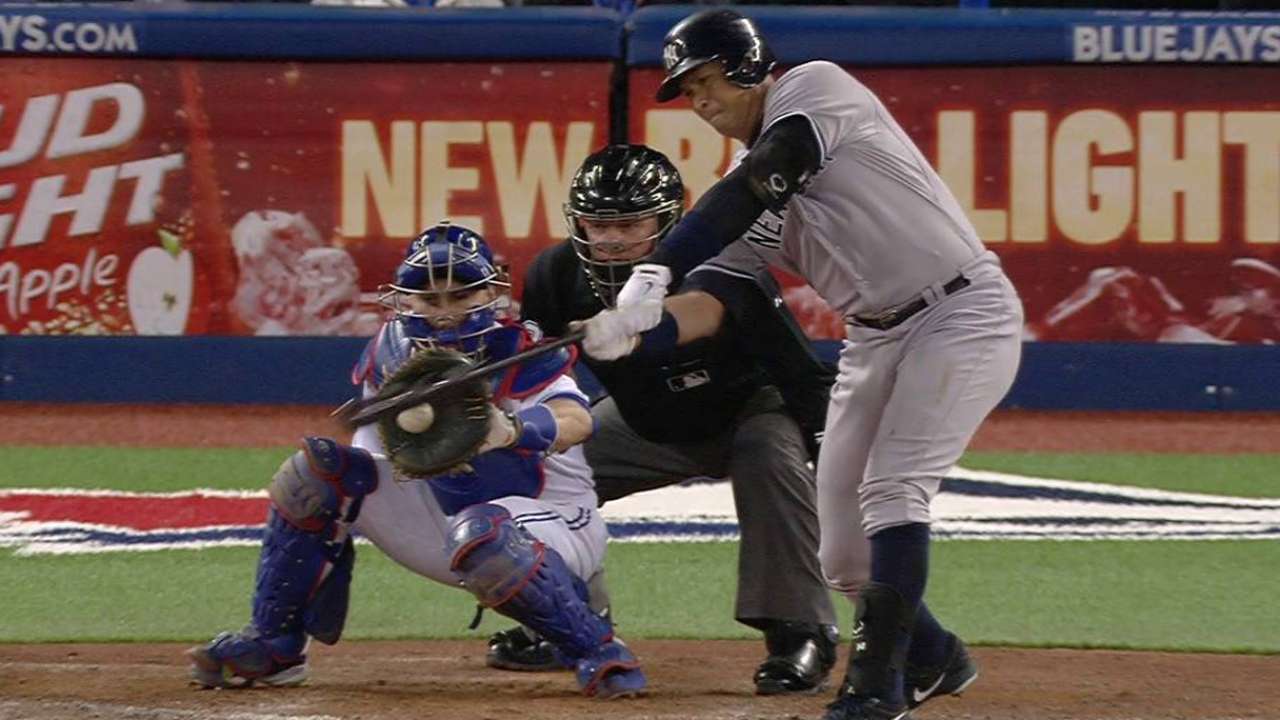 TORONTO -- In Alex Rodriguez's eyes, even the toughest matchups against elite pitchers usually present a big opportunity to change the story. The Yankees missed their opening when David Price wobbled in the third inning on Monday.
Rodriguez lost a nine-pitch battle and Brian McCann flied out against the Blue Jays' left-hander, leaving the bases loaded. That started a stretch of 14 straight batters Price retired before leaving to a standing ovation, picking up the win in Toronto's 4-2 victory over the Yankees at Rogers Centre.
"When you face an elite pitcher, you usually get one crack at him," Rodriguez said. "We had it and we came up short tonight."
A matter of inches decided that outcome. Dustin Ackley reached on a Cliff Pennington error, Jacoby Ellsbury singled and Brett Gardner walked to load the bases for A-Rod, whose battle against Price featured five foul balls -- including a flare to right field that very nearly hit the painted white line.
First-base umpire Chad Fairchild ruled, correctly, that the ball had landed foul; had it been fair, the bases might have been cleared. Instead, Price struck out Rodriguez on a 93-mph cutter that was tipped into catcher Russell Martin's glove, then retired McCann on a loud fly ball to center.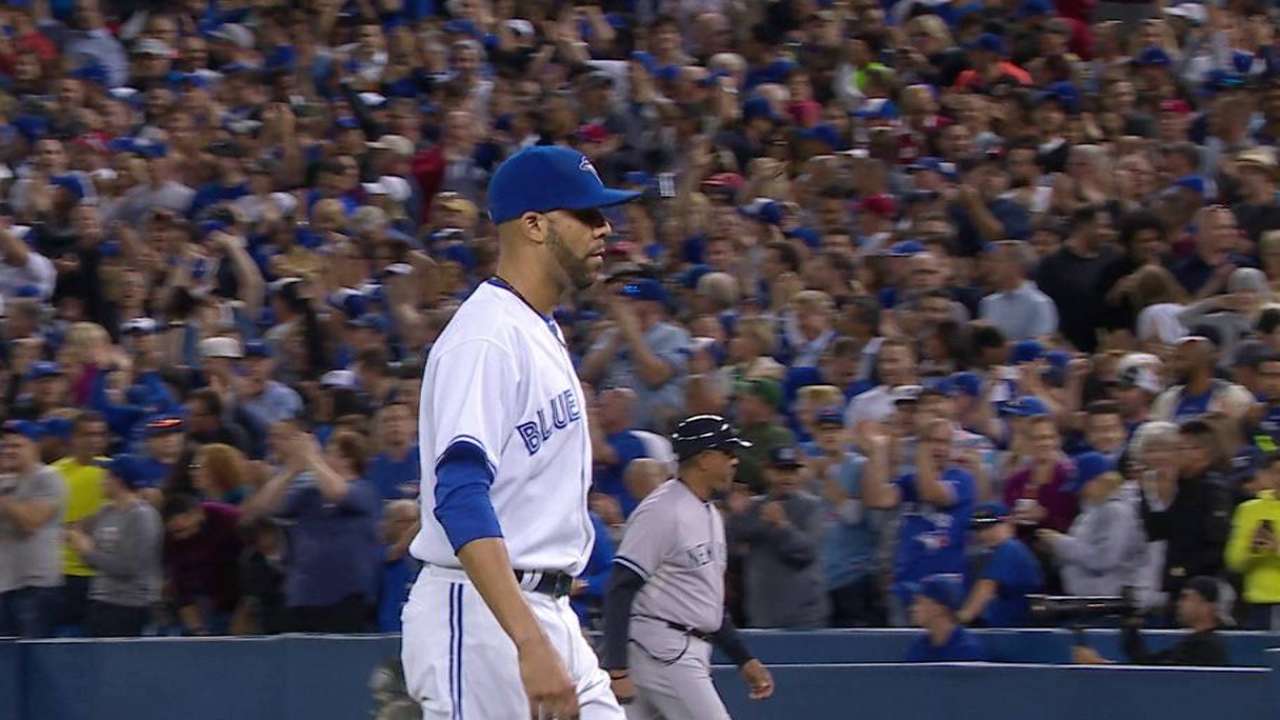 "Good situation. I got some good pitches to hit, fouled them off," Rodriguez said. "When you get your pitch, you can't foul them off that many times."
Price said that he was actually trying to get Rodriguez to hit into a double play, not that he would argue with the outcome.
"We didn't get many opportunities, and the one little one we had, we weren't able to cash in," manager Joe Girardi said.
While the Yankees were unable to do anything with Price, they sniffed another shot in the eighth as the first three batters reached base.
Ellsbury greeted Brett Cecil with a run-scoring single to center that knocked home Didi Gregorius, but home-plate umpire Greg Gibson rang up Gardner on a high third strike that the Yankees howled should have been ball four.
"There's nothing you can do about it," Girardi said. "Maybe it changes the complexion of the inning. We still had our opportunity and didn't get it done."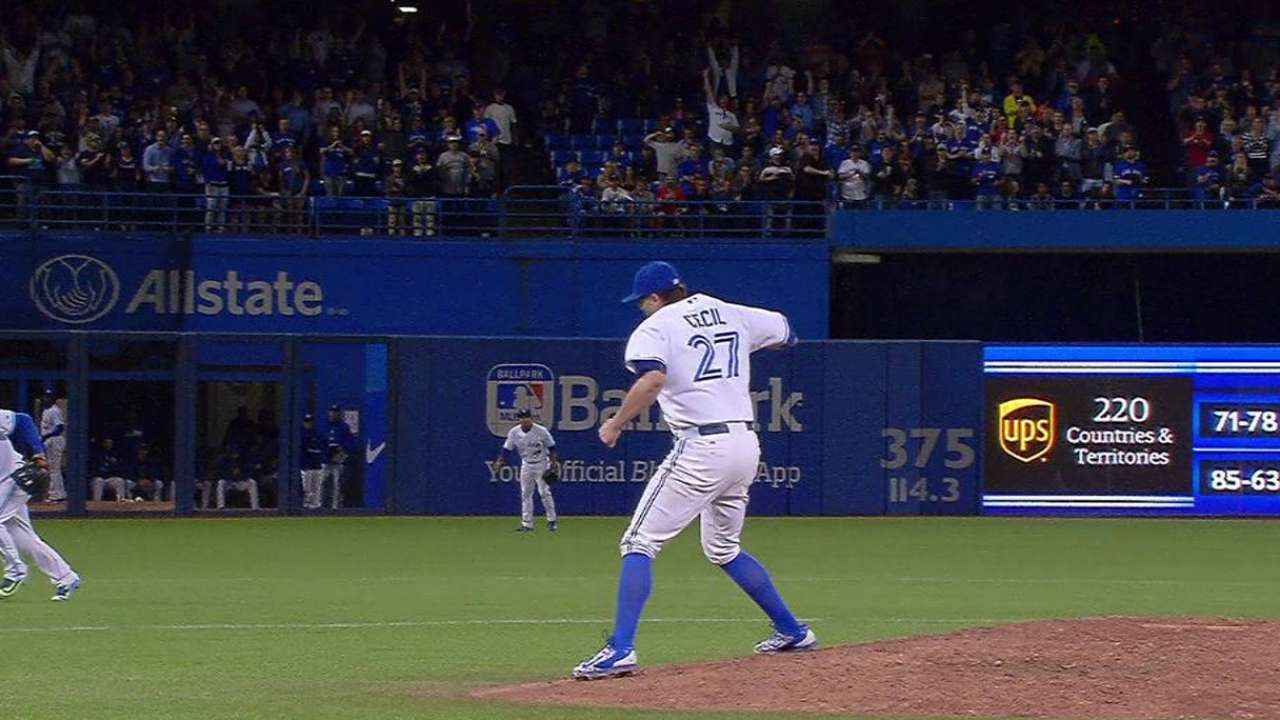 Instead of having the bases loaded and none out, Cecil took advantage by striking out both Rodriguez and McCann swinging to escape. Rodriguez said there was no point in wondering how the inning would have gone if Gardner had walked.
"You still have to get a good pitch to hit and hit it," Rodriguez said. "Brett had some great at-bats; I've got to have mine and Mac's got to have his."
Bryan Hoch is a reporter for MLB.com. Follow him on Twitter @bryanhoch, on Facebook and read his MLBlog, Bombers Beat. This story was not subject to the approval of Major League Baseball or its clubs.