Hammel looking for groove as playoffs near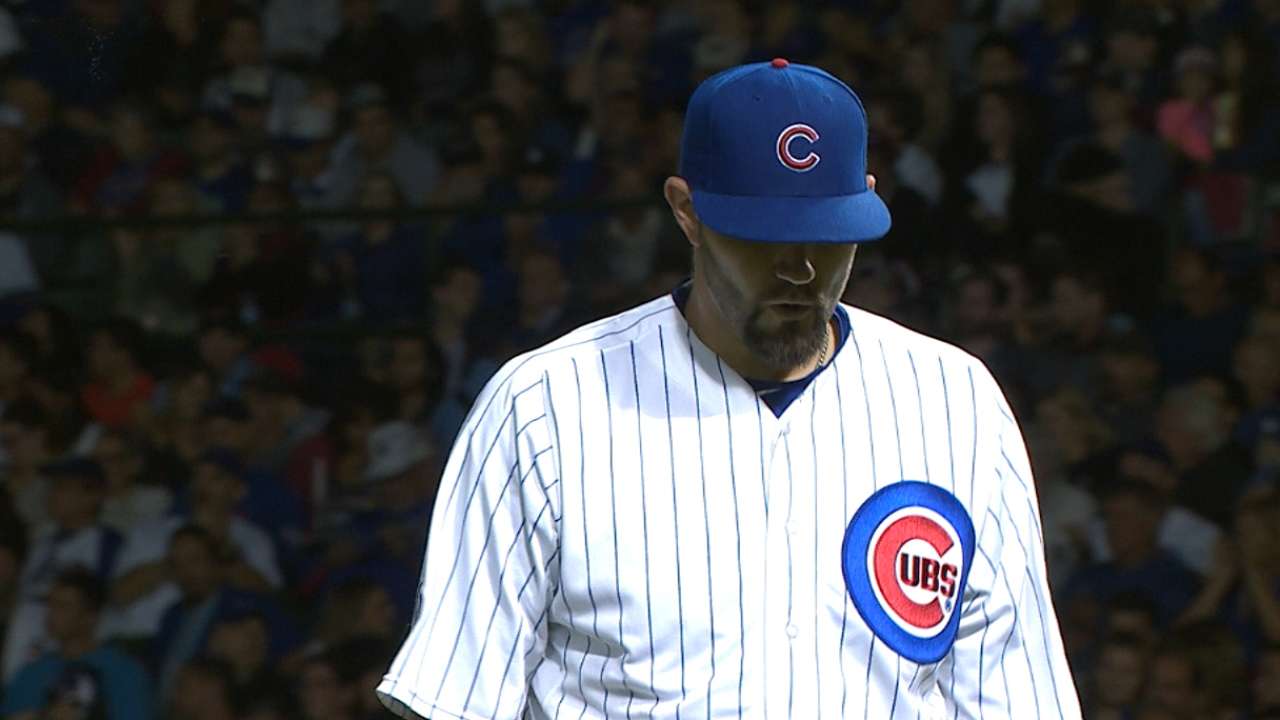 CHICAGO -- Right-hander Jason Hammel knows he'll have to pitch through problems at some point in a season -- after all, he's done it before in his nine-year career. But doing so in the middle of a pennant race isn't the "easiest thing to do," he admits.
With the Cubs on the verge of their first postseason berth since 2008, each start becomes more magnified. But Hammel isn't worried about that, and he continued to work through command issues in the Cubs' 9-5 victory over the Brewers on Monday.
"Obviously, you'd like to see some better results right now, but I know what I can do," Hammel said. "It's disappointing that it doesn't look that great right now, but sometimes you've just got to compete with what you've got, and that's it.
"All I can do is stay positive. A lot of good things happened tonight. Made some pitches when I needed, found the slider. Sometimes the box score doesn't quite tell the story of what happened."
The box score showed that Hammel allowed four runs (three earned) on five hits in five innings, the 10th time in his last 12 outings he has not produced a quality start. Even so, he picked up his ninth win of the season.
The problem, he says, is getting out of the first inning. After he allowed two runs in the first inning, he has a 5.59 ERA for that frame this season and says he needs to "exorcise some demons."
"It's all about location, from what I'm seeing," said manager Joe Maddon. "It's not necessarily stuff, it's just where the ball is going out of his hand.
"When he throws a slider right, it's outstanding. When he throws his fastball located, it's really got that great life, and you get a bad swing. He came out of some kind of rhythm in regard to how he throws the baseball."
What's important is that he finds that rhythm in the two regular-season starts he has left. Maddon has called the rotation beyond Jake Arrieta and Jon Lester "fluid," but Hammel has shown he can fill that No. 3 role.
"Beyond Lester and Arrieta, [the rotation] is one of the few areas of the club that hasn't been clicking on all cylinders," Theo Epstein, president of baseball operations, said. "You want to see guys get some momentum and pitch well down the stretch. We know it's in there. In Jason's case, the stuff is still there, the shape of his slider is still there. We all feel he's this close to being locked in."
Hammel continues to work daily with Maddon and pitching coach Chris Bosio, but it's that confidence that he has leaned on to get him through this season's toughest stretch.
"For whatever reason, I find myself battling back in counts," Hammel said. "My pitch selection can be better early, pitching the way I can, be what type of pitcher I know I am.
"I guarantee I'm working hard to figure it out."
Greg Garno is an associate reporter for MLB.com. This story was not subject to the approval of Major League Baseball or its clubs.