Bogaerts' slam shows his potential power
Young shortstop builds on breakout year with game-winner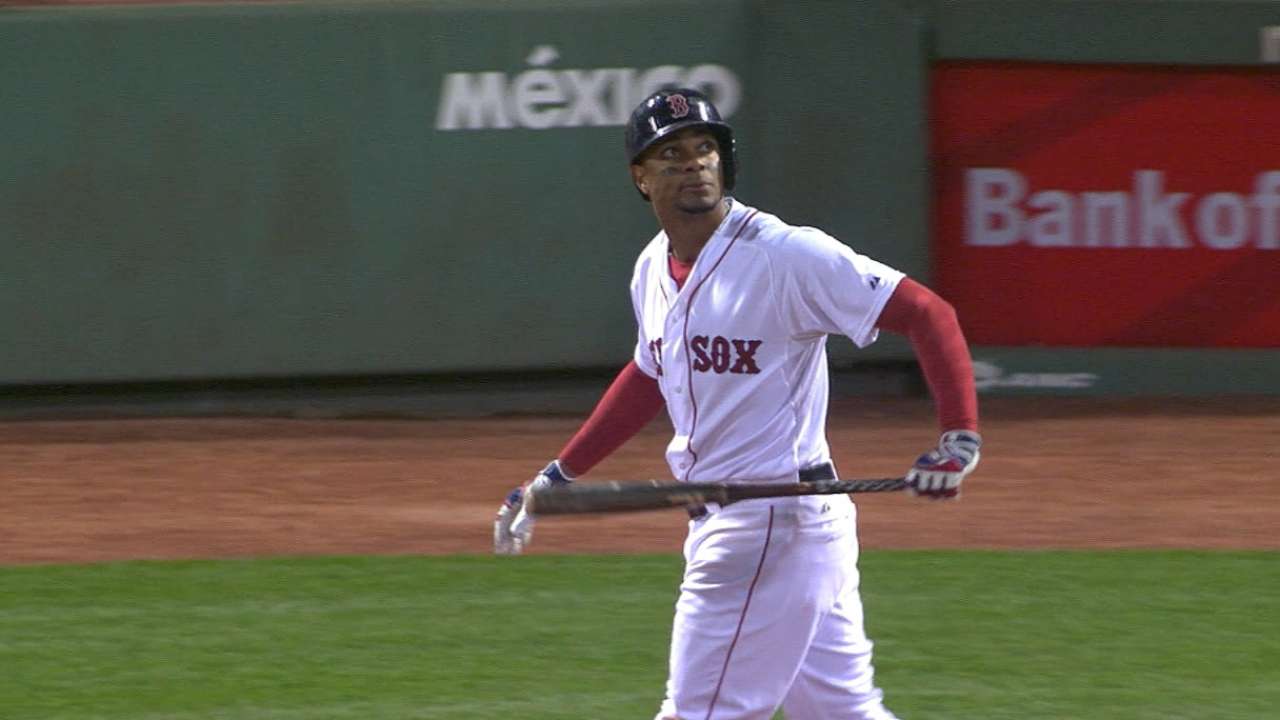 But the grand slam from Bogaerts that led the Red Sox to an 8-7 victory over the Rays had a bit of a surprise factor to it.
The power is the only element Bogaerts has lacked in this breakout season, but it's probably something that will happen in the coming years. The homer was just the seventh for Bogaerts in 2015 and his first career grand slam.
"He's not going to be a 30-home run guy year in and year out, but I don't think it would surprise anybody if he hit 25 or 30 home runs in a given year," said Red Sox interim manager Torey Lovullo. "He has that in him. He's going to be a special player moving forward. He's learning a lot about who he is. He's become a very complete player."
Bogaerts clubbed 12 homers last season, but hit just .240. With 13 games left this year, the shortstop is hitting .323 with 182 hits, 31 doubles, three triples and 78 RBIs.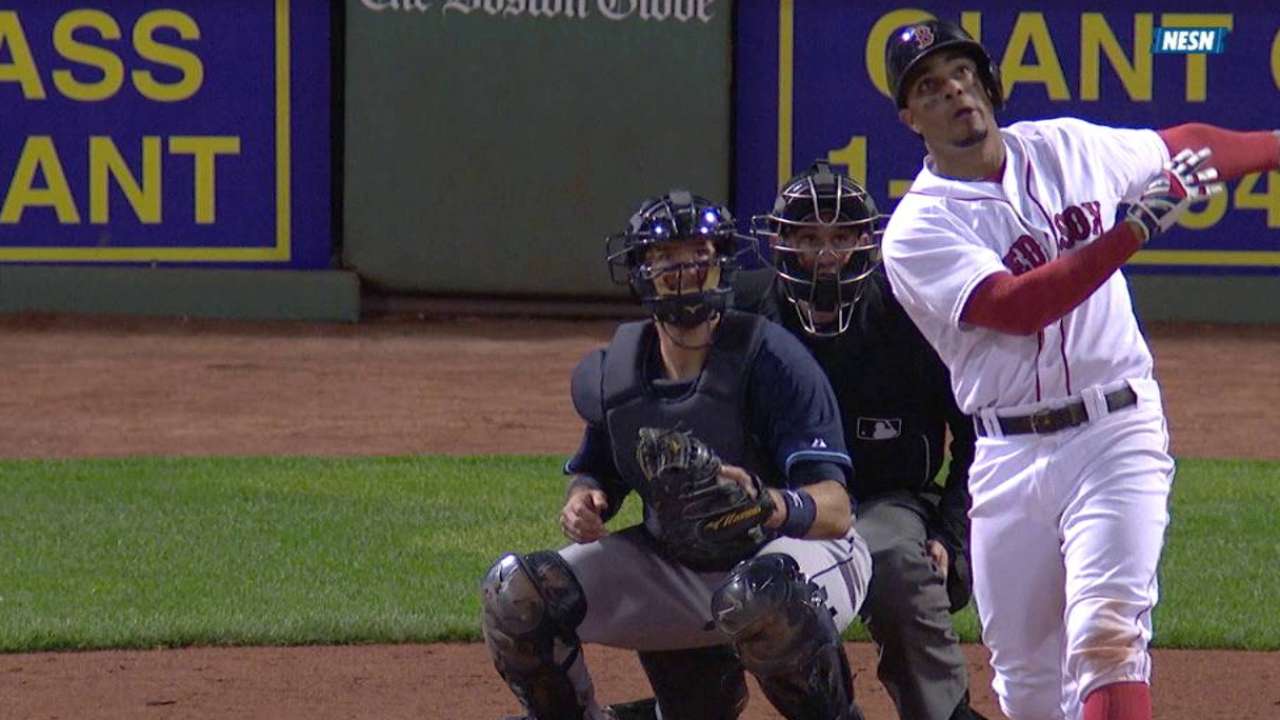 When you have those type of stats across the board, nobody is going to be preoccupied with a modest number of homers. And Bogaerts knows that with an extra foot or two here and there, he'd be in double-digits.
"I hit so many balls deep in the outfield -- Seattle, Baltimore -- that were on the wall or at the top of it, but just don't want to go over it," said Bogaerts. "It was nice to get that home run over, but hopefully next year is better. I hit some balls off the wall that will go over."
The fact that Bogaerts doesn't turn 23 until Oct. 1 justifies how much excitement the Red Sox have about their shortstop going forward.
"For me, he should win a Gold Glove, and that speaks volumes about how far he's come and how hard he's worked," said Lovullo. "He's turning into a complete player. I think he's going to be an .850 OPS shortstop for many, many years."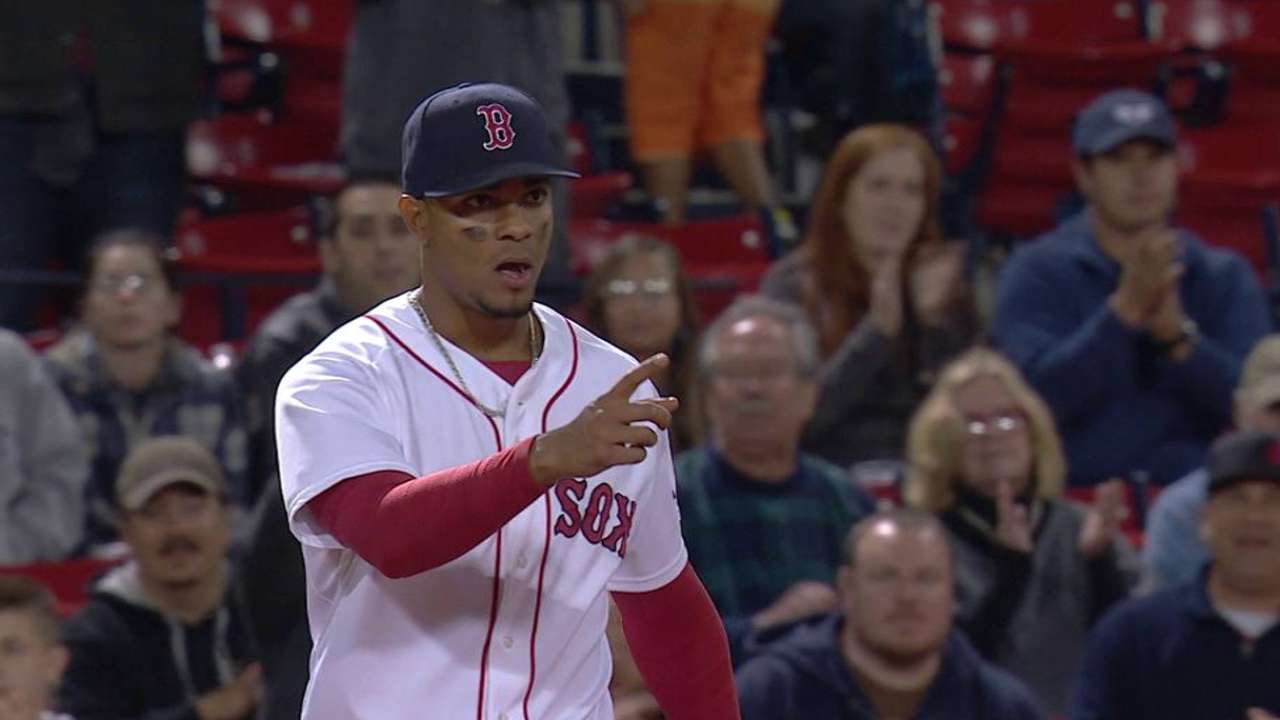 Although the season has had ups and downs for the Red Sox, Bogaerts has been the one constant.
"He's been having fun and just going out and being confident," said outfielder Mookie Betts. "He's spraying the ball everywhere and just playing a great shortstop. He's grown and matured and just become better."
In the game-turning at-bat on Monday, Bogaerts guessed slider, and that's what he got, smoking the 2-2 offering from Brandon Gomes.
"I've faced him a couple of times. I know he likes his slider," said Bogaerts. "He has a slider, a cutter. He threw me the 2-0 fastball and I really wasn't ready for it. I fouled one off, and then I hit a home run on the slider. But if he threw me a fastball right there, I probably wouldn't have known what to do with it."
Ian Browne is a reporter for MLB.com. Read his blog, Brownie Points, and follow him on Twitter @IanMBrowne. This story was not subject to the approval of Major League Baseball or its clubs.