Dodgers broadcaster Jarrin gets 3-year deal
Spanish play-by-play announcer's extension will take him to 60th season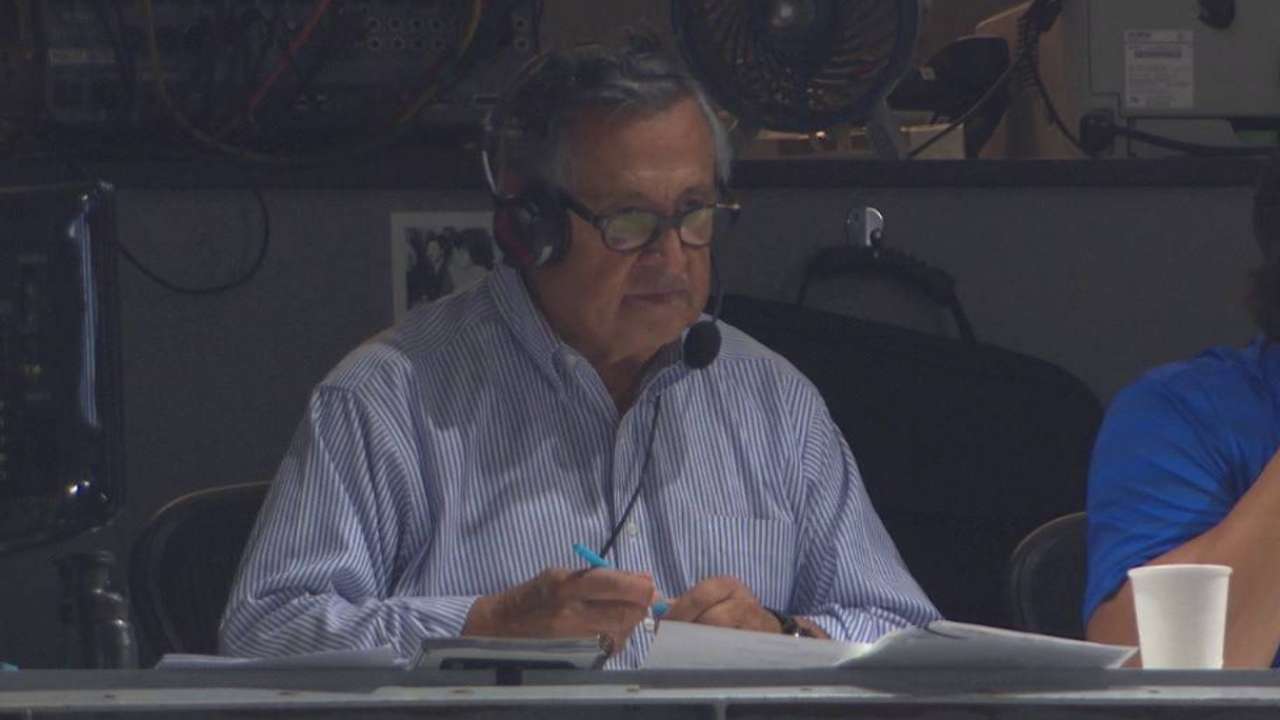 LOS ANGELES -- Dodgers Spanish-language broadcaster Jaime Jarrin agreed to a three-year contract extension to continue as play-by-play voice, the club announced after the fifth inning of Monday night's game with the D-backs at Dodger Stadium.
Jarrin, 79, is in his 57th season broadcasting the Dodgers and received the 1998 Ford C. Frick Award from the Hall of Fame. With Vin Scully, Jarrin gives the Dodgers the only broadcasting team with two members honored by the Hall of Fame. Scully recently agreed to broadcast the Dodgers through the 2016 season.
"The Dodgers and our fans are so fortunate to have these two broadcasting icons describe our games," said Dodgers president and CEO Stan Kasten. "Jaime is one of the most popular Dodgers among our fan base and they look forward to his description of each and every game."
"I've been so blessed," said Jarrín of his tenure with the Dodgers and his broadcasting career. "It has been such a special time sharing the broadcasts with our fans and having my son, Jorge, join me in the booth. I started thinking about the number 60 in my mind this season. I sat down with the Dodgers and agreed on three more years to get to my 60th year and then we'll see about the future at that time. I'm still having a great time and I love what I am doing. And the Dodgers and our fans have been very supportive."
Jarrín has called three perfect games, 21 no-hitters, 28 World Series, 28 All-Star Games and 31 postseason series. Two of his favorite memories are working with Fernando Valenzuela during "Fernandomania" and calling the action during Orel Hershiser's record-breaking scoreless-innings streak.
The native of Ecuador has also called more than 30 championship boxing matches, received a star on the Hollywood Walk of Fame and was inducted into the California Broadcasters Association Hall of Fame, the California Sports Broadcasters Hall of Fame and the Hispanic Heritage Baseball Museum.
Ken Gurnick is a reporter for MLB.com. This story was not subject to the approval of Major League Baseball or its clubs.