Cecil K's 3 straight Yanks to pull escape act
Blue Jays lefty fans Gardner, A-Rod and McCann in eighth inning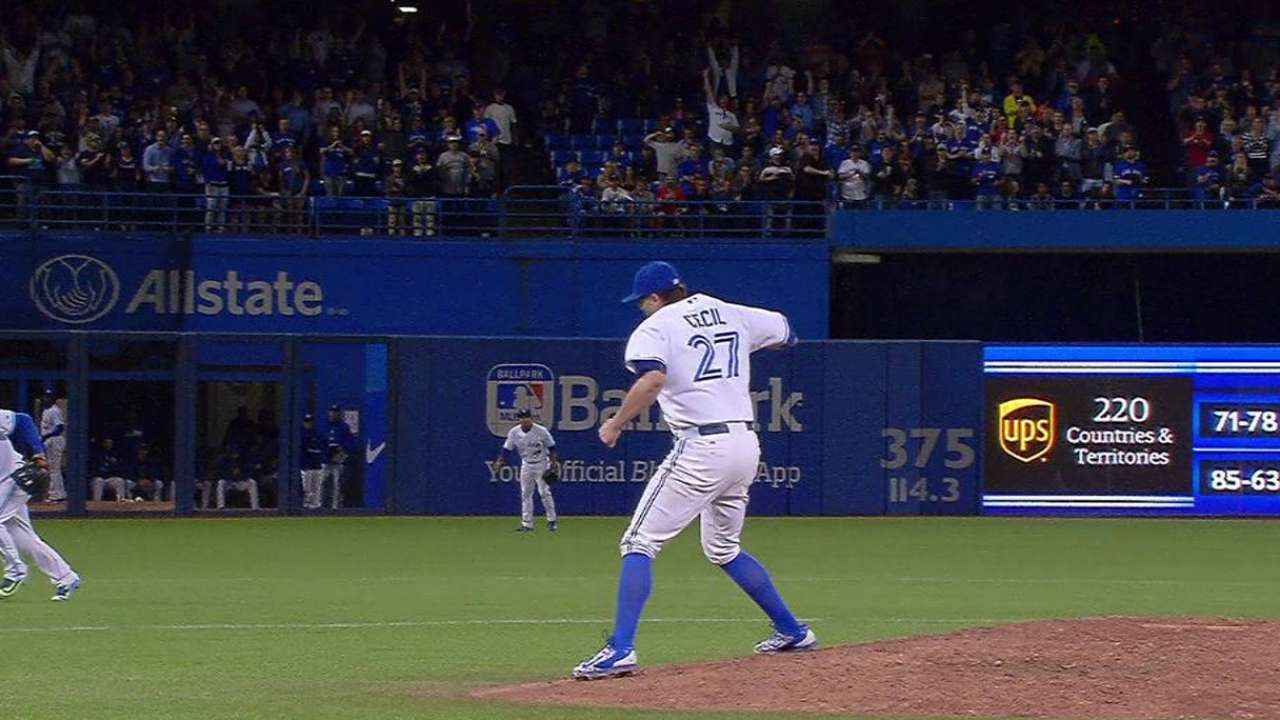 TORONTO -- Blue Jays manager John Gibbons said it could end up being a pivotal moment in his team's season should the club hold its lead in the American League East and clinch a postseason berth for the first time in more than two decades. Brett Cecil will be lucky if he can remember it.
Cecil executed the biggest three outs of his career during the Blue Jays' 4-2 win over the Yankees on Monday, fanning the heart of the batting order with three straight strikeouts to escape an eighth-inning jam as Toronto extended its lead in the AL East to 3 1/2 games over New York.
"Blacked out a little bit," the lefty reliever said of his heroics. "Three tough hitters. Just trying to make my pitches, trying to get ahead, get to the curveball."
With nobody out and the tying run at the plate, Cecil struck out Brett Gardner, Alex Rodriguez and Brian McCann in order to end the Yankees' late-inning threat, bringing a sold-out Rogers Centre crowd of 47,648 to its feet.
After giving up an RBI single to Jacoby Ellsbury, the lefty used his curveball to register strike three on each of his outs. The final two -- Rodriguez and McCann -- went down swinging.
"Cecil has been unbelievable, he has a hell of a curveball and tonight he showed that," said Rodriguez.
In bailing out Aaron Sanchez, who started the eighth but was removed after allowing a leadoff walk and a single, Cecil has pitched 27 consecutive innings without allowing an earned run. He's registered 36 strikeouts in that span.
The most important of any of those whiffs might have been his strikeout of Gardner, who went down looking during a full count on a questionable called third strike that appeared to miss high.
"We're in a jam there, still a fairly close game, two guys on. I don't think you can give him enough credit," Gibbons said. "He's one of the better relievers in baseball."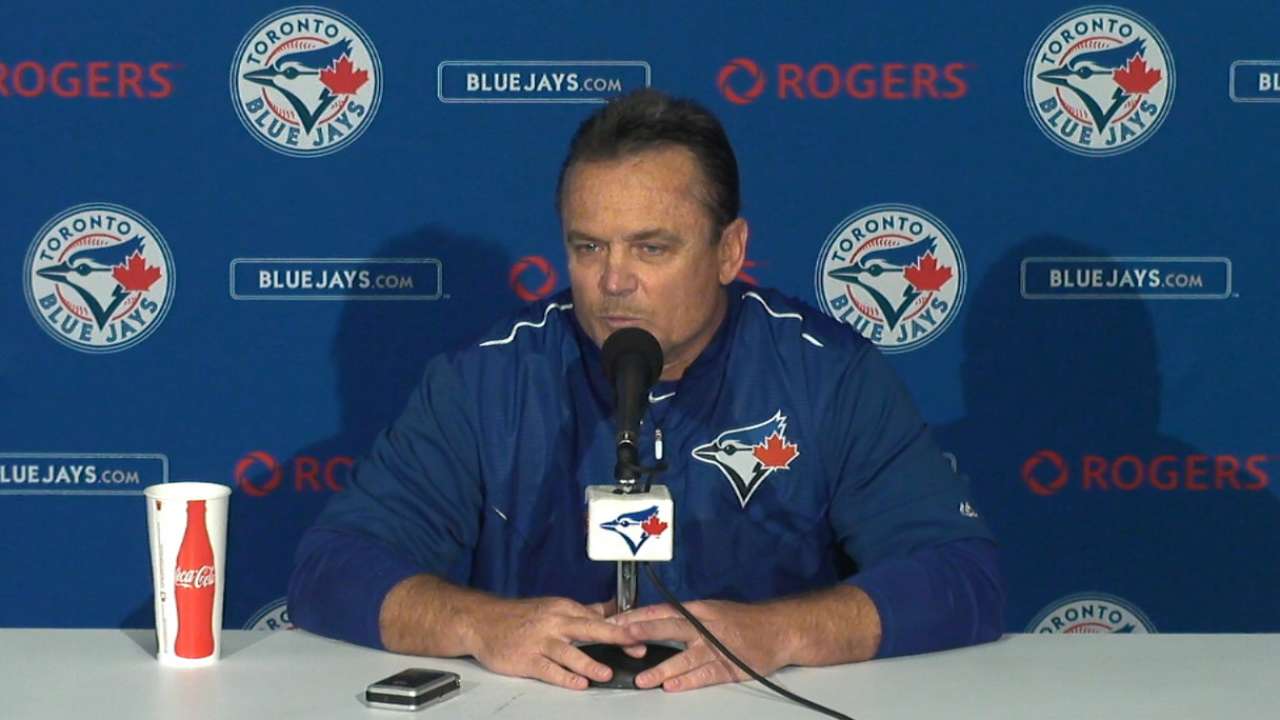 After struggling through the first 2 1/2 months of the season, which included a brief stint as closer, Cecil has become almost a sure thing in a middle-innings role. His 5.96 ERA in his first 26 games of the season is in stark contrast to the 0.00 ERA he's put up in the 31 games since. Gibbons said the 29-year-old has gotten better over time.
"He found his release point, his breaking ball. I think early on he had trouble locating the fastball, and that's all changed," Gibbons said. "He can dominate. The key for most relievers is to get strikeouts."
While others were heaping praise on the magnitude of his performance and what it might mean to a playoff appearance, Cecil, though happy with his outing, said it was only one piece of the puzzle.
"I think there's a lot more going for us than that one inning," he said. "There's a ton of innings from hitting, pitching, defensive standpoint that are gonna get us to where we're going."
Jamie Ross is an associate reporter for MLB.com. This story was not subject to the approval of Major League Baseball or its clubs.