Miller stays positive amid winless streak
Braves righty once again plagued by lack of run support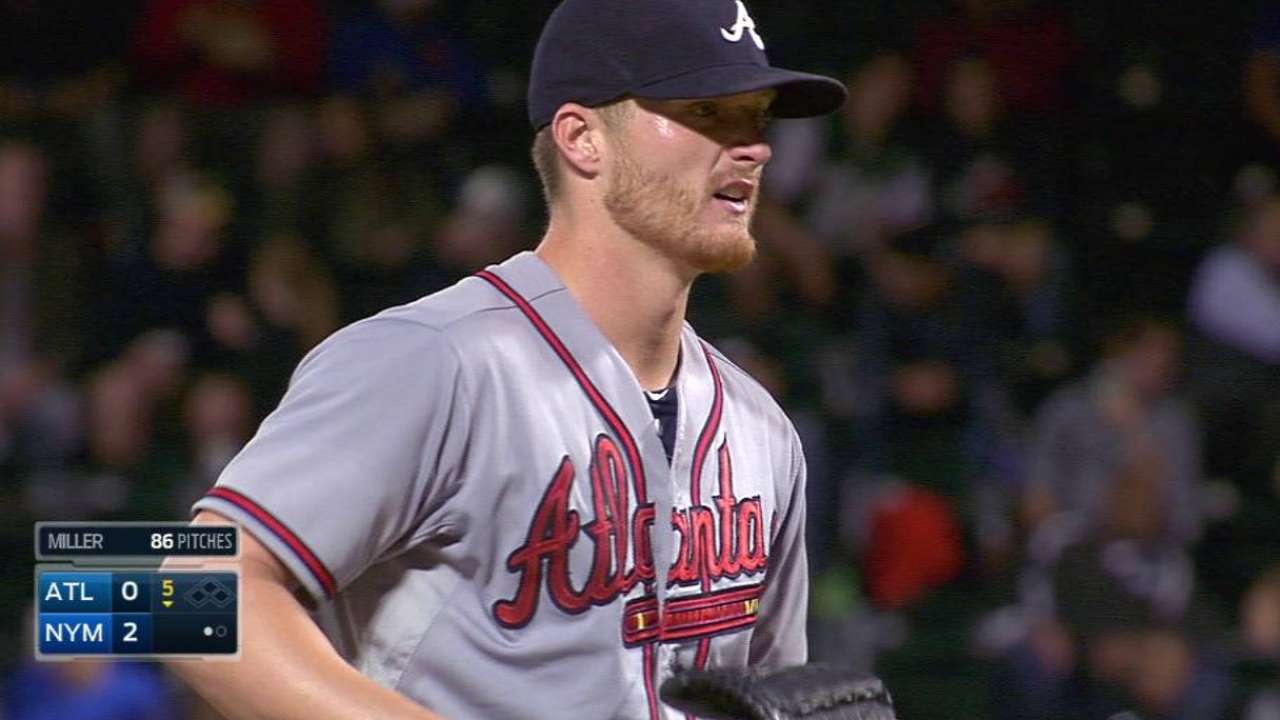 NEW YORK -- Shelby Miller has endured the mental fatigue that has developed as routine misfortune has plagued him for more than four winless months. But even after gaining another dubious distinction during Monday night's 4-0 loss to the Mets, the Braves' right-hander provided a positive spin on what has been a cruel season for him and his teammates.
"As bad as my streak has been, we're still playing hard baseball, and that is all that matters to me," Miller said. "It would be a lot different if it was going this way and it didn't seem like anybody was trying."
Despite limiting the Mets to just two earned runs over six innings, Miller became the first pitcher in Atlanta Braves history (since 1966) to go winless over the course of 23 consecutive starts. Unfortunately for the righty, this outing was reminiscent of many of the others by the All-Star hurler over this stretch that dates back to May 23.
Miller has a respectable 3.65 ERA during this winless streak. He has surrendered two earned runs or fewer in 13 of those 23 starts, but he has also received zero runs of support in 12 of the outings.
"At the end of the day, where I sit with myself and where my stuff is and how my year has gone, it's been good," Miller said. "Obviously, I've had some ups and downs. You learn from those things and you take the positives and develop yourself into a better person, pitcher and teammate."
Though Miller has had some recent rough outings, he showed the Braves something as he battled through Monday's outing. He limited his first-inning damage to one run, despite allowing each of the first three batters to reach safely. Then after throwing 35 pitches during a second inning marred by Michael Conforto's opposite-field home run, he completed his 113-pitch effort without incurring any further damage.
"He's had a lot of bad luck," Braves manager Fredi Gonzalez said. "I though today he pitched really well."
Mark Bowman is a reporter for MLB.com. Listen to his podcast. This story was not subject to the approval of Major League Baseball or its clubs.