Fair or foul? Call marks end of Tigers' long day
Collins called out on ground ball to first in ninth inning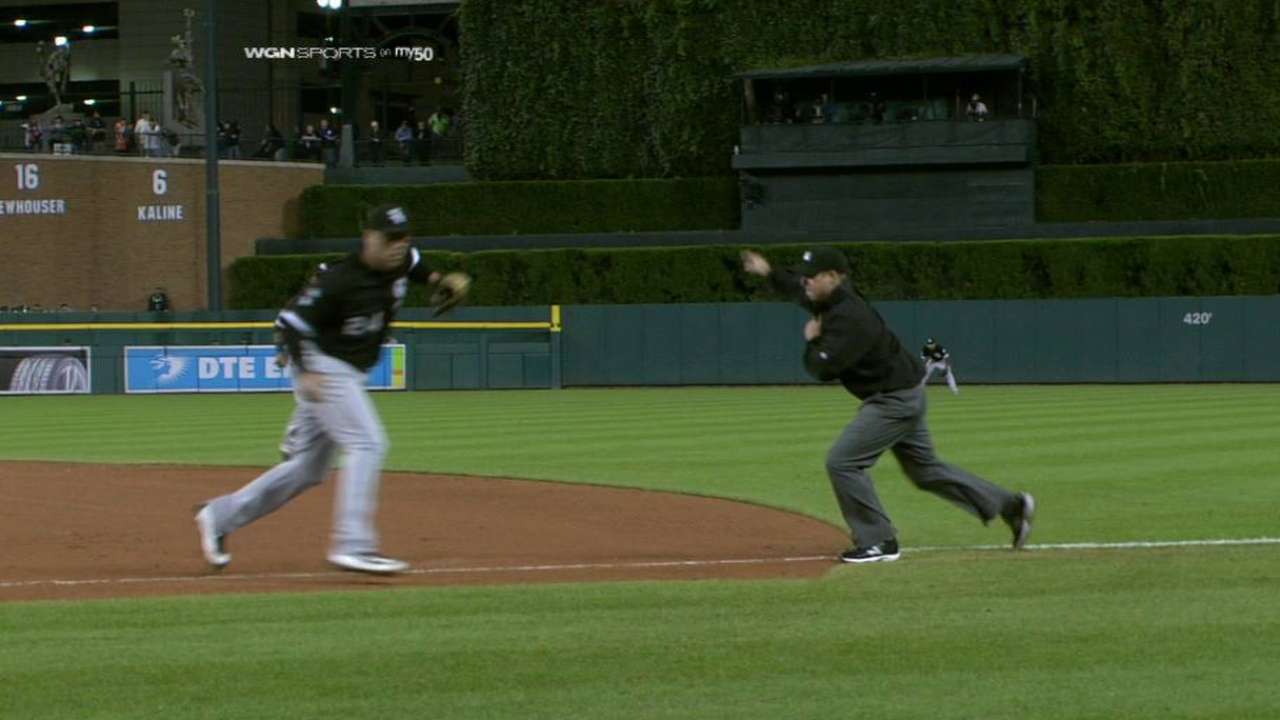 DETROIT -- Given the Tigers' struggles barreling the ball during both games of Monday's doubleheader against the White Sox, a close call against Tyler Collins in the ninth inning of the 3-2 loss in the nightcap was about the last thing the club wanted.
The Detroit outfielder thought his chopper down the first-base line had moved into foul territory by the time it passed over the bag. So too, it seemed, did White Sox first baseman Mike Olt. But first-base umpire Tripp Gibson ruled the ball fair, and Olt tossed to closer David Robertson to retire Collins, who, surprised by the ruling, had barely left the batter's box.
"I just thought it was foul," Collins said. "I mean, it happens. I'm more frustrated by the fact that we lost two games. Those guys [umpires] had the final say, so what can you do, you know?"
Collins shared his frustrations with home-plate umpire Brian Gorman to no avail. The Tigers also couldn't challenge the play or request a review; Major League Baseball's replay review regulations stipulate, "balls that first land in front of the set positions of the first or third base Umpire shall not be subject to review."
"It's a tough angle from where we're standing because we're off to the left and we can't really tell where it crosses the base," Tigers manager Brad Ausmus said. "But clearly, the White Sox first baseman thought it was foul."
The call ended up being a significant one. Third baseman Nick Castellanos followed with a single into left field, but Robertson struck out James McCann and Victor Martinez to secure the one-run victory and Chicago's first road doubleheader sweep since 2011.
And while Collins' unusual out left Ausmus and the outfielder a little miffed, the Tigers acknowledged their struggles Monday extended beyond a disputed call. Despite quality outings from both its starters, Detroit managed just one baserunner in the first game and missed several opportunities in the second.
"I don't know how you would explain it," said catcher Alex Avila. "Sometimes you're able to put up a lot of runs, like we have. Sometimes we haven't. It's kind of frustrating that we can't be consistent.
"Probably a little credit goes to the pitchers. At the same time, there's got to be some blame on us to have some better at-bats."
Alejandro Zúñiga is an associate reporter for MLB.com. This story was not subject to the approval of Major League Baseball or its clubs.