Back from Tommy John, Winkler debuts
Braves righty strikes out first batter he faces in Majors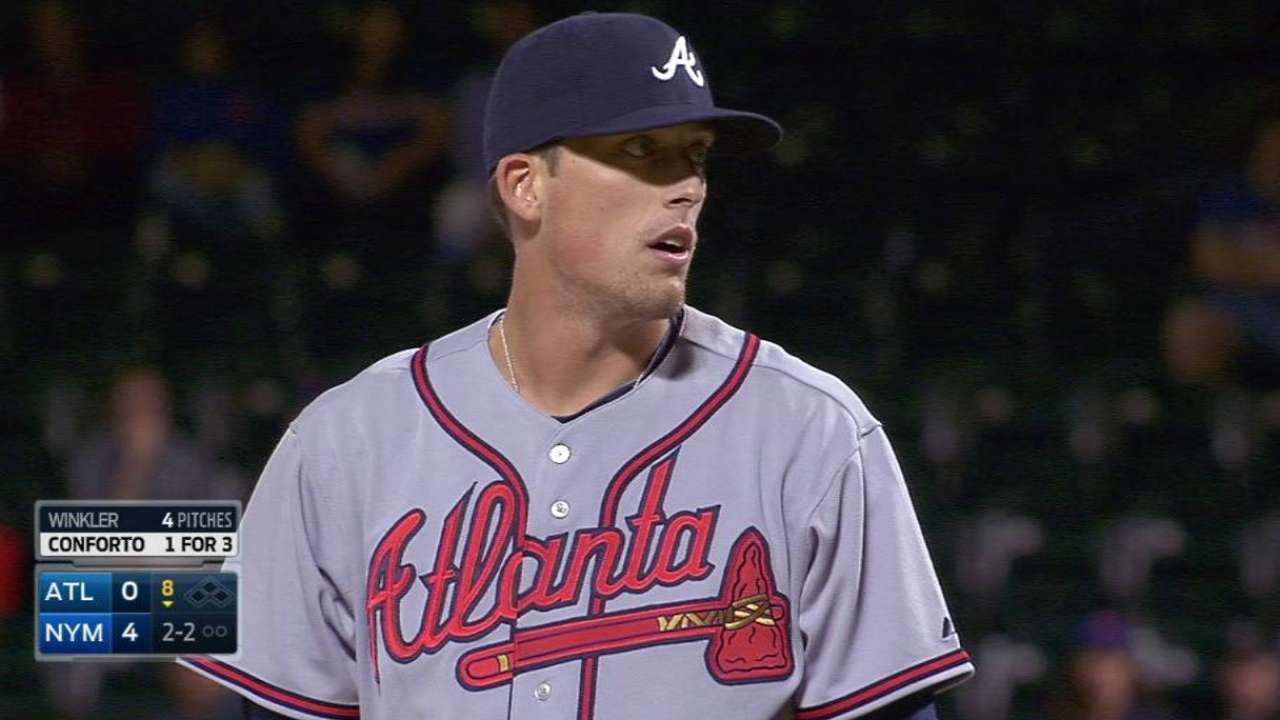 NEW YORK -- As the Braves have been anxiously awaiting their first look at Daniel Winkler in a game, they have said right-handed hitters have a tough time picking up his pitches. It didn't take long to realize catchers might have a difficult time seeing the baseball after it is unleashed from his unique delivery.
Winkler struck out two of the three batters he faced while making his Major League debut during Monday night's 4-0 loss to the Mets at Citi Field. But he also saw the first pitch of his career elude catcher A.J. Pierzynski's glove and strike home-plate umpire Fieldin Culbreth directly on the right knee.
"It only happens to me, I feel like," Winkler said with a chuckle. "I felt bad. When I get excited, I kind of cut [my fastball] a little bit and it wasn't very good. But it worked out."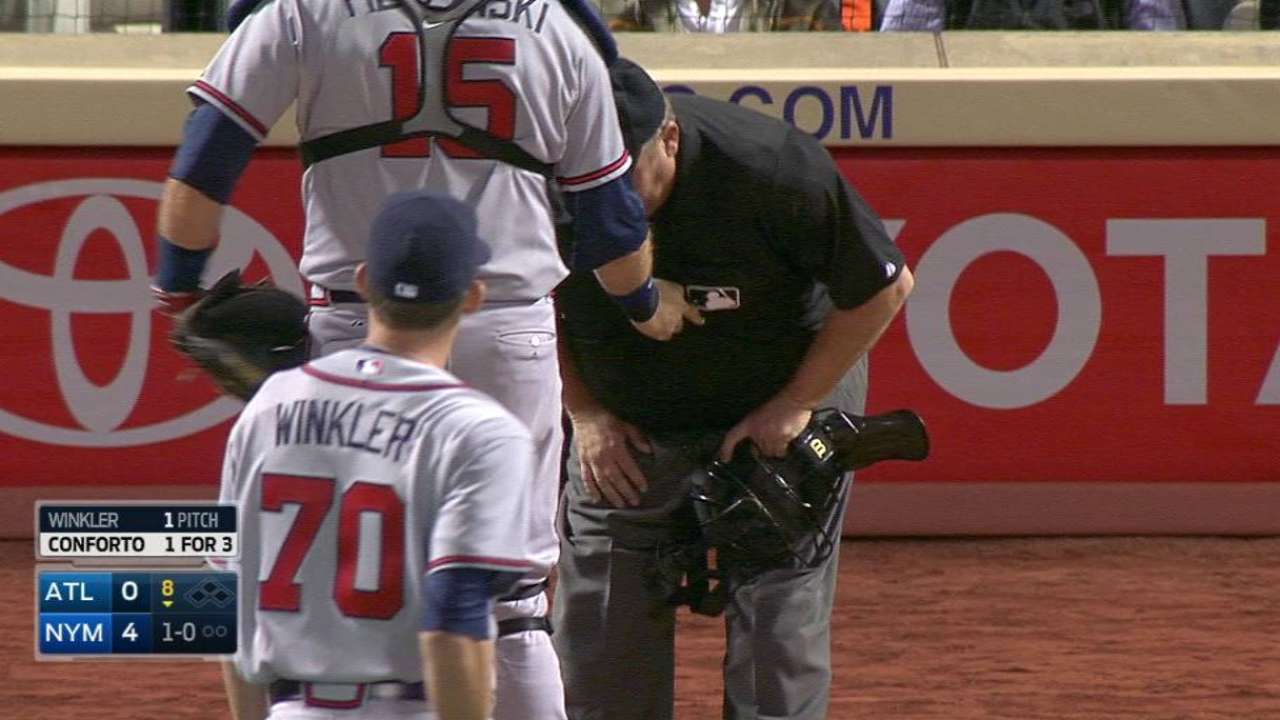 After recovering from the blow, Culbreth saw Winkler begin his career by striking out the first batter he faced -- Michael Conforto. The right-hander then walked Ruben Tejada after getting ahead with a 0-2 count before capping his debut by striking out Kirk Nieuwenhuis.
"Nerves obviously got to me and I was a little up," Winkler said. " I walked that guy after getting ahead 0-2 and that's one thing that is frustrating. But I'm happy with the results and it's been 15 months since I've been in a game. So, I'm definitely pleased with it."
Along with getting a chance to pitch in the Majors for the first time, Winkler experienced the thrill of pitching at any level for the first time since undergoing Tommy John surgery last year. He spent most of this summer working out at the Braves' Spring Training complex in Florida. His rehab concluded as he completed three simulated games over the past two weeks with Atlanta.
"I couldn't tell you which one is bigger because it's been such a grind just to get back from that injury," Winkler said. "This is the first time for me to go on the [disabled list] and spend some time away from baseball. Just to be back and competing again is great. To be doing it in the big leagues is even better."
Despite knowing Winkler would be unavailable most of this season, the Braves took him out of the Rockies' organization during the 2014 Rule 5 Draft. The acquisition requires them to keep him on their Major League active roster for at least most of next season's first half. But if this debut is a foreshadowing, Winkler might simply earn that right to be a key piece of Atlanta's bullpen over the next few years.
"It was pretty nice to get him out there and get his feet wet," Braves manager Fredi Gonzalez said. " He's had a long road of rehab. We didn't want to use him more than we did [16 pitches]. We got that accomplished today. We'll see how he checks out [Tuesday] and use him down the road a little bit."
Mark Bowman is a reporter for MLB.com. Listen to his podcast. This story was not subject to the approval of Major League Baseball or its clubs.