Niese gives Mets just what they need
Braves pecking away, Collins lifts him after six scoreless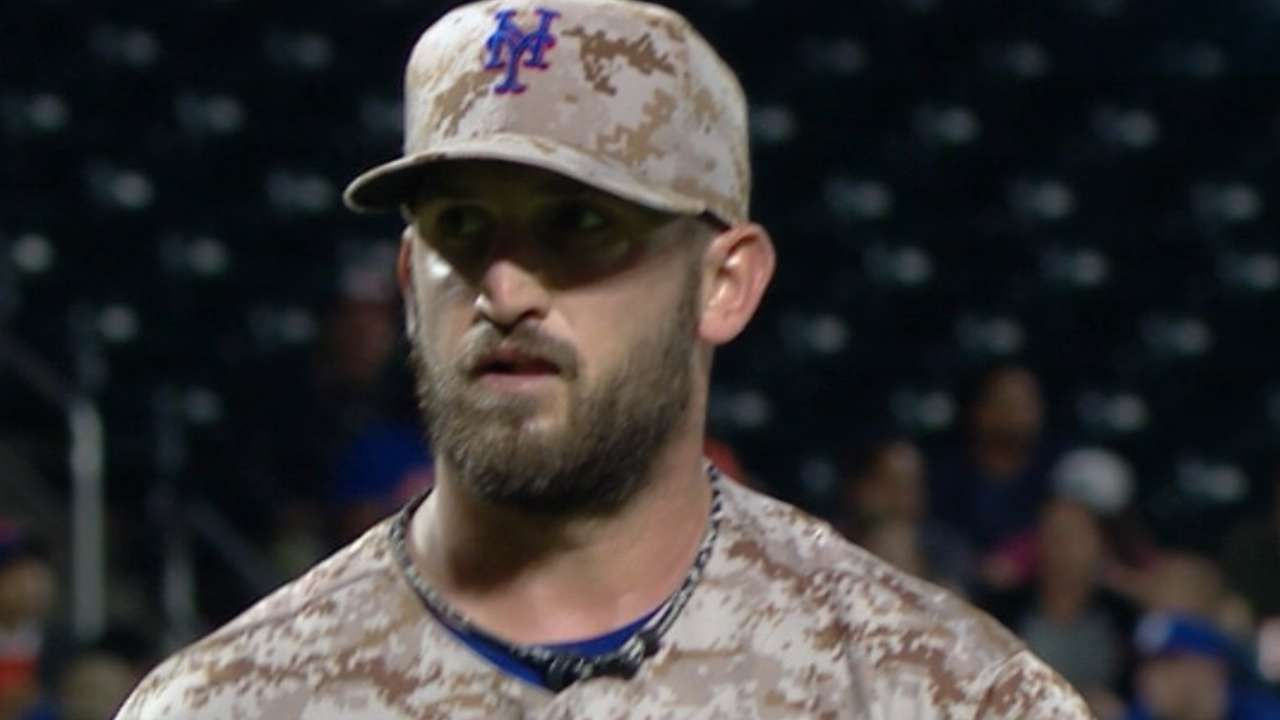 NEW YORK -- Six strong innings behind him, Jon Niese wanted to pitch the seventh. But Mets manager Terry Collins had seen all the facts and figures regarding how much Niese struggles the third time through a lineup. He had seen the Braves begin to peck away at Niese, loading the bases in the third and putting two runners on in the fourth. He had seen what the Yankees did to his team over the weekend and decided, in a pennant race, to hand the ball to his three best relievers.
Niese shrugged afterward, having received the win in a 4-0 Mets victory.
"Terry's got to do what he's got to do, making decisions," he said. "It's kind of an important time of year."
In recent days, Collins had grown frustrated with his lack of ability to make decisions regarding Matt Harvey, who has essentially dictated his own usage alongside his agent, Scott Boras. Exasperated after Sunday's loss to the Yankees, in which his team blew a 1-0 lead after Harvey pitched five dominant innings and exited, Collins returned to the clubhouse to find a roomful of gloomy faces.
"Are we not still in first place?" he asked, incredulous. "Turn the music on and get ready for tomorrow."
• Alderson: 'Unfair to put' limit saga on Harvey
Then Collins returned home, poured himself a glass of wine and meditated about his golf game. The therapy session worked. Collins returned to Citi Field on Monday still anxious about the season's final 13 games, but no longer fretting over things he could not control.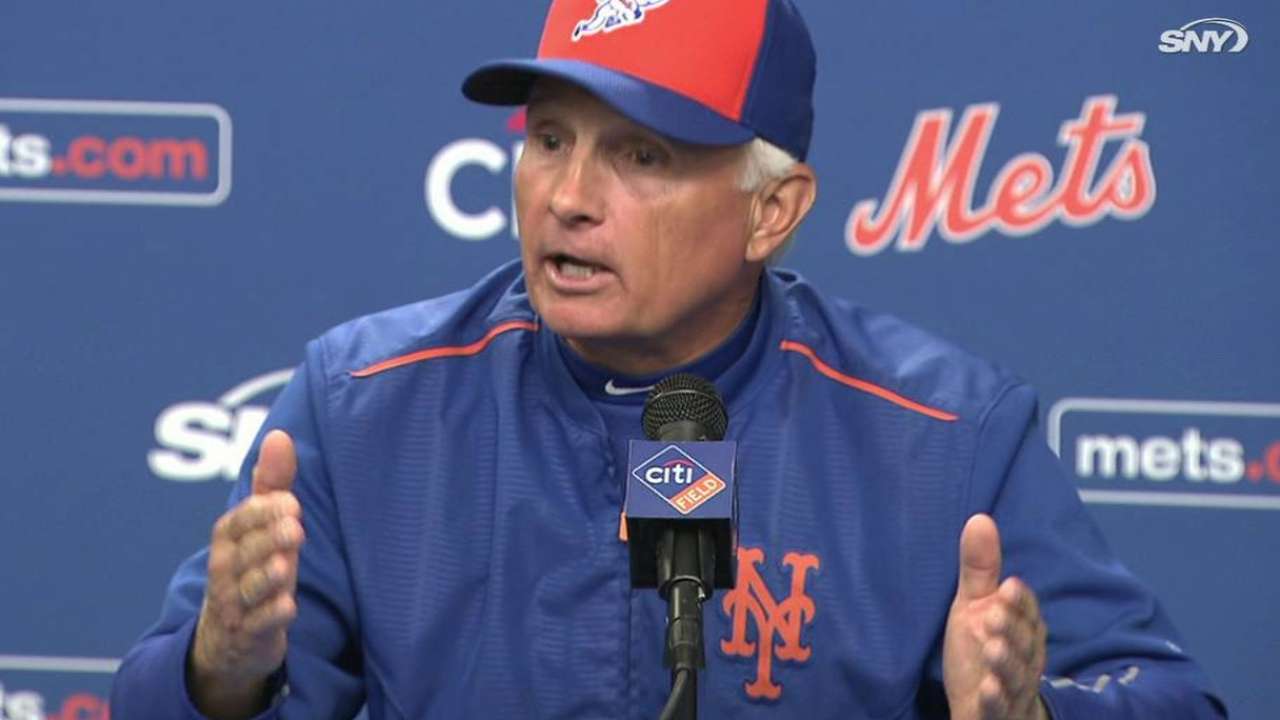 Among those he could control was his bullpen usage against the Braves, one of the division's also-rans that the Mets are supposed to beat en route to their first National League East title since 2006. So Collins managed that to the fullest extent, removing Niese after 88 pitches and bringing in Addison Reed, Tyler Clippard and Jeurys Familia for the final nine outs. Those three faced 11 batters, retiring all but two. The outcome never came into question.
"We needed this one bad," Collins said. "I'm not trying to hide anything. This was a big win for us. It kind of rights the ship a little bit."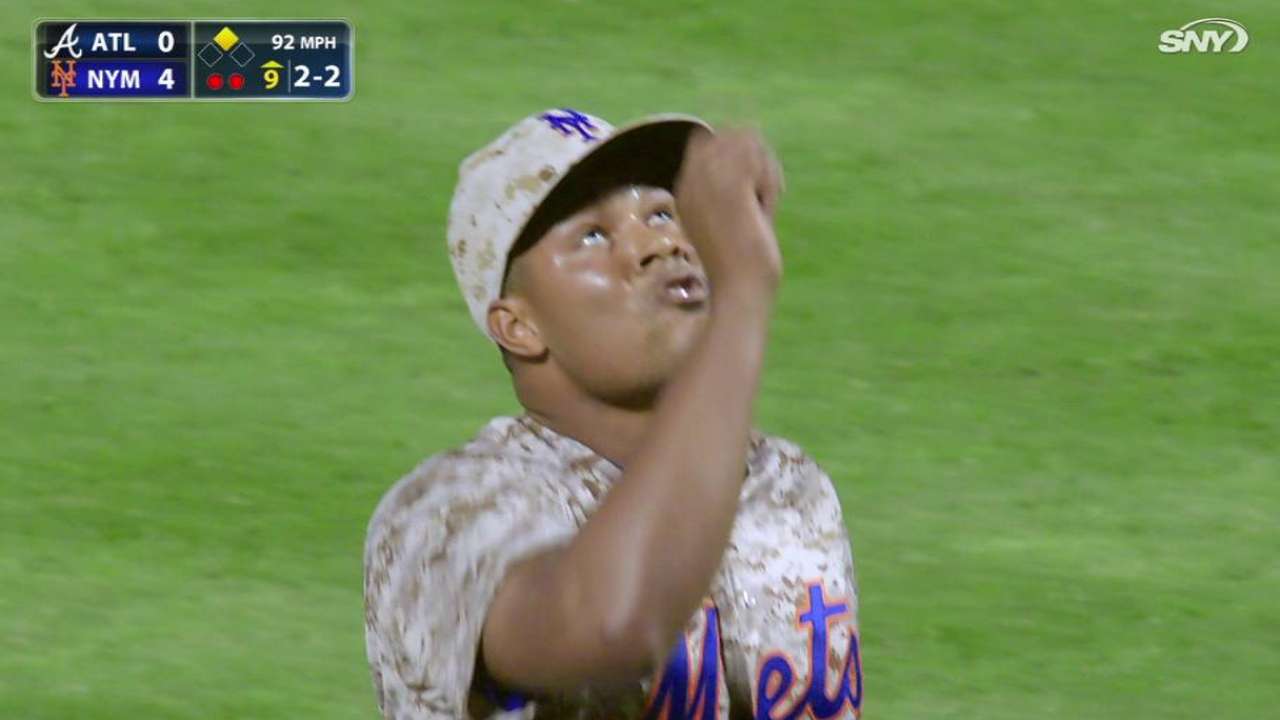 For one night at least, the sky stopped falling. The Mets extended their NL East lead to 6 1/2 games with 12 to play, a margin that common sense -- if not mathematics -- considers all but insurmountable. On this night, no one asked about Harvey or innings limits or even the Nationals. On this night, Collins managed the Mets to victory -- and that was all that mattered.
"This is the time of year," he said. "When you have a tough game, they have a knack of saying, 'OK, it's my time to get this done.' Like I told Jon a while ago, I said, 'I need right now two of the best starts you ever made in a row.' And he gave us one tonight."
Anthony DiComo is a reporter for MLB.com. Follow him on Twitter @AnthonyDiComo and Facebook, and listen to his podcast. This story was not subject to the approval of Major League Baseball or its clubs.