MLB.com Columnist
Tracy Ringolsby
Burnett thankful for new opportunity with Bucs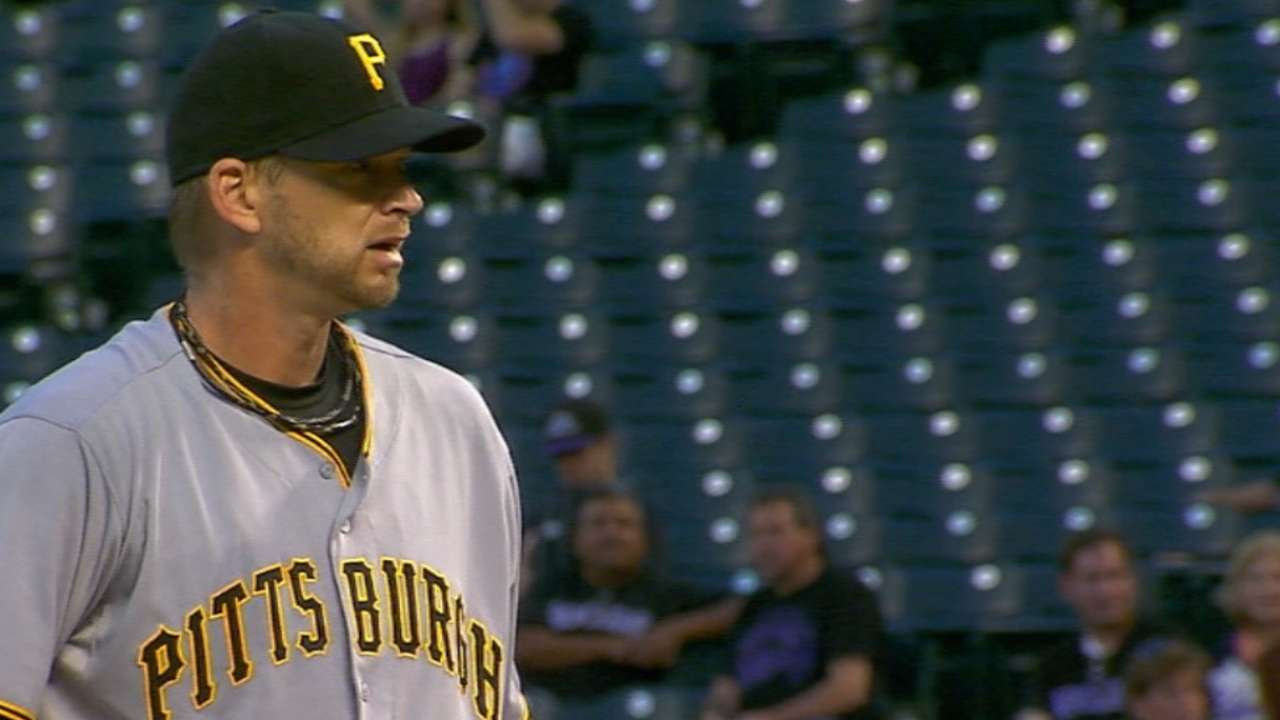 DENVER -- Sometimes fairy tales do come true. Sometimes everybody does live happily ever after. This time could be one of those times for A.J. Burnett and the Pittsburgh Pirates.
Think about it. A year ago, having walked away from the Pirates as a free agent, Burnett may have had an National League-best 34 starts with the Phillies, but not much else added up. He lost a career-high 18 games. His 4.59 ERA was his highest in 11 years. And the Phils let Burnett walk as a free agent after the season.
Now look at Burnett. At the age of 38, he is back with the Pirates, and after spending the month of August and first nine days of September on the disabled list with right elbow inflammation, he has pitched his way right back into the middle of the Bucs' postseason rotation plans.
"Having him back is a good shot in the arm for our rotation," said Pirates manager Clint Hurdle.
That was evident in the Bucs' 9-3 victory against the Rockies on Monday night. Making his third start after that 41-day stint on the DL, Burnett had only one serious tarnish on his 5 2/3 innings of work, a three-run Tom Murphy home run in the fifth inning after first baseman Pedro Alvarez dropped a routine throw on a potential double play.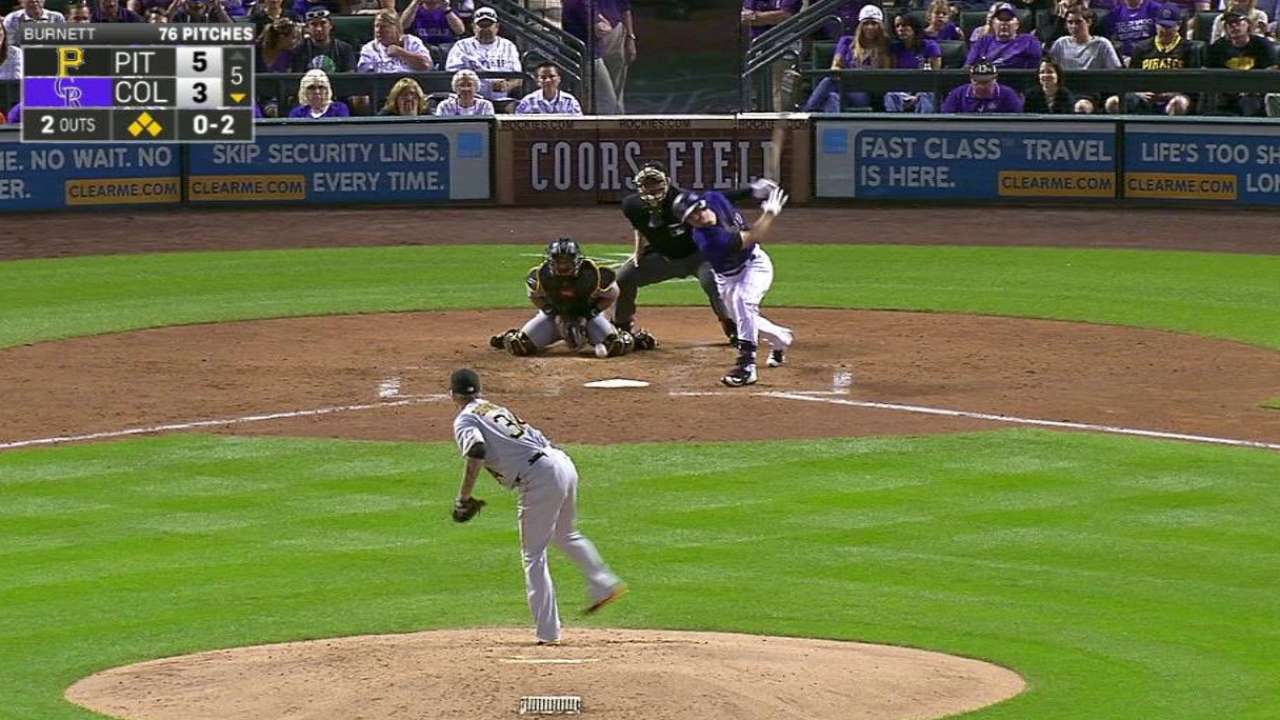 Yes, Burnett needed 98 pitches to get as far as he did. And yes, he loaded the bases with two out in the fifth with a hit batter and two walks before striking out Nolan Arenado. Then, with two out in the sixth, Burnett gave up a double to Corey Dickerson and walked two to load the bases before being lifted in favor of lefty Antonio Bastardo.
But Burnett also had thrown only 59 pitches, 40 for strikes, 18 batters into the game. And he had worked his way out of that bases-loaded jam in the fifth with the strikeout of Arenado, who leads the NL with 114 RBIs and is second in the league with 39 home runs.
"He is one of those guys that whatever he has that night, he's going to figure out a way to give you a chance to win a game," said Hurdle. "He gives us that core four that you want to have for the postseason."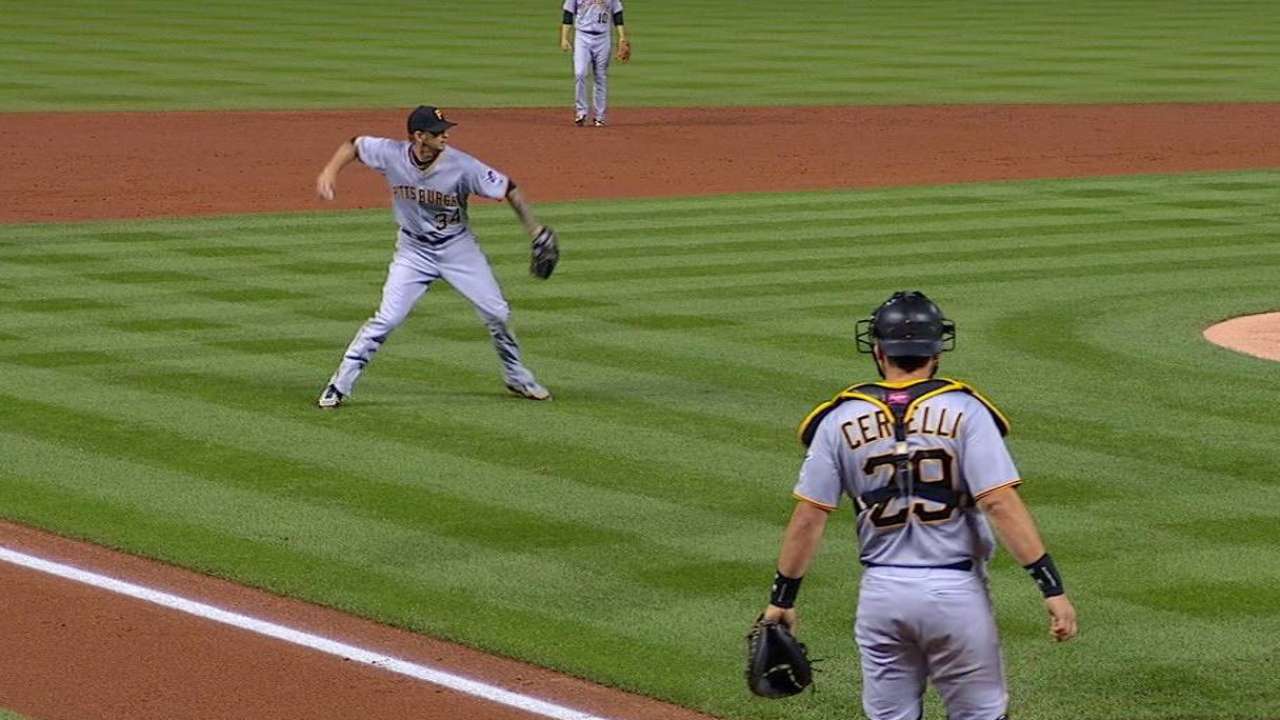 The Pirates feel very comfortable about opening the postseason with right-handed Gerrit Cole and lefty Francisco Liriano, but a month ago, they weren't sure what they would have to back those two up.
Now the Pirates know. Now they have J.A. Happ, a Trade Deadline addition from Seattle, who is 5-2 with a 1.96 ERA in eight starts for Pittsburgh, and Burnett, now 9-5 with a 3.15 ERA for the Bucs, and showing that in addition the fastball-curveball combo that has been his calling card in his career, he also has a dandy of a changeup that was his key pitch in the game against the Rockies.
That gives the Pirates the balance and experience to feel they can contend with the likes of the Dodgers, Mets, Cubs and Cardinals, and whoever may be the American League champion this postseason.
This, after all, is not Burnett's first rodeo. He brings that experience that can be so valuable in October. Burnett is a veteran of four postseasons, including making two starts in the 2009 World Series for the Yankees the last time New York won the Fall Classic.
And Burnett brings a feeling of gratitude to the Bucs, who were willing to bring him back last offseason, even though he went to Philadelphia the year before and struggled through what was easily the worst statistical season of his career.
"To me, there was no other option," said Burnett. "If I was going to pitch another year, it was going to be with the Pirates. It took leaving for me to realize how much I wanted to be here."
It also took the willingness of the Bucs' decision makers to look past his stats with the Phillies and visualize what he could mean in Pittsburgh's rotation this year.
"The first thing the skipper said was, 'The guy threw 200 some innings and took the ball every five days. That's what I want,'" Burnett said. "For him to say that, after me leaving [as a free agent], meant so much."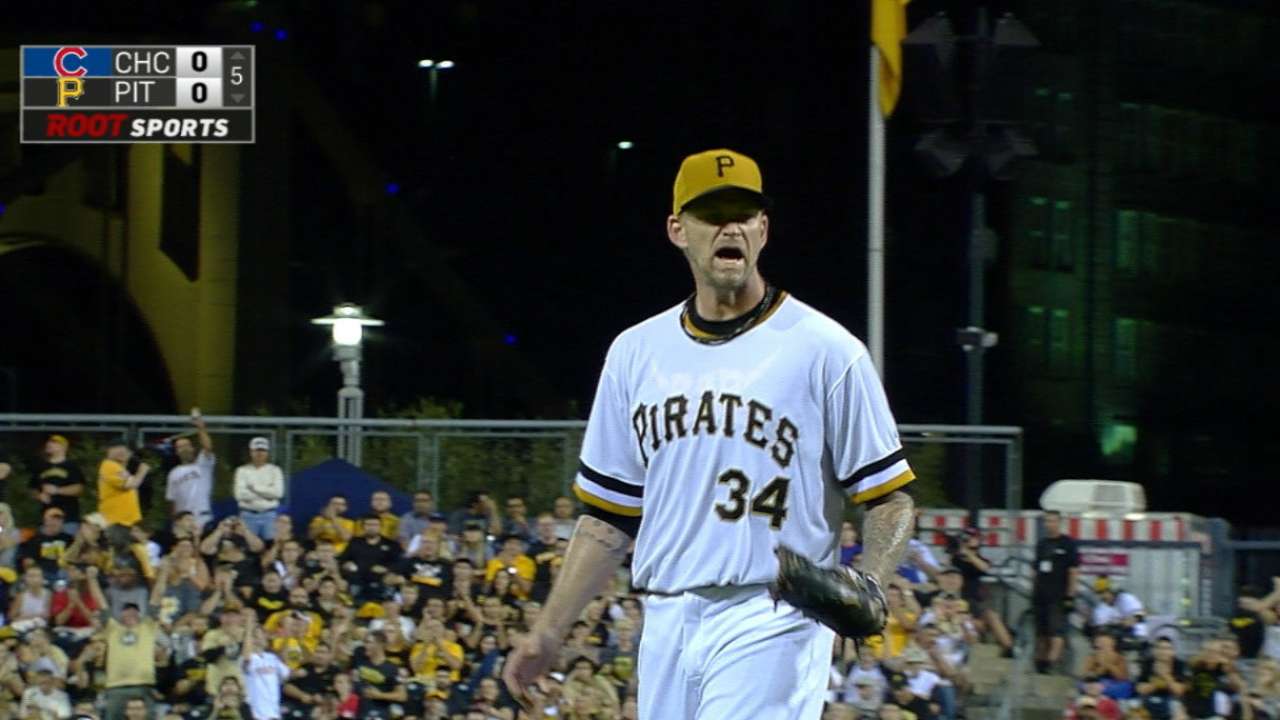 Now, however, comes the real challenge.
Now comes the anticipation of playing a role in helping a Pirates team that after 20 consecutive losing seasons has been to the postseason the past two seasons, but got knocked off in the NL Division Series two years ago and fekk short in the NL Wild Card Game against the Giants and Madison Bumgarner last year.
"These guys have made tremendous strides since I first got here," Burnett said, remembering that 2012 season, the last of the 20 consecutive losing seasons. "And they keep making them. The difference from when I first got here and now is night and day."
Now the Pirates are looking to Burnett to make a difference come October. They are looking for their fairy tale reunion with the veteran right-hander to have that happy ending.
Tracy Ringolsby is a columnist for MLB.com. This story was not subject to the approval of Major League Baseball or its clubs.